I'm about to throw my Apple iPhone out the window, Dave, so help me out! I bought an audio book on CD-ROM from the local used bookstore, ripped all the tracks in iTunes, then set the files to "audiobook" format. Sync'd on the iPhone, they show up as audio books, but when I go to play it, the tracks are in shuffle mode, and there's no way to prevent it! How do I fix it??
I know exactly what you're talking about and it's all because Apple has a bit of a user interface glitch in the audiobook section on the iPhone's version of "iPod" (and, I presume, the iPad has the same problem, but I haven't tested it out yet). The problem is either that it doesn't automatically disable shuffle mode for audiobooks (which would be logical) or, since shuffle mode seems to be "stuck" in the on position, an indicator while playing audio books that it's in shuffle mode.
But, alas, the iPhone version of the "iPod" app doesn't have either, which is pretty bizarre. In a nutshell, the problem you're having is that shuffle mode affects all content played back in the iPod app, though you can only see it — or disable it — when you're playing music tracks.
I too rip audio books and drop them on my iPhone 3GS, and when I do I go into "Get Info" setting, "Options", and specify that it's an audiobook so that it's not part of the music shuffle.
Tapping on the "• • •" More button along the bottom of the iPod app, here's where I end up: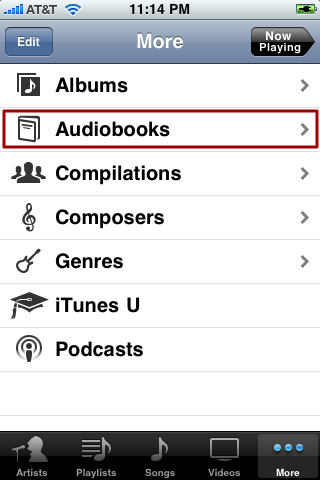 Audiobooks are neatly tucked into the appropriately labeled section. Tap on it. I have one audio book on my iPhone, so here's what I see: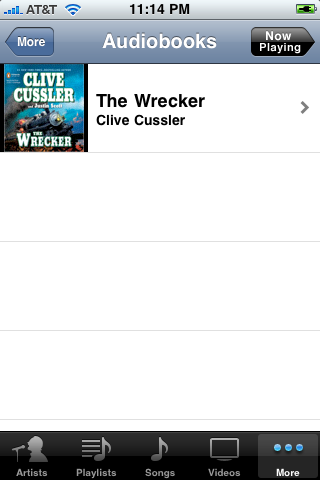 Go one step further by tapping on the audio book, and I see every track neatly and properly organized and numbered:
No indicator that it's not going to be played linearly, right? One step further: play a track and you'll see that it's easy to try different playback speeds and hop back 30 seconds (both on the control row near the top):
Problem is, on regular audio content, where you see the "1x" you'd instead see a shuffle mode indicator and be able to toggle between "on" and "off". In this example, shuffle mode
is still on
, which is why the darn audiobook is playing back in random order, but there's no indicator at all!
Once you realize that's what is going on — and that shuffle mode affects all iPod content — the solution is straightforward enough. Go back to audio content, pick a song at random, and tap once on the cover graphic when it's playing: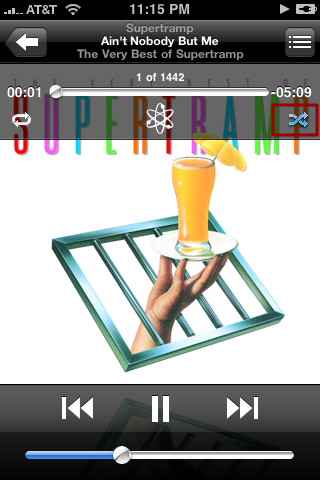 Tap on the blue crossed-arrows icon on the top right (just under the remaining time indicator) and you've turned off shuffle. Tap on it when it's gray, so that it turns blue, and you just turned it on again. Oh, so subtle!
Now you know how to turn shuffle mode off, flip back to your audiobook and you'll be delighted to know that it'll play in linear order like you want!