I've been using Google Maps with great results, but suddenly it complains it can't find me. I'm using Chrome. What's up?
There are two possibilities for what's going on with your Google Maps session: Either Google Maps genuinely can't figure out where you are or you've blocked your browser from letting it query location information to analyze. The former case happens if you're using a public wifi that's routing through a proxy server sometimes, or if you use a virtual private network (VPN). With a VPN, that's exactly the effect you want, of course; you're using it to gain privacy online through a router elsewhere in the world.
I've also noticed that some wifi networks are set up in such a way that Google Maps just doesn't seem to be able to figure out where I am, which is annoying if you're busy plotting directions and similar. In that case, you might need to just disconnect and connect to a different wifi network to get it to work or fall back to using your smartphone for directions instead.
Let's look at the situation where the browser is blocking your location data, since that's one that's pretty easy to fix. Here's the error you might see:

The Learn More link doesn't really help you fix the problem, however. In fact, it's one of the more confusing help pages I've seen from Google.
Instead, go to Settings in your Chrome browser and search for "location":
Much you can ignore, so just zoom down to where the entry is being highlighted: Content settings. Click to head into that area, and here's what you'll see:
It shows the default Location setting, but since you're already seeing the message, odds are you accidentally marked Google Maps as one that should be blocked and prevented from seeing your location.
No worries, it's easy to fix. Click on the ">" arrow to the right of Location…
This is a bit confusing to understand too, but basically it lets you change how you want to share location information and lists sites you've allowed or blocked. I have blocked ssl.bestbuy.com and google.com from getting my location info. Oops!
To fix the problem I'll need to delete the block entry for google.com. That's done by clicking on the trashcan icon to the right of that particular entry.
That's it. Now reload the Google Maps page and you should see this prompt: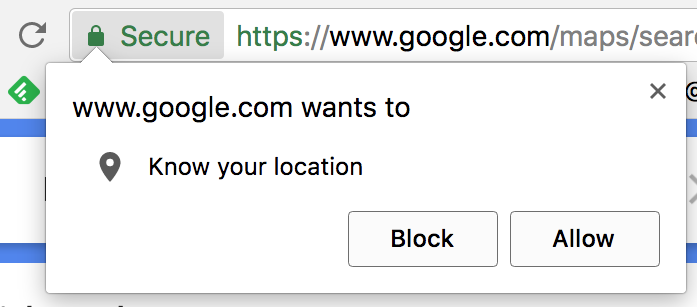 Allow it and you'll be found! Whoo hooo!
(the little blue dot shows where you are; as shown above)
If you're still seeing Location Could Not Be Determined…

You might just need to switch to a different wi-fi network, as discussed above.
Hope that helps you out!