Did someone "invent" thanksgiving, and if so, what was it about? Today it seems to be all about turkey, but what was the original celebration?
Surprisingly, Thanksgiving as a holiday was created and by someone you'd never think: President Abraham Lincoln. To be fair, a feast of thanks and gratitude during the late autumn was something that had already been around for a few hundred years (or, arguably, much longer because there are autumn harvest festivals going back thousands of years), but it wasn't until the middle of the Civil War that President Lincoln decided it would be a good national holiday and established Thanksgiving to be celebrated on the last Thursday of November each year.
It was way back in 1621 that the Plymouth colonists and Wampanoag Indians, the native tribe that shared the region with the new settlers, shared an autumn harvest feast that is now considered one of the first Thanksgiving celebrations in the colonies. These autumn feasts continued for almost 250 years until 1863 when Lincoln proclaimed a national Thanksgiving Day to be held each November.
50 years later, painter Jean Leon Gerome Ferris gave us one of the iconic images of The First Thanksgiving, 1621: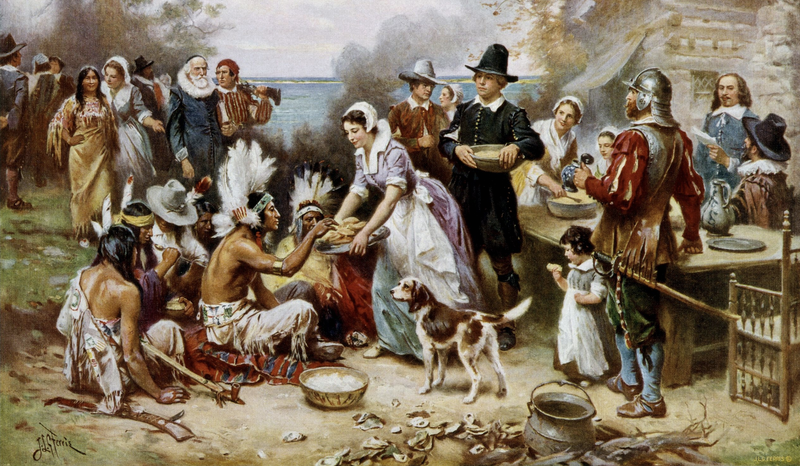 Interestingly, however, the scene depicted in the painting is far from historically accurate. Among the problems in the painting are that the clothing worn by the Pilgrims is incorrect, the Wampanoag did not wear feathered war bonnets, nor would they have been sitting on the ground for a celebration.
But let's have another look at that timeline because it was back in 1817 that New York became the first of a number of different states to declare an official Thanksgiving holiday. Problem was, the different states celebrated on different days, and the American South had no idea about the tradition, not celebrating it much at all. Starting in 1827, magazine writer Sarah Josepha Hale began to lobby for a national holiday and finally, after many years, she was heard and President Lincoln created the national Thanksgiving holiday we celebrate nowadays.
This was also back during a more religious era in American history, as can be immediately recognized in Lincoln's Oct 3, 1863 Thanksgiving Proclamation:
The year that is drawing towards its close, has been filled with the blessings of fruitful fields and healthful skies. To these bounties, which are so constantly enjoyed that we are prone to forget the source from which they come, others have been added, which are of so extraordinary a nature, that they cannot fail to penetrate and soften even the heart which is habitually insensible to the ever watchful providence of Almighty God.
In the midst of a civil war of unequalled magnitude and severity, which has sometimes seemed to foreign States to invite and to provoke their aggression, peace has been preserved with all nations, order has been maintained, the laws have been respected and obeyed, and harmony has prevailed everywhere except in the theatre of military conflict; while that theatre has been greatly contracted by the advancing armies and navies of the Union. Needful diversions of wealth and of strength from the fields of peaceful industry to the national defence, have not arrested the plough, the shuttle or the ship; the axe has enlarged the borders of our settlements, and the mines, as well of iron and coal as of the precious metals, have yielded even more abundantly than heretofore.
Population has steadily increased, notwithstanding the waste that has been made in the camp, the siege and the battle-field; and the country, rejoicing in the consciousness of augmented strength and vigor, is permitted to expect continuance of years with large increase of freedom.
No human counsel hath devised nor hath any mortal hand worked out these great things. They are the gracious gifts of the Most High God, who, while dealing with us in anger for our sins, hath nevertheless remembered mercy. It has seemed to me fit and proper that they should be solemnly, reverently and gratefully acknowledged as with one heart and one voice by the whole American People.
I do therefore invite my fellow citizens in every part of the United States, and also those who are at sea and those who are sojourning in foreign lands, to set apart and observe the last Thursday of November next, as a day of Thanksgiving and Praise to our beneficent Father who dwelleth in the Heavens.
Well said, Mr. Lincoln. Well said.
We might have lost some of the religious overtones of the festival, but there's a lot of similarity across households in the country nonetheless: nearly 90 percent of Americans eat turkey — whether roasted, baked or deep-fried — on Thanksgiving, according to the National Turkey Federation. Other traditional foods include stuffing, mashed potatoes, cranberry sauce and pumpkin pie. Sounds good, doesn't it?
Now, let's celebrate. And let's eat!