Dave, I'm really confused by the glut of streaming channels and video options online nowadays. When it was just a few choices, we'd look on Netflix and Amazon Prime and either we'd find our shows or not. Now there are hundreds of channels! How can I find which offer specific movies or TV shows? Thanks!
The simplified logistics of streaming channels and content have definitely caused the number of options to explode, with hundreds of different streaming options. Every studio, every movie library, every syndication company realizes that somewhere online are people who seek their content and, often, are willing to pay for access. It's hard to imagine that as recently as 25 years ago there were shows that were just never going to be aired or released on VHS tape (or, eventually DVD), meaning that they'd effectively vanished from the world.
Today it's hard to find a show that isn't available somewhere, even from fifty years ago. It might be in horrible resolution and you might have to endure the same banal advertisements again and again, but versus not being able to ever watch a favorite childhood film? Way better.
The new challenge is to figure out where these programs can be found. From enormous blockbusters like Avatar and Star Wars to obscure 50's series like Johnny Staccato, if it was, it likely is. Somewhere. The big search engines like Google have stepped up to help, but there are also specialized sites that have even more comprehensive databases of what channel offers which content that can be a huge boon in this regard. Let's check it out!
GROOVY, BABY! LET'S FIND AUSTIN POWERS!
Mike Myers had a huge success with his "Austin Powers" spy spoof films. They were so over-the-top that it was hard not to laugh even as there was some pretty witty dialog poking at the 1960s. There were three in the series, but which one came first? That's an easy job for Google:
The search was for "austin powers order of movies" and you can see it even offers up movie posters for them, in order:
Austin Powers: International Man of Mystery (1997)
Austin Powers: The Spy Who Shagged Me (1999)
Austin Powers in Goldmember (2002)
There was a fourth in the planning stages, but it never made it to the theater so as of this point, that's probably as many films as will ever be in this series.
With a release date for disambiguation – not so important for this film but for films that have been remade or TV series with many seasons, knowing release info helps produce better results – we can do another search for where to watch it. In fact, with type-ahead, Google already has a good guess at what you want to do:
Notice all the completion options, from cast and soundtrack to full movie, imdb, script, even ok.ru. While "online" might be a synonym, I'm actually going to tweak my search to "where to watch austin powers 1997". The result: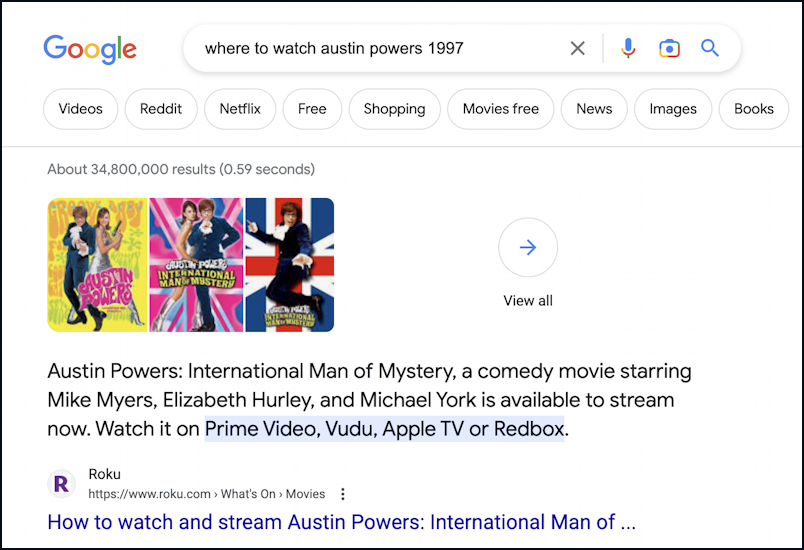 Google suggests it might be available through Amazon Prime Video, Vudu, Apple TV and Redbox, but which are free, which are ad-supported, and which require a paid subscription?
A BETTER ALTERNATIVE: JUSTWATCH.COM
What I much prefer for queries of this nature is the site JustWatch.com which is designed specifically to show you where movies or TV series can be found, across dozens of channels. That same query on the site offers up the same three movies in alphabetical order:
Look closely and you'll see that I misspelled it "justin powers". But JustWatch could figure it out anyway, which is tremendously helpful as we all make tyops occasionally, right? 🙂
I'll choose Austin Powers: International Man of Mystery and it shows lots more info about the film:
What's really helpful is that it shows prices, so you can see that you can rent it for $3.99 from AppleTV and – if you look a bit further down – a lot of other channels also offer it, all at that same $3.99. Want to buy a digital copy? That's going to run $12.99 through AppleTV, Amazon Prime Video, Google Play, YouTube, etc. Redbox wants $13.99 and Vudu offers it for $14.99. Lots of choices, for sure, and it's helpful to be able to filter by price – I typically start with "Free" – and resolution – SD is the lowest, 4K the highest – so you can identify exactly what you seek.
WHAT ABOUT TV SERIES?
This has all been about movies, but what about TV series? JustWatch.com has you covered with those too. For example, The Jetsons:
Check it out! The series is available to watch for free on Boomerang. What's Boomerang? I have no idea, but a simple click will allow you to watch – ad supported – this classic series from the early 1960s.
While we're in that era, I submit for your approval the classic series The Twilight Zone:
Looks like both Freevee and Pluto TV have it available for free, with the former including all five seasons while the latter only has four seasons of this ground-breaking series. Again, a click on the channel's icon will take you there so you can learn more about it.
What if you want to watch really good, crisp episodes of the show, not the fuzzy old low-resolution versions? Click on "HD" for hi-def and it'll show other options:
None of these are free to access, but if you're a hardcore TZone 'head, then this might be a great investment for hundreds of hours of enjoyment!
MORE USEFUL ONLINE RESOURCES…
An additional resource to know about as you wade through the enormous world of movies and series is the Internet Movie Database – IMDb – which is a site I admit to spending lots of time exploring myself! For old and often obscure content, you can also check YouTube.com (search for "full show" or "full movie" but beware of scammers) and Archive.org (mostly focused on public domain old movies, start in the Movies category). Drawing a blank everywhere? Check your local library!
Whatever old content you want to rewatch, these should help you enjoy your shows with the least possible fuss and, hopefully, at the price you prefer too! Groovy, baby!
Pro Tip: I've been writing about movies online for many years. Please visit my extensive Computer Basics Library for lots of helpful tutorials and how-to articles.  You can also find my film reviews at PlanetDave.com, if you're curious. Thanks!