Are there any tools or utilities in Windows 10 that let me figure out where my disk space has gone? I'm running out but don't know why…?
Ah disk space management. We've been wrestling with that since the 1965 introduction of the first personal desktop computer from Olivetti, whether it was space on a cassette tape, a floppy disk, or a hard drive. Now we have hard drives that are made up of RAM known as solid-state drives or SSD and we still have to pay attention to disk space, though now we're looking at gigabytes and terabytes, not kilobytes and megabytes. So definite progress!
While there can be nefarious problems with malware using your system as a porn or virus storage space, the more common problem is that you downloaded programs or files and forget about them. That's why there are some nifty tools in Microsoft Windows 10 to help out!
To start, do a quick search for "this pc" in Cortana: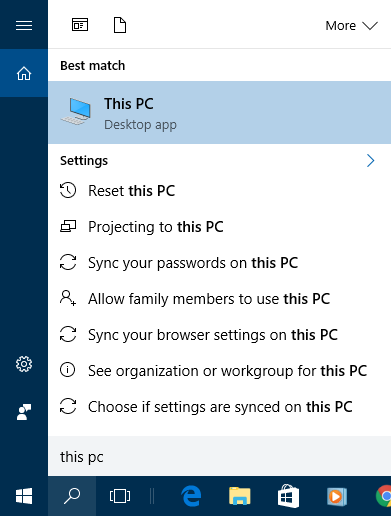 As is often the case with Win10, typing in a few words of what you want to find is plenty enough to get what you seek. In this case "This PC Desktop app" is the correct choice, so click on it and you'll immediately be able to get a quick view of your disk space usage:
In my case, you can see that C: is about half empty, with 34.4GB of 74.9GB free. Not too bad. Let's dig in a bit deeper, however, by double-clicking on the disk graphic.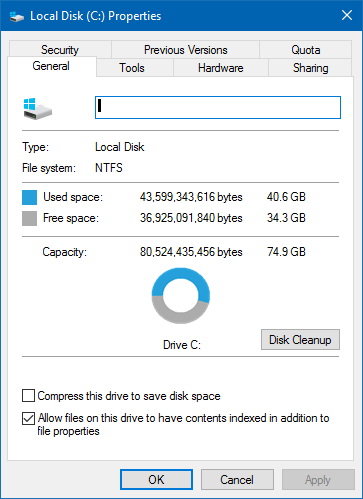 You can see the same information with a bit more detail here, including that the disk is type "NTFS" and that 40.6GB is used space. More importantly, notice all the tabs along the top. We'll get back to the "Tools" tab a bit later, but before we do, click on "Disk Cleanup".
Now you'll lose the nice modern Win10 interface, but if you have the patience to go through all the different checkboxes, you can free up a decent amount of space by getting rid of temp files, install logs, and other data that the OS sees as superfluous. Look closely and you can see I'm poised to save almost a half-gigabyte of space with Disk Cleanup: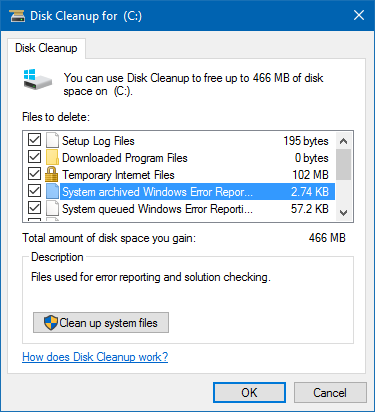 When I'm ready to go, a click on "Clean up system files" and it zooms along and offers up an improvement.
While we're here, however, click on the "Tools" tab in the Local Disk Properties window too: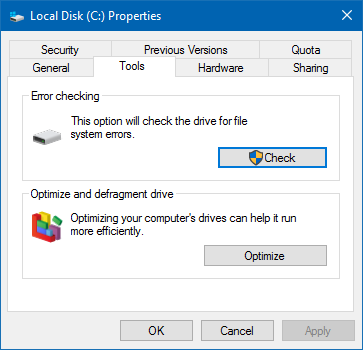 Here's where you might find that optimizing and defragmenting your drive can offer some benefits for performance (though it won't give you any additional disk space). Then again, you might click "Optimize" and find this: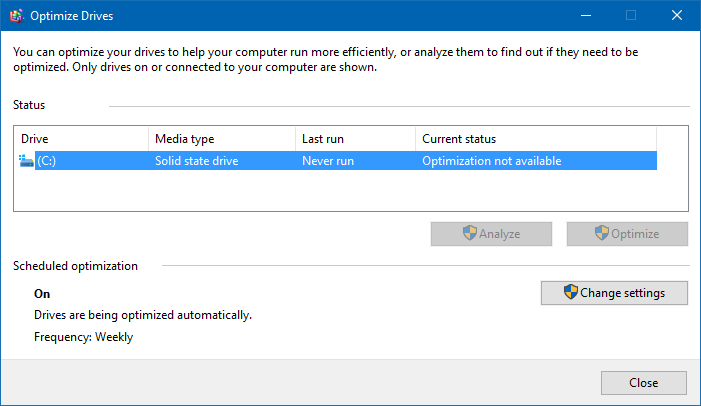 Oops. Can't optimize an SSD drive!
That's enough with these tools. Close all these windows and use Win10 search again to look for "Storage" this time. It'll lead you to this settings window: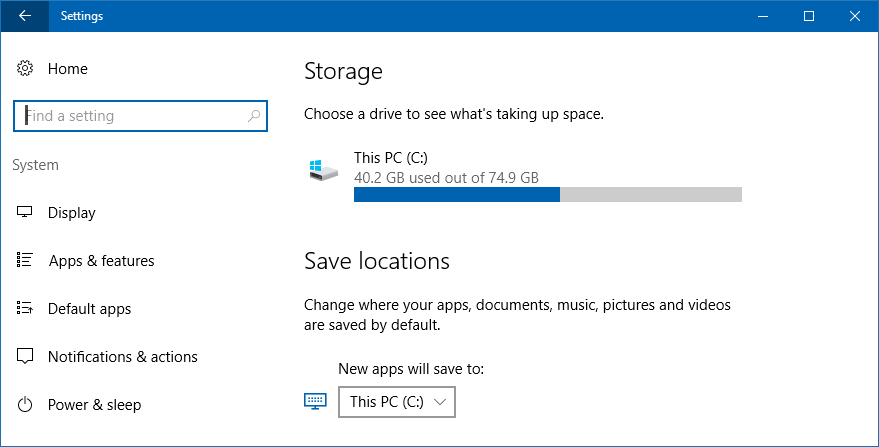 Looks like the same basic bar graph display, except for one little difference: double-click on the bar and you get a far more interesting — and useful — display: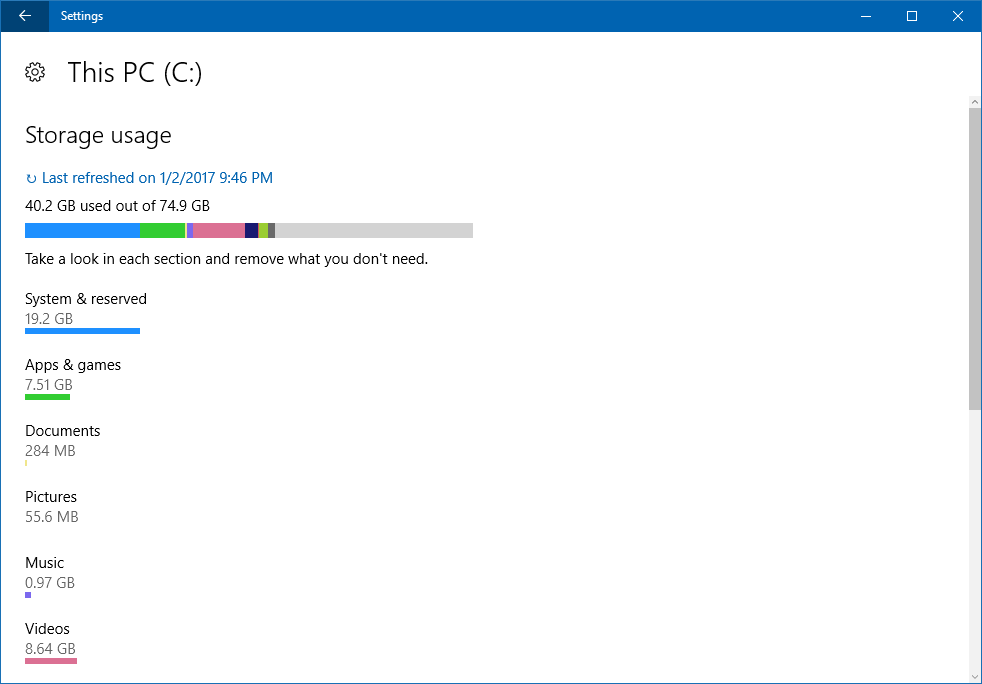 It can be a bit confusing on first glance, but the rainbow bar shows overall disk space and usage by media or data type. Light blue is system and reserved and it's 19.2GB. The next biggest usage is from video, dark pink, and a look at the bottom of the window shows that's 8.64GB of space. Third biggest is light green, apps & games, at 7.51GB.
This disk analyzer is even more useful because you can double-click on any of these media types and explore further. For example a double click on Videos gets me here: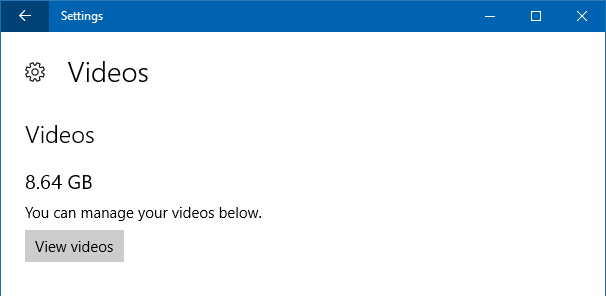 We already knew this, but a click on "View videos" (and a bit of poking around) shows the culprit:

Interstellar? I don't recall having a copy of this movie on this particular computer, but at 9.06GB, it's definitely something I can safely remove without concern, freeing up over 10% of my disk space.
That's the basic approach. Your specifics will vary but that should get you moving in the right direction in terms of gaining disk space on your Microsoft Windows 10 system. Good luck!