Now that I have Windows XP running within Boot Camp, I'm just curious: where in the folder hierarchy do I find my Windows Desktop? I know where it is in Mac OS X…
Great question, actually, particularly if you're moving from Mac OS X where it's easy: /Users/your account name. On Windows, however, things are buried a bit deeper, but if you've done something smart like enable disk icons in the Finder (see How to enable hard disk icons in Mac OS X) you might well want to know how to get around in Windows too.
Of course, this also applies to any Windows XP setup, so next time you find yourself looking at a C: prompt or at the very top of the file system on a WinXP system, this is a useful snippet of knowledge to help you move around too.
By default, when you create a Boot Camp partition it gets the scintillating name NO NAME, as you can see: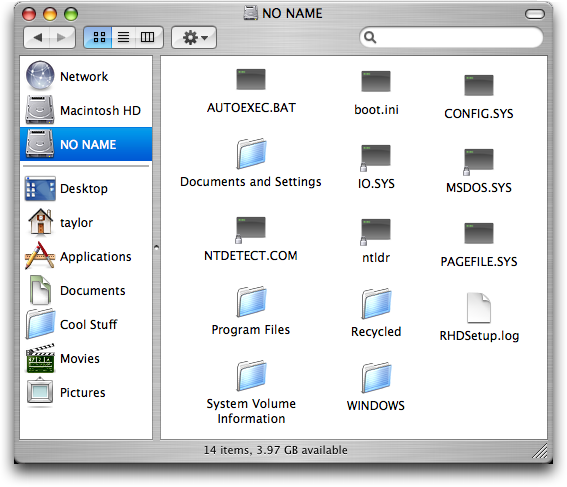 First off, while we're here, let me show you how to rename the disk drive. You can do that by selecting "NO NAME" and choosing
File
–>
Get Info…
. Now open up the section near the bottom labeled "Name and Extension" and type in your new name: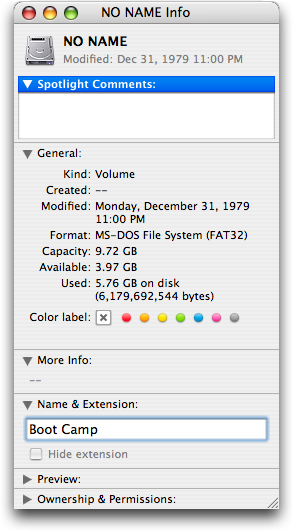 Cool. Now, let's look at the file hierarchy in Windows!
Turns out that all the interesting files live under the unexciting name "Documents and Settings", and that further the default Windows account has a separate folder than all the other users you might have set up on the system. Why, I can't say, but you can see the basic layout in this Finder "list" view: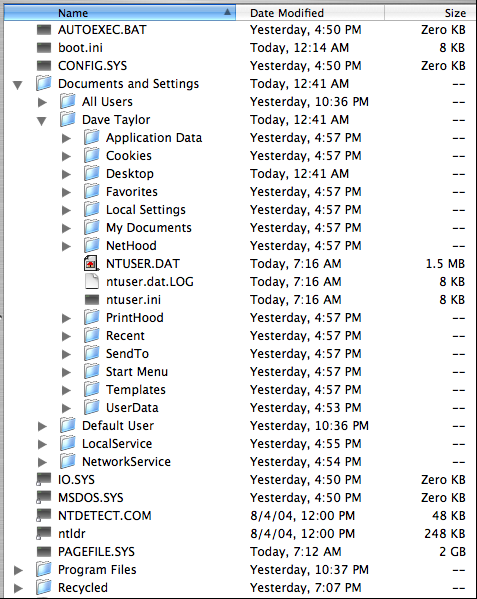 As you can see, the actual folder path to get to my Desktop folder is:
Documents and Settings
–>
Dave Taylor
–>
Desktop
. Not too bad, once you realize which folder contains all your user files.
A quick warning too: just because you can get to all the files and folders in Windows from your Mac, this doesn't mean that it's safe to mess about with any of the system files. Both within the folder
Windows
and elsewhere on the disk, it would be quite easy to break Windows by even changing a single file name, so if it's not in a known user folder (like "My Music") please don't monkey with it!
Anyway, that should help you figure out how to work with your Windows WinXP disk in Mac OS X. Remember you can always use the Finder's alias feature to create an alias for your Windows Desktop too: just select
Desktop
then choose
File
–>
Make Alias…
and drag that alias onto your Mac desktop.