I've been doing some research on long-term stock pricing trends and need to find data on publicly traded companies. Any clues on where I can find this sort of information back for the last decade or so?
Ordinarily I would answer that there are few places you can find long-term historical data online, but in fact there are a number of interesting places for your research. One of the newest and most interesting the newly revamped Google Finance (Nasdaq: GOOG), which offers historical stock data back forty years.
For example, let's consider how Hewlett-Packard (Nasdaq: HPQ) has done in that time period. By default, you get a very narrowly focused chart on the relevant financial information page: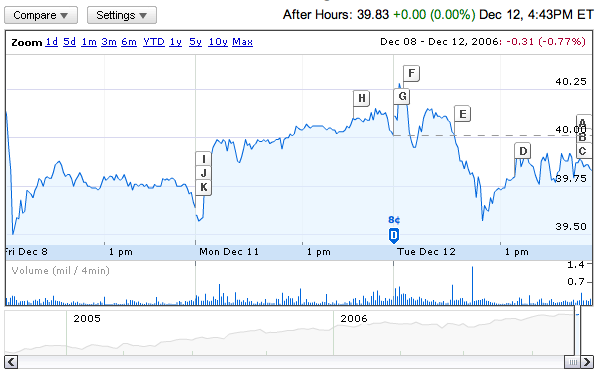 Notice on the top left the different Zoom ranges you can select: 1 day, 5 days, 1 month, 3 months, 6 months, year to date, 1 year, five years, 10 years and "Max". I'll click on Max so I can see how the company did for the last 35 years: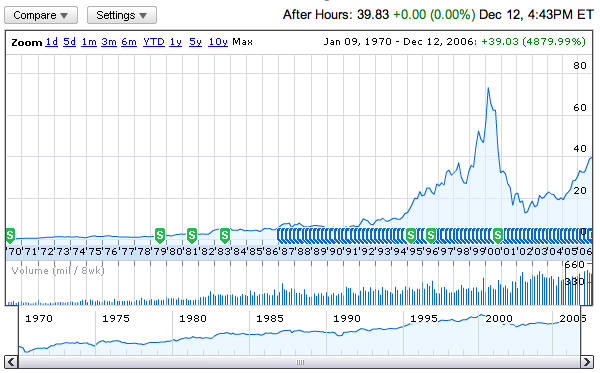 That's January 9, 1970 through today, December 12th. You can see that the highest stock value was back during the dotcom explosion, at the beginning, around 1999 or so, and since then it's tanked, then come back about 50%, to close at 39.83 today.
Google isn't the only place to find this sort of information, however. For many companies, you can actually find this sort of historical information on the "investor relations" area on their site.
In fact,
Yahoo Finance
offers up an additional five years of historical data: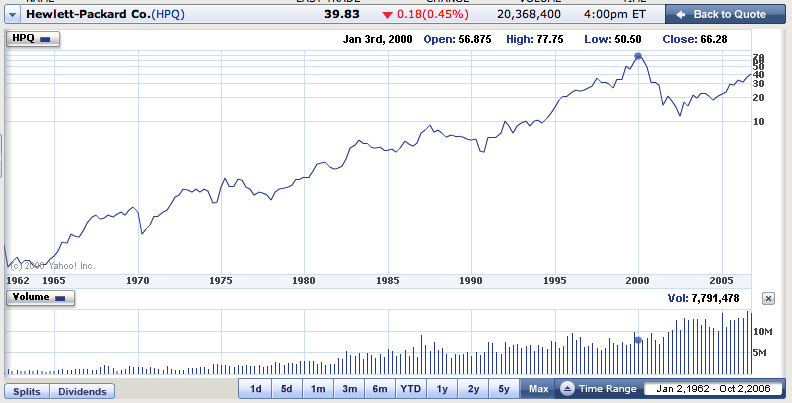 The problem I have with the Yahoo charts is that they use a logarithmic scale, so the difference between $0 and $10 is far, far greater than the difference between $50 and $70 in stock value, which greatly distorts the actual data.
One more stop: I'm a big fan of the
Wall Street Journal
, and they have a "quotes and research" search option right on the home page. Entering
HPQ
into that search and I get a tiny 10-day chart and the option of going to their charting area. I'm not surprised that they have
a splendid charting feature
and data that goes back far far earlier than either Yahoo or Google, back to the beginning of trading for Hewlett-Packard: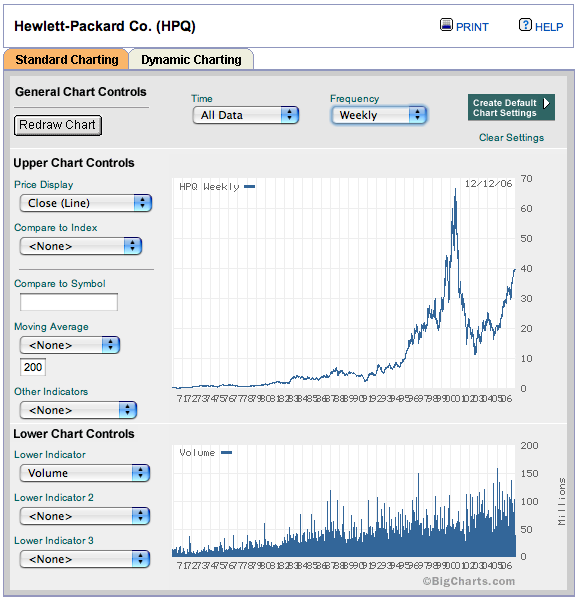 Unfortunately, the WSJ information is only accessible to [paid] subscribers, but you can sign up for two weeks of access perfectly free, which might well be sufficient time to accomplish the research you need. If not, I suggest you check out Google as shown above.
If not, MSN Money has its own charts you can explore too, though
HP's chart
only goes back ten years. But since these search engines are all in heated competition, it won't surprise me if MSN offers 20-40 years or more in the next 90 days.