I've read your answer to the question:
"Every so often I get an email attachment and double-click it to open it up on my Mac. It opens up fine, I make edits and save the document, but then when I quit Word I can't find the $#@$# document on my system. What's going on and where are the documents I've edited?"
[ed. note: See (Where is Microsoft Word saving my email attachments?]
I have the exact same problems, but it happens in windows. I'm using Outlook Express for my email. I open an attachments, edit it, save it, close it. But I don't know where it was saved, so I can't open it. I tried to download the same attachment, and save it again, and it add "(1)" after my file name. That means my original file is still somewhere in my computer. Can you help me to locate where is it?
Theoretically, your system file search should be able to identify the file in question that was an attachment to an email message, but I've noticed that a lot of email systems automatically assign weird temporary filenames to attachments, so while you think the file is called "investor-preso.ppt" it's really called "4xr343423.ppt" and you'll never find it.
Not so helpful!
Instead, the strategy I suggest is one based on opening up the attachment from that particular email message again, then going to do a "Save As…" and closely examining where it wants to save that particular file. Then go into that directory (without actually saving the file) and see what's there.
On some operating systems, it's even easier, because the editor might well have a shortcut to display the entire path from the filename it's editing, not just the name.
Let me show you with the Mac. I use Apple Mail, so attachments generally show up within the message itself. If I Option-click on an attachment, a menu of options pops up: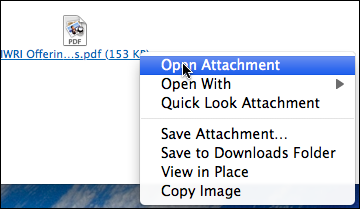 I'll open up the attached PDF file, and it appears in Preview:


Here's the secret trick for Mac users: Command-click on the name of the file and check out what appears:



There ya go. Even better, if I move the cursor to the name of the folder where the attachment is saved (Mail Downloads) and release the button, it opens up that particular folder in the Finder. Sweet!
If that didn't work, I could have chosen "Save As…", which would bring up a file save dialog box that defaults to save the file in the same place it currently exists:


This time you can simply click on the name of the current folder ("Mail Downloads") and it'll show you the entire path:



You should find that both of these techniques work on your Windows system too, depending on the app. Worst case, if the first doesn't work (right clicking on the filename in the editor), then the second, "Save As…" certainly will.