I have a couple of shortcuts on my Desktop on my old Win10 system and am curious about where they point. Is there a way to see what program, file or folder they link to in Win10?
Turns out that all operating systems allow links, shortcuts or, in Linux parlance, "symbolic links" because it's darn helpful to have a file or app icon that actually references something somewhere else in the file system. Useful, but inevitably as the file system changes, as apps are removed, as folders are renamed or reorganized, these links or shortcuts can end up being obsolete, pointing to something that just doesn't exist any more.
Even without that, though, Windows programs in particular have a tendency to be installed in a variety of different spots rather than one standard location and it can be tricky to track them down and find their home directory. What most people don't realize, however, is that these shortcuts actually include an explicit file and folder location reference that you can not only see, but follow to inspect.
Let's have a look. First, here's a typical Windows 10 shortcut, for Google Chrome on my own Win10 Desktop: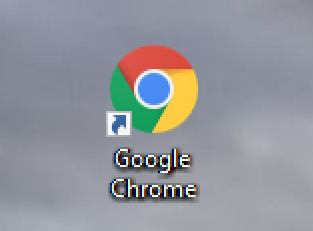 How do you know it's a shortcut? The little arrow that's superimposed on the icon itself. Right click on a shortcut and choose Properties:
You can see that option at the very bottom of the menu. Choose "Properties" and you'll see general information about the shortcut:
You can see in the "Type of file" that it's a shortcut (.lnk, if you're curious about the filename suffix). You can rename the shortcut here too if you want; just type something new into the top box and click OK. But don't do that! Instead, click or tap on the "Shortcut" tab along the top.
Now you'll see what you want to know about, exactly where this link points:
The destination of the link is highlighted in blue. Unfortunately the box that shows the link is too small so you are seeing the latter portion, not the entire filename. You can, however, copy and paste into another app (like Notes) to see the info. Or, better, just click or tap on the "Open File Location" button along the bottom. That opens up the File Explorer in the target folder with the target program or file highlighted:
Here you can see that the folder in question is c:\Program Files (x86)\Google\Chrome\Application and that the highlighted program is "chrome.exe".
That's it. Now you know how to analyze your shortcuts and figure out where they're pointing. Hope that helps you understand how they work and why they're darn useful.
Pro Tip: We have a lot of Windows 10 help on the site. Please take a few minutes and explore!