This is weird: I was downloading a file while in the Windows 10 Web browser and when I accidentally closed the tab from that page, the download vanished. Except I think it was still downloading. My question: Where's the "Downloads" window in Edge, the Win10 Browser?
I never really thought about it, but you're exactly right that the new Web Browser called Microsoft Edge that's included with Windows 10 and 10.1 is missing a downloads shortcut or progress button of some sort. Google Chrome has one. Apple Safari has one, but if you're downloading a big file in Microsoft Edge and you close the tab from which you started the download, well, then you've got a problem because there's no indication whether the download is continuing or when it's done. An odd oversight, really.
Before you panic and switch back to Firefox, however, there is a way to get to the Downloads area. It's just not at al obvious…
To start, if you're on a page and start a download, you're likely used to seeing something like this:

If you leave that tab open, even if the browser is minimized, you'll be able to check on the progress of the download and once it's done be able to decide your next step:

But what if you accidentally or deliberately close that particular tab? Well, if you close the entire Web browser, your download will stop — you'll see that "interrupted" status in a second — but if you leave the browser running, the download should certainly continue even if you can't see it happening on screen.
In fact, open a new tab and there's absolutely no indication that anything's happening in the download queue: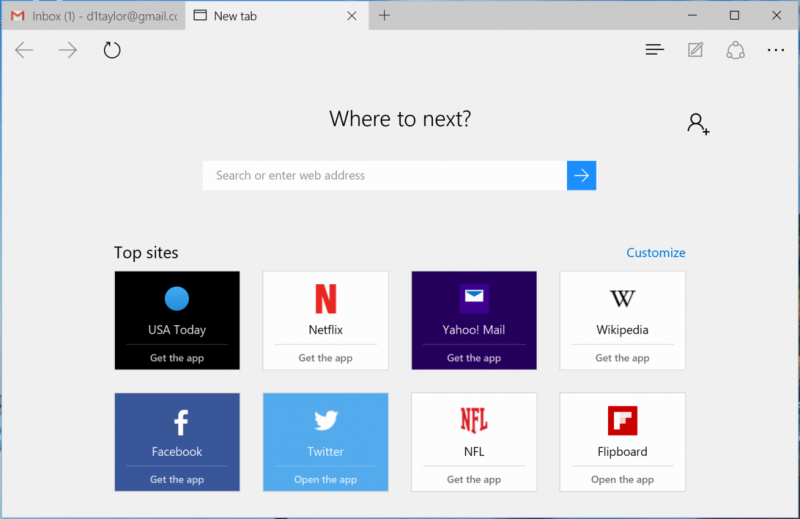 Here's the secret: See the three irregular horizontal lines on the top right? That's one of a couple of darn useful buttons to learn about. When you're done with this tutorial, click on the three dots for sure. But for now, click on the three horizontal lines.
This gives you access to your Favorites Bar, letting you fine tune your shortcut buttons. But that's not what we seek!
Instead, click on the downward pointing arrow, the fourth icon from the left…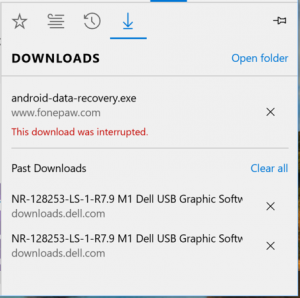 Hey! There are those pesky downloads. In fact, this shows the most recent downloads from the past (both Dell USB firmware updates) and the android app I was trying to download but had interrupted. In this particular instance, the interruption was due to network connectivity dropping, but quitting the browser would have the same effect.
Now you can see how to find your downloads and check their status! One more useful thing: See the "Open folder" link in this window? Click on it and you can clean up stray download files and free up some disk space: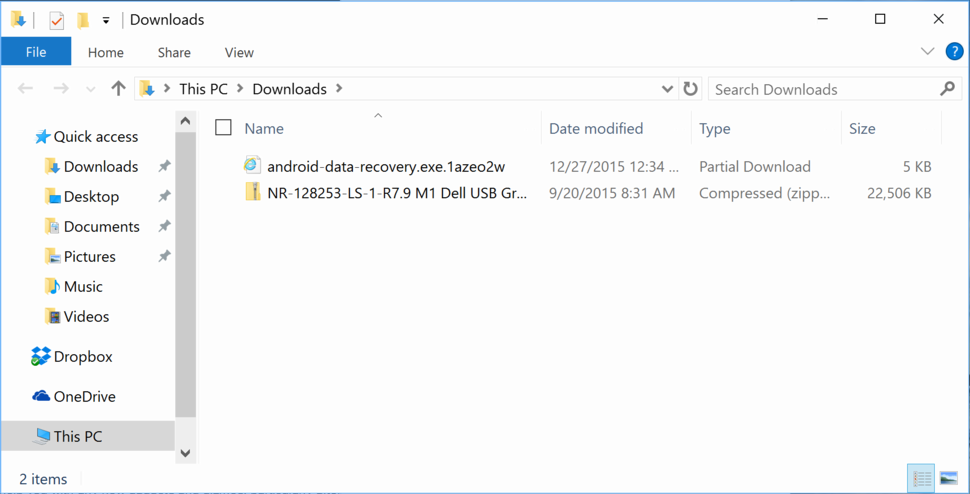 I'm in pretty good shape with one stray download archive from Dell weighing in at about 20MB. How are you doing?