When traveling from home base & I am in a "wirless zone", like the Santa Fe airport, where access is free or visiting a residence that has a wireless system, I am always able to access the wireless to receive messages or use the internet, yet I am UNABLE TO SEND emails. I have talked to Apple & our web host, Crystaltech – but to no avail. Apple says that Crystaltech should support that function and Crystaltech has indicated that the only way I can SEND is to go to their internet site and use the mail system. However, my husband's IBM Think Pad allows him to send by changing the outgoing server designation. I am truly computer "dumb" and can only presume that there is something so simple for me to do to accomplish the SEND task, when away from home.
This is a security feature, not a bug, even though it may seem like one. The problem is that if you're using a typical email setup then you are using your Internet Service Provider for both your connectivity at home and your outbound email service. Often your outbound connection will be through a server they have called "smtp.something", for example.
The outbound mail server is then configured to check the address of computers that connect and try to send messages: if they're not an IP address that is known to be a part of the existing set of network addresses handed to customers by the system, the connection will be denied with an error like "not a relay". You've probably seen that exact message when you try to send out your mail.
This is done because mail servers that allow any connection from any computer wanting to use their mail delivery services (known as "open relays") are a magnet for spammers and bad for the Internet at large. Imagine, if your ISP forgot to close its relay then some crazed spammer could then send out literally millions of email messages through that delivery service, clogging up the network pipes, pushing your own messages out of line, and, worst of all, getting the service "blacklisted" such that any mail sent from that server — including your message — would be automatically rejected by most other servers and services.
That's what's going on. Now, to fix it it's often as easy as reconfiguring your email program to specify that you need to log in each time before you can use the outbound server. In Microsoft's popular Entourage email application for Mac OS X, for example, I choose Tools –> Accounts –> the account in question. Now I can see the advanced sending options:


Now click on the "Click here for advanced sending options" button and you'll see the key fields to specify: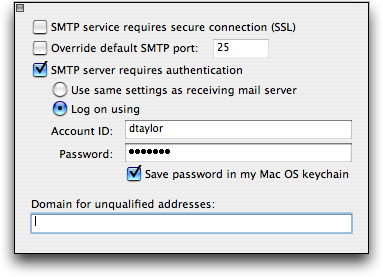 Try choosing "SMTP Server Requires Authentication" and entering your Crystaltech login credentials (the same you use to get incoming mail). That should do the trick, actually, and it's quite probable that your husband's PC automatically does this so he hasn't had to configure this particular tweak to the configuration of his email program. Or perhaps he's using an outbound mail server through his work that makes it easier? If he can change his outbound server designation, you can certainly use the same information on your Mac too, if you know what he's specifying and you're both on the same ISP, of course.
Failing that, you might consider getting a new ISP that supports secure mail connections, as that's such a basic part of online life nowadays, particularly if you're running a business…