Dear Dave, I wrote to Yahoo previously asking about my mail I believe had been hacked because my password is suddenly rejected. I am so disappointed no help has been given. What can I do to ask for a new password and retrieve my mail when I can't remember the zip code I entered previously?
It is such a disgrace if Yahoo! does not provide alternatives to handle such cases.
In my country, unlike the US, zip code aint popular at all. We don't use such data often. I was about to register full service by credit card, for Yahoo! with no ads, but now I am so disturbed and highly disappointed!
Pleeeeeeeeeeease HELP?
These are always interesting requests for help to receive, actually. On the one hand, it's true that prompting for a zipcode as a key to retrieve a password is very ethnocentric since most other countries in the world have either something only vaguely similar (postal codes, but they can contain letters and numbers) or have nothing that serves a similar purpose.
On the other hand, Yahoo! lets you chose from about 30 different countries, including China, Japan, Brazil, Germany, Greece, Thailand and Vietnam. Further, you can actually set any of about a dozen different reminder questions if you don't have a zip code, as shown here: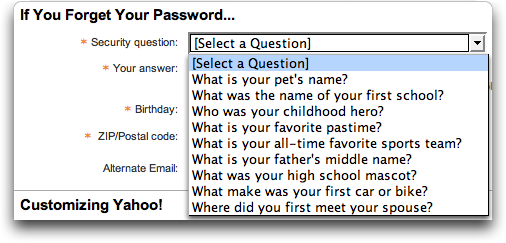 If you have an account, it's your responsibility to set it up so that you can recover and restore any settings or similar.
But there's a bigger issue here. The issue is
how does Yahoo! know that you have legitimate claim to this account?
If you were someone who was trying to break into an account, a "hacker" as you suggest, then you wouldn't know the zipcode for the password reminder and you wouldn't know the password.
In fact, I don't like to help people recover their passwords when they don't know the answers to their recovery questions, the situation you describe here, because I also have no way of differentiating between someone in a frustrating and unfortunate situation and someone who is trying to game the system, trying to con me (or Yahoo!) into releasing access to a personal account.
So the final answer I'll offer is that if you really want to have a Yahoo Mail account, then make sure that you promptly modify your account settings so that you have a reminder question that you're 100% sure you'll remember.