Hi Dave. I bumped into this note on Facebook, a post from a friend: "Thinking about selling my 17″ MacBook Pro. It's 3 years old, but with a 3- month old hard drive. Workhorse computer. Stickers over the Apple logo optional. I'll leave some software on there, too (MS Office, etc.) Best offer … I'm figuring I can get $400-500 for it" But what's it really worth?
Computers drop in value faster than even automobiles do, so basically the first time you boot it up, you've lost 20% of the value or thereabouts. Once it's not the very latest model, you lose probably another 50% of its value that day, and if it's not in pristine condition, well, that's another problem. Obviously the condition of the system is of tantamount importance too: if it's scratched, dinged, bent, chipped, the hinge doesn't work properly or anything else, then that's another problem.
On the positive side, knowing the exact configuration — or even the original cost of the unit — is a great benefit because a minimal configuration unit with, in this example, a 17″ screen, is going to price out differently than one that was completely maxed out with the biggest possible hard drive, maximum RAM possible, etc.
In fact, I'd want to know the following: what CPU does it have? How much RAM? How big a hard drive? What version of Mac OS X is it running?
A lot of used laptops have another issue: battery life. Turns out that most laptop batteries have a duty cycle of 200-300 charges and if it's been in use for a couple of years, it's quite possible that the battery is just about DOA, meaning that it'll run for 20-30 min and then need to be plugged in again. This can be tested by simply charging it all the way and using it until it is completely dead, but that's something the seller will have to do and report honestly to you. Why is that a big deal? Because replacement batteries can run $100-$150, which can be a significant additional cost if you plan on using it while on the road.
Let's say that we do know all these configuration details and the battery's in decent shape, offering 90min or so of use before a charge is needed. Now how to ascertain actual market value? The easiest solution in my experience is to use eBay.
The trick, however, is to only look at the successfully completed auctions, because sellers can ask all sorts of prices for things, it's about what buyers will actually pay.
To do that on eBay, do a search for, say 17″ Macbook Pro 2009 (remember, it's 3 years old) then on the lower left side you'll see a variety of different filters. Choose "completed auctions" and a category that's just the laptops, not replacement parts or accessories. Here are the criteria I specified: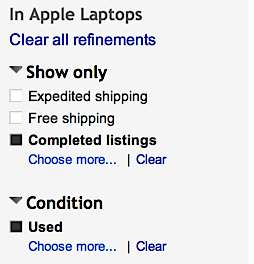 With that specified, here are some competing units: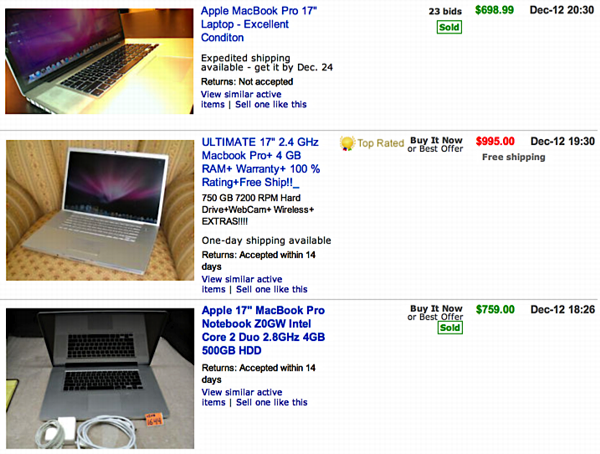 Auctions that end with a price shown in green are successful and are the ones to view: In the pic above #1 and #3 were successful, with closing prices of $698 and $759. The middle listing, a "buy it now" from a preferred seller at $995 is clearly over market price because even with "or best offer" shown, no-one purchased the computer.
Spend some time finding 3-4 successful auctions that are similar in configuration to the one you're considering, especially the CPU, RAM and hard disk sizes, then average those prices and you've got a reasonable assessment of actual market value.
Hope that helps, and, as always, caveat emptor!