I just got a new Amazon Echo Studio speaker and it's great. I want to replace my old Amazon Alexa Echo with the Echo Studio but want to have the new speaker be assigned the same name as the old one. Is that possible? How can I do that?
The Amazon Alexa ecosystem is surprisingly flexible and powerful, and it's all controlled through your smartphone app. You already know that because you have an Echo, so you should be all set up, which is great. One of the many things you can do is to rename your Amazon Echo units so that they match their location or your intended functionality. Having a new unit be assigned the same name as an existing unit, however, is a bit confusing for poor Alexa, so you need to do this change in the proper order…
To start out, you'll want to keep your old Echo plugged in and online so you can use the app to rename it to something else. Maybe "Old Echo" or "Unused" or "Bedroom" if you want to move it into your bedroom, etc. Then when you plug in the new Echo Studio speaker and get it online and working with your Alexa app – which should be quite easy! – you can rename that to the original name of your Echo. Make sense? The idea is to never have two units with the same name within Alexa, even for just a few minutes. No need to stress her out, right?
Let's go step by step so you can see how easy it is to rename an Amazon Echo device…
HOW TO RENAME AN AMAZON ECHO
First step is to find and launch your Alexa app on your Android or iOS smartphone or tablet. The home screen will look like this: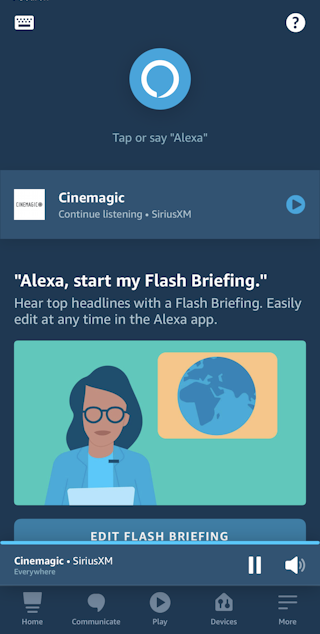 If you look closely, you can see that I'm listening to the Cinemagic channel from Sirius XM on my "everywhere" speaker group. It's also offering me the chance to tap to get a flash briefing, but let's stay on topic!
Tap on "Devices" along the bottom row of icons and it'll show all your groups and devices by type and groupname: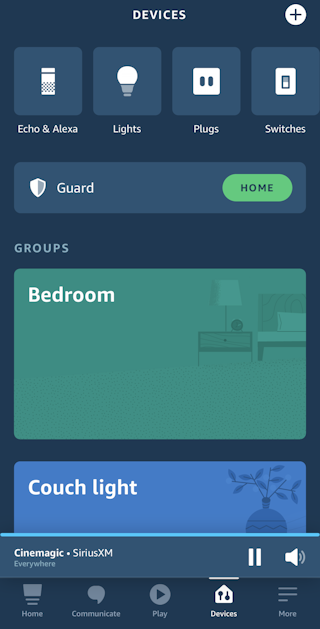 In this instance, it's Echo & Alexa" on the top left that you want to choose because it's an Echo device you want to rename!
No worries. Once you tap it'll show a list of every Echo device that's associated with your account and their online status: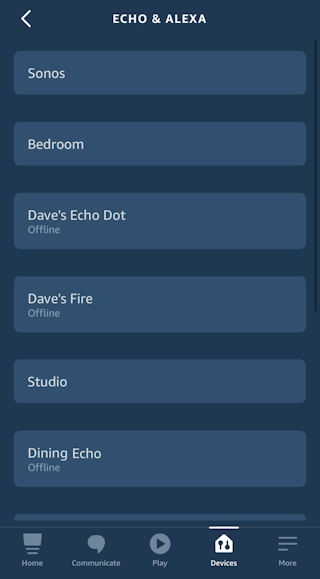 Notice that two of mine are offline. That's okay. I switch things around quite a bit for testing purposes.
The one I want to rename is "Studio" and you can see it about 2/3 of the way down the list. A tap on that device and I can see quite a lot of information about this particular Echo device: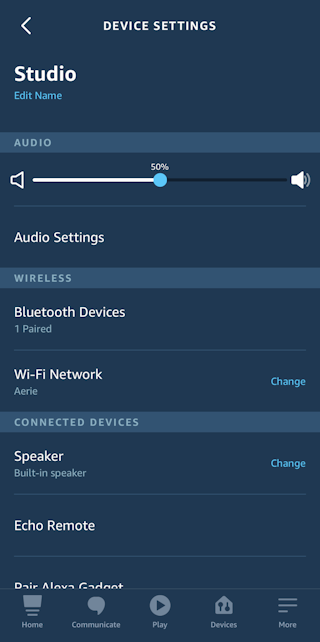 You have already guessed that the light blue "Edit Name" link is what you tap to rename your device. It's that easy…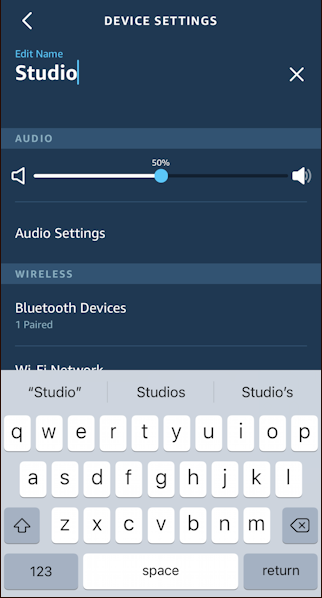 Look at some of the other settings while you're here too, as there are quite a few options you can tweak and modify. First, though, rename that device! I'm renaming mine to be "Dining Room" to reflect its new location. Once saved, it now looks like this:
Done. But… let's go down just a bit on these settings because there's something else people like to change on their Echo devices: The wake word! Yes, you can change it from "Alexa" if you'd prefer (or have someone in the house called 'Alexa", which can be an obvious disaster). Swipe down and look for:
It's the third entry here: "Wake Word". It's showing that the unit has the default setting of "Alexa", but tap on it and you can choose from a small list of other options:
Amazon doesn't allow you to change it to an arbitrary word, those are literally the only choices available. If you don't like any of them, well, you have to cope, there aren't any other choices! I generally leave them as "Alexa" but do have one that's called "Computer" (which turns out to be a bit problematic because you'd be surprised how often you say 'computer' in everyday conversation!)
That's it. Now you know how to quickly rename Amazon Echo products you can see the process of renaming your old unit, then assigning the unused name to your new unit, the Amazon Echo Studio. Do let me know what you think of your Echo Studio in the comments too, they look pretty sweet!
Pro Tip: I've been writing about Amazon products, from Kindle to Echo, for quite a while now. Please check out my extensive Amazon Echo help area for lots more tutorials. Thanks!