Hey Dave, between a Sony PSP 3006 and a Sony PSP GO, which one is the best?
You ask a very interesting question and doubly so because Sony just announced the new Sony Playstation "Vita" device this week, and it looks like it could eat the PSP's lunch when it's actually available on the market.
Let's start at the beginning, though. The biggest difference between the PSP Go and the PSP-3000 series is the philosophy of the device. As other companies have shown in the last few years (Netflix, Apple), the future is data being purely digital. No need to drive down to Blockbuster to rent a physical DVD disk of a movie when you can select it and start streaming it onto your TV instantly through Netflix or an AppleTV, right?
In a similar sense, there's a reason that there's no DVD player available for the super-popular Apple iPad. You don't need it! Just save digital copies of your favorite movies and they'll be ready to go whenever you want to watch one, without the cost, complexity and power demands of a physical drive spinning and reading a plastic disc.
In the Sony Playstation world, this same evolution is embodied by the PSP Go which is essentially a PSP without any moving parts (well, except the controllers). No disc drive (for the botched UMD drive format that Sony unquestionably hoped would become more popular over time but hasn't) means that it can be smaller, lighter, and have better battery life. All good attributes!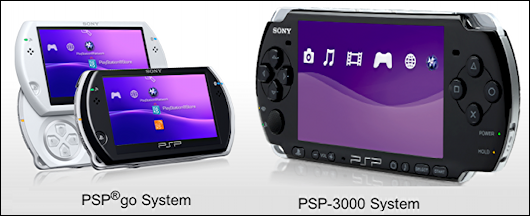 The down side is that you can't get a new game for your PSP Go without having access to the Internet, and it's a whole lot harder to borrow or share games or to pick up a used game at a super discount rate at the local garage sale: even if you do buy the UMD disc version of your favorite PSP title, there's literally no way to get it onto the PSP Go.
The games are the same. The big differences are that the PSP-3000 is cheaper ($129 vs. $199) and has a slightly larger screen (4.3-in vs. 3.8-in), but don't be fooled, the PSP Go has the exact same screen resolution — 480 x 272 — so the games look exactly the same, just a tiny bit smaller. The PSP Go has 16GB of memory built in, while the PSP-3000 requires you to buy a separate memory stick if you want any memory. Since it's intended to be a more portable device, it's worth noting that the PSP Go has bluetooth too, which is cool: you can have wireless headphones!
Which is better? Hard to say. I would suggest, though, that you take a very close look at the PSP Go as I believe it's much more the future of the PSP platform. Then again, if your friends already have PSP-3000 systems and you have access to UMD discs with movies or games on them, well, then the PSP-3000 should be a no-brainer.
The real future, though, is this gorgeous device: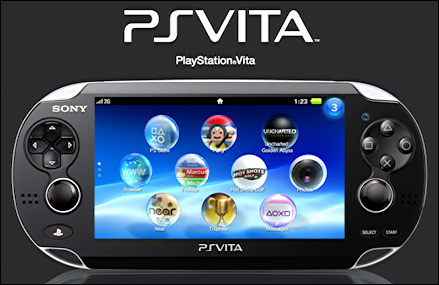 The Playstation Vita is a very slick hybrid device that lives somewhere in the world between handheld video game unit and mobile cellular device. I think we're going to see big things from it and its always-online capabilities. It's more expensive at $249 but with a 5-in touch screen, rear touch pad, front and rear cameras and on-board augmented reality capabilities (think "Kinect"), this could prove to be a game changer in the handheld gaming world.
Then again, since it requires all new games to be written, it might not be such a game changer after all…
For now, stick with the Sony Playstation Portable. Whether you buy the PSP-3006 or the PSP Go, I think you'll be delighted by just what a cool gizmo you've just acquired!