I keep reading about cloud-based this, cloud-based that, different services for backups, copies of my digital photos, and even document storage so I can work on my spreadsheets from anywhere in the world. Sounds great, but I don't really understand what The Cloud actually *is* and whether it's safe and secure?
It's interesting to be an old timer in the Internet space, because I've watched the cycle go back and forth between local and network storage. Decades ago, I can remember using mainframes and dumb terminals, where everything was stored in a central system. Then PCs made it economic for files to be stored locally, freeing us up from the need to be connected. Then "headless PCs" almost caught on, where the local device had the smarts to run demanding applications but the programs themselves, and all your data, was still stored in a central location.
For the last few years, we've definitely been moving more towards having everything on our computers again, with 500GB and larger drives now common for even a lowly laptop. That's a lot of data.
The problem is that it's also a lot to lose. I know from experience when my daughter's laptop crashed a month or so ago and she lost a month's worth of photos, email, and school work. We had backups, but, really, who does that on a perfect schedule?
?
Enter the old concept of a centralized storage system that's somewhere on the other side of that Internet connection. Services like Carbonite actually slowly stream copies of all your files to their "cloud-based" backup servers, Google Docs offers a central — sharable — document and spreadsheet archive along with the new Google Drive feature, while services like Apple's popular iCloud automatically keep copies of your address book, email, and even browser bookmarks on a central server. Prefer Windows? Microsoft has a slick system called SkyDrive that's worth checking out too.
The real value of these systems? Multiple systems can automatically, magically stay in sync so if you take a photo on your iPhone, say, it appears on your iPad without you even having to click a button or take any action, or a document you're editing on your laptop is accessible from your desktop system, without you having to copy or transfer it manually.
The "cloud" idea is related to old whiteboard illustrations of how the Internet works, where your computer would be on one side of a big cloud, a server that actually houses the Web content you seek is on the other side, and the cloud itself is labeled "The Internet" in portentous lettering. We can tweak it slightly to show all the devices, but the concept's the same: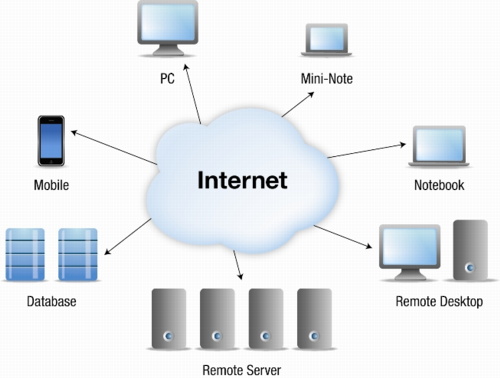 Is it safe? Given the amount of data that's already winging its way into that mysterious tech cloud, it might be too late to ask that question, but I think the privacy of your cloud data is more dependent on the individual companies than the Internet itself. I trust Apple with its iCloud service and Google with Google Docs (and Google Plus), personally. My advice: closely read their Terms of Service before you start using the service.
But that cloud is here to stay. Until we go through the cycle another time and decide that those petabyte crystal-based storage chips mean the cloud can be neatly tucked into our tablets.
Image from OpenText Corporation.