Dave, do you know anything about Japanese comic books or "Manga"? An IM pal of mine has been trying to convince me to buy some of his hentai, which he says is an "adult" form of manga, but he gets all upset when I ask him about the stories in his books. So am I the only clueless person on the planet? What is Hentai?
Well, there's good news and bad news. The good news is that you're right when you think that hentai is a form of manga, which is a particularly Japanese style of comics and comic book art, typified with large eyes and various other aspects. Anime, of course, is the movie version of manga, again with those same exaggerated eyes and physical dimensions.
Just as Western comic book and cartoon art got pulled into more adult themes with the release of Heavy Metal and Fritz the Cat (among many, many others), so does hentai represent the adult and mature themes in the world of manga.
Specifically, hentai literally means:
"A Japanese slang word meaning perverted or perversion. In the world of manga and anime, hentai refers to the adult oriented titles that present extreme, graphic sexual imagery. A common Western stereotype concerning manga and anime is that these artforms are filled with graphic sex. While such imagery exists (and has always existed in Japan), hentai titles make up just a small niche market in Japan's massive manga and anime output." [src]
Before we go too far into that (and don't worry, we won't talk about the more peculiar stuff – this is a family site, after all) let's dig up a useful definition of manga too:
"In 1814 the famous Japanese artist Hokusai created a book of black & white sketches that he called manga (involuntary sketches). In recent Japanese history the word has come to describe those small illustrated books of black & white ink drawings that tell a series of stories. Graphic novel would be the closest translation for "manga" though they are not at all like novels in the Western sense, nor are they comparable to Western comic books." [src]
If you'd like to learn more about hentai, you can certainly Google hentai or, if that's too much, "hentai store" will give you some useful results. Make sure you look both at the so-called organic or natural search results and those that are part of the paid advertising area. Both have useful sites if you want to learn more.
Here's an example of the manga / hentai style of illustration: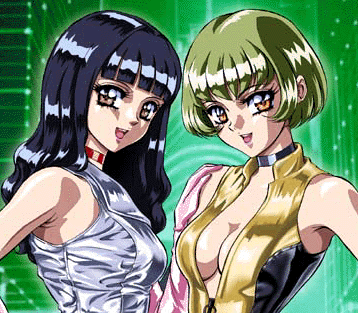 Warning: It took me some digging to find an illustration that wasn't too graphic or coarse. If you want to learn more about hentai, I definitely suggest that it's NSFW (not suitable for work).
You can research and buy quite a lot of different hentai through
eBay
too, if you want to check it out before dealing with your friend's mystery collection.
'nuf said about hentai, I hope!
---
Update: I received a most informative email message from Brigid Alverson, a Manga expert who writes the Manga Blog blog. She took issue with my apparently simplistic "big eyes" description. With her permission, here's the note:
People who write about manga tend to roll our (normal-sized) eyes when we see the "big eyes" description because it's such a cliché — and only partially true. While lots of manga do have characters with big eyes (this was a hallmark of the "father of manga," Osamu Tezuka), lots more don't, and whole genres (horror, yaoi) exist that don't usually use that style. Check out Death Note, Naoki Urasawa's Monster, Nodame Cantabile, and Cantarella, all titles that are popular with bloggers, and you won't see an oversized pupil in the bunch. It's really just one specific style within the manga universe.
There's a raging debate going on about what is and isn't manga right now, as some publishers are now promoting works that don't originate in Japan. What people seem to agree on is that it's more about the way of telling the story than the specific drawing style. Manga use a different style that focuses more on individual moments and emotional reactions. Here's a post about OEL (original English language, i.e., non-Japanese) manga that includes an excellent example of the manga storytelling style (scroll down to the bit about Luke Skywalker):
    Even a Gaijin can draw manga
If I had to give a definition of manga, I guess I'd say that it's a type of comic that originated in Japan and uses storytelling techniques that focus on specific moments and on the characters' emotions. There are a few other hallmarks — multi-volume series, the use of black and white rather than color — but there are also one-shots and color manga, so these are not universally true.
As for googling "hentai" — that really opens up a can of worms. As you correctly observe, much of what's out there is pretty strong. It's not advice I would give a newbie, although your cautions were appropriate. (I just tried it myself)
Actually, your answer was pretty good — I like your reference to Hokusai. You certainly do a better job of describing manga than I would blogging about Unix or even OS X. Anyway, I was really targeting the question more than the answer — I certainly wouldn't buy books sight unseen from someone who wouldn't even explain what they are!