November 5 every year the English (and some other Commonwealth nations) celebrate Guy Fawkes Night with fireworks, parties and other festivities. But who was Guy Fawkes and what exactly are we celebrating when we commemorate the Gunpowder Plot?
We have to go back in time quite a bit to find Guy Fawkes (also commonly known as Guido Fawkes): he was born on 13 April, 1570 and died in early 1606. Born a "recusant" he became Catholic on his 16th birthday during a time when religious beliefs were a major factor in warfare not just in England but throughout the European continent too.
At that time, it was dangerous to be a Catholic in England: the English Parliament had very repressive measures against Catholics during that time and it was in Guy's 16th year that Margaret Clitherow was martyred by being crushed to death. Her crime? Harboring Catholic priests in her home.
Fawkes served in the English military without much success, but then went to Spain and spent ten years fighting with the Spanish Catholics as a soldier. During this time in Spain he adopted "Guido" as his first name and gained his critically important skill and expertise in explosives.
When he returned to England, he met Robert Catesby, head of a group of religious conspirators seeking to promote the Catholic cause by assassinating the then-King of England, King James I. Fawkes was pulled into the Gunpowder Plot wherein he learned that the plan was to kill King James I, his family and most of the reigning aristocracy by blowing up the House of Lords in the Palace of Westminster during the State Opening of Parliament.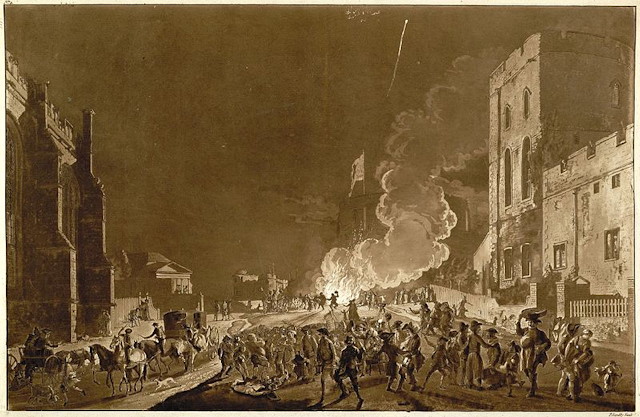 It's widely believed that the plot was hatched after the Hampton Court conference in 1604 when King James I openly attacked both extreme Puritans and Catholics. It became crystal clear to English Catholics that no-one, not even the Spanish Catholics, was going to help. If they were going to create a better, safer world for themselves, they needed to take action.
Guy Fawkes and his co-conspirators rented a cellar beneath the House of Lords after having tried but failed to dig a tunnel under the building. By March 1605 they had hidden 36 barrels (1800 pounds) of gunpowder in the cellar, waiting for the opening of Parliament that year.
The Gunpowder Plot was foiled shortly before its completion primarily because one of the conspirators got concerned that fellow Catholics would be killed when the building was blown up and wrote a letter explaining the plot to Lord Monteagle. The conspirators learned about the letter but decided to proceed nonetheless and Fawkes was captured while guarding the gunpowder cache, possibly having raised suspicion by wearing a coat, boots and spurs as if preparing for a speedy getaway.
What Fawkes didn't know was that Lord Monteagle had notified the authorities and on the morning of November 5, they had searched the cellars underneath Parliament and found the gunpowder, but had cannily left it untouched, avoiding actually alerting Guy Fawkes that they'd been discovered.
Fawkes was arrested, tortured, and ultimately hung, drawn and quartered for his crime against the Crown, along with a number of co-conspirators.
The entire story is captured in a popular verse that's been shared for centuries in England:
Remember, remember the Fifth of November,
The Gunpowder Treason and Plot,
I can think of no reason
Why the Gunpowder Treason
Should ever be forgot.
Guy Fawkes, Guy Fawkes, t'was his intent
To blow up the King and Parli'ment.
Three-score barrels of powder below
To prove old England's overthrow;
By God's providence he was catch'd
With a dark lantern and burning match.
In addition to Guy Fawkes Night, Fawkes lives on in popular culture too: The phoenix "Fawkes" in the
Harry Potter
series, Alan Moore's superb
V for Vendetta
graphic novel (and James McTeigue's movie based on the book), Ray Bradbury's
Farenheit 451
and John Lennon's song
Remember
.
Perhaps most famously, Fawkes is referenced in the famous anarchist slogan
Guy Fawkes: The Only Man Ever to Enter Parliament with Honest Intentions
.
[references:
Britannia.com
,
Wikipedia
and
BBC
]