I've been reading all this excited buzz about something called Google Base, supposedly a new category killer from Google that'll let them compete with eBay, Craigslist, and everyone else. But I don't see anything at all from Google itself. What's the scoop?
You're right, there's been an astonishing amount of guessing in the marketplace about Google Base, a structured database system. But it's not even in beta, so it's hard to imagine how so many people can build entire business models and conclude specific competitive threats given that it's a mystery. Even Google's being rather coy about Google Base, which is still hidden behind the curtains.
Or is it?

Try this link: base.google.com
As I write this entry mid-day on the 26th of October, that brings you to the home page for the Google Base system, and here's what Google has to say about it:
"Post your items on Google.
"Google Base is Google's database into which you can add all types of content. We'll host your content and make it searchable online for free.
"Examples of items you can find in Google Base:
• Description of your party planning service
• Articles on current events from your website
• Listing of your used car for sale
• Database of protein structures
"You can describe any item you post with attributes, which will help people find it when they search Google Base. In fact, based on the relevance of your items, they may also be included in the main Google search index and other Google products like Froogle and Google Local."
There are also links on the page to a Frequently Asked Questions area and even information about a bulk upload capability, but as of this moment they don't appear to be working properly. Here's what you see: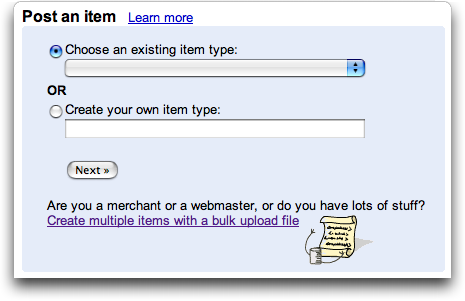 Wondering about what categories of information they're going to be working with? Here's what the pop-up menu shows: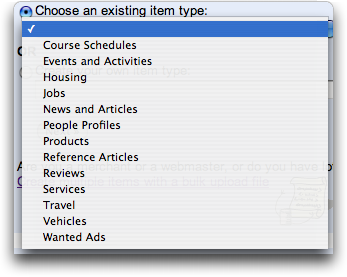 Unfortunately, while Google Base is clearly going to be tied into the centralized Google account system (I better not call it a "passport", though), it's not working, so even using the correct password, I can't log in. So it's still clearly a work in progress, and it's surprising that you can find it in the public eye at all.
Now, can Google compete with
eBay
,
Craigslist
and similar? Well, if you take the view that everything's just data and that it's all a "simple matter of interface", then perhaps. But I'm skeptical. Google does some things very, very right, but others, like
Orkut
, I view as unsuccessful attempts at moving into the social networking world, for example.
In any case,
Google Base
will remain something to watch, unquestionably.