Okay, so I knew it was just a matter of time before someone came out with downloadable movies, but I never thought Amazon would be first out of the starting gate! However, I just read about the new Amazon Unbox video store, and darned if they haven't jumped! Can you tell me a bit about how it works and whether it's worth checking out?
Amazon's really been releasing cool stuff left and right, actually, and the last month or two have seen the introduction of the Omikase program, Amazon aStores and more. Finally. I'd been wondering when they'd do a bit of innovation in their core business of selling products, rather than services.
As you note, Amazon has unveiled Unbox Video Downloads (which you can also get to by going to the URL "unbox.com", by the way) and it's a pretty darn interesting offer with a small but intriguing array of different TV shows and movies available right now. TV channels with some presence include: A&E, Adult Swim, BBC, Comedy Central, FOX, HGTV, MTV, Nickelodeon, PBS and The Travel Channel. Movie studios? 20th Century Fox, Fox Searchlight, Lionsgate, Paramount, Sony, Universal and Warner Bros. are all represented on launch.


First thing you notice is that it all appears to be built within a Flash Player, which must make Macromedia pretty darn happy, all in all. Rather than just talk about it, though, I decided to download a TV show and see how it all worked.
The good news: right now there's a
$1.99 rebate
: "To celebrate the opening of our new Amazon Unbox™ Video store, we're offering a $1.99 instant rebate on your first purchase or rental. Most of our TV programs are available for purchase for just $1.99, making your first TV show FREE. If you prefer, purchase or rent a higher priced digital video and receive a $1.99 discount. Just purchase any digital video and we will automatically deduct $1.99 from the price."
Indeed, $1.99 is the cost of a TV episode, and movies cost anywhere from $9.99 (for
XXX
, confusingly categorized as "TV: Action & Adventure") to $13.45 (for
Office Space
, the most frequently downloaded movie at this early stage).
The first step in this journey, of course, is to
Download the Amazon Unbox Video Player
, at which point you will find out that – surprise! – it may be Flash-based, but the actual Unbox player is
Windows XP only
. Us Mac folk? Not even a word about "coming soon".
Ah well, if you are on a Windows system, you can still play along. Click here:
Now you'll see the usual download warning: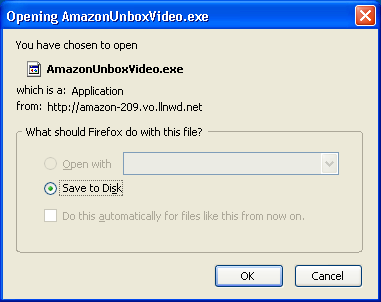 Download it, go through a pretty typical installation, and next thing you know, you'll have the video player up and running on your system. Well, not quite, you'll need to set a few preferences first: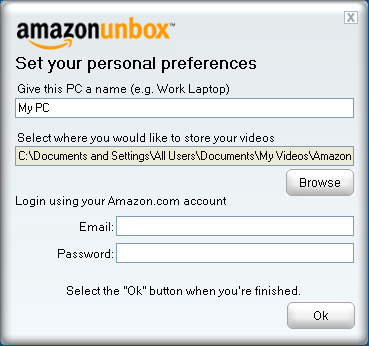 Easily done, then click on "Ok" and you'll be looking at the player itself: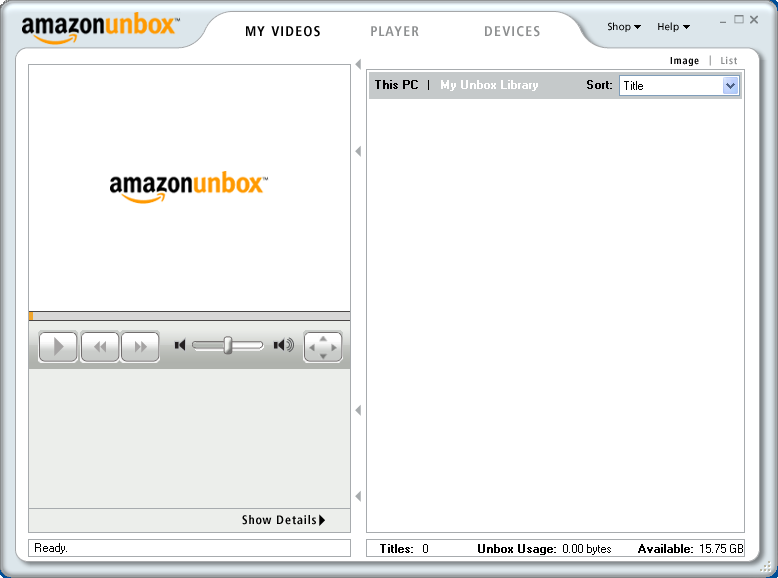 Click for full size image
Rather surprising how boring it is. Why not download at least a 30 second trailer or
something
so that you don't end up with a blank player?
Well, it's installed and I've decided that my inagural video should be the first episode of the popular geek series Numb3rs. Episode one is called
Judgment Call
, and buying it is as easy as clicking on the usual One-Click button, labelled "Buy Now with One Click".
Now I get into trouble for having downloaded the Unbox Video Player earlier, ending up here: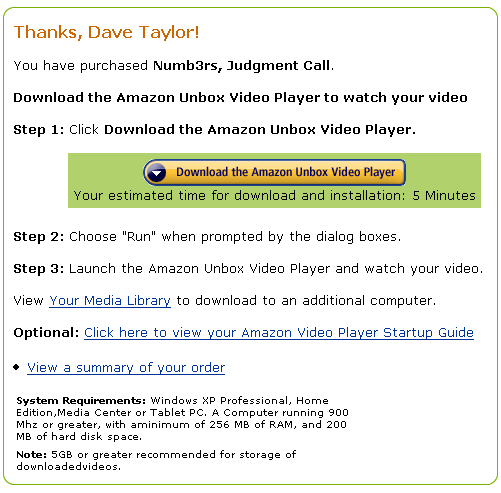 What's missing? No obvious way to get the player to know that I've purchased the movie. Grrr….
After some experimentation, it appears that I need to actually download the player a second time to get things to work, so I do so, selecting "Repair" as the installation option on this second pass through. Sheesh. What a pain!
Still no episodes, shows, movies, nothing in the player.
Next attempt is to go to my
Amazon Media Library
, which shows that I've purchased the episode, at least, including the all-important "Download" button:

Nope, clicking on "Download" puts it in my download queue, but somehow that never seems to quite make it to the Video Player itself, which sits there on my desktop, inert and certainly not showing me any sort of video.
Oh, wait! After sitting passively for almost ten minutes, the Amazon Unbox player
is actually downloading the video
, rather to my surprise!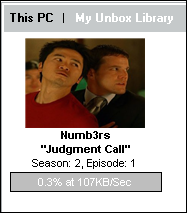 Okay, after two minutes with my cable modem connection, I'm only at 1.3% download of this 44 minute TV episode, which I then project as requiring a total download time of 153 minutes, or 2.5 hours. That means that a typical 120 minute movie will take a staggering 6.9 hours. Is this the future of broadband?
Here's something I don't understand: why can't I watch the small portion I've downloaded while waiting for the rest? Certainly the first X minutes of video are now on my computer. Seems like a significant design gaffe. (Actually, after you've downloaded "enough" of the video, you can indeed watch it before it's completed the transfer)
Also, the filesize is worth mentioning, as it's definitely DVD quality: 44 minutes of video take up 1.02 GB, so a two hour movie should be about 2.7GB. I hope you have a lot of disk space if this is the path you're planning on traveling to get your video downloaded onto your computer. Somehow, the 650MB size of a VCD movie doesn't seem quite so bad in comparison, especially if you've a laptop where disk space is always at quite a premium.
Here's what it looks like if you watch the downloaded video in "My Videos" mode:
You can also watch it in "player" mode:
and you can watch it full-screen too.
Finally, is it worth it? Well, the greatest limitation I see is that Unbox is so intimately tied to Windows XP boxes. No Linux, no Mac, no Sony PSP, no burning DVDs to watch on your TV, nada. If you're not deep in the Windows world, this really isn't going to prove much competition for Apple's upcoming video capabilities for the iTunes Music Store, which will undoubtedly support video iPods and both Mac and PC systems out of the box.
If you're interested in reading about what other bloggers are saying about Amazon Unbox, here's a sprinkling of the most influential:
Marshall Kirkpatrick at TechCrunch
,
John Biggs at CrunchGear
,
Paul Colligan
,
Ryan at CyberNet News
,
Mike at Techdirt
, and
Om Malik at GigaOm
.