I know about Kontera and IntelliTXT but now it appears that Amazon, of all companies, has released a new contextual advertising system called Context Links. Have you checked it out, and how do you use it on your site?
You're right, first off, that I was running Vibrant Media's slick IntelliTXT system and switched over to Kontera after some initial testing suggested that it offered a greater payout on a per-visitor basis. Honestly, I find it a little bit visually disturbing and a part of me wants to remove it so that the text isn't sullied by pop-up ads, but that same part of me would then be left trying to figure out how to pay the mortgage at the end of the month, so… 🙂
Amazon had a secret weapon in their Associates program for a year or so, a friend of mine who has since launched his own boutique tech startup, and it was during his watch that we saw the Associates program really blossom with a variety of new and interesting technologies to inject some additional cool into what is already a multi-billion-dollar revenue stream for Amazon. Since some programs take years to write, I can only assume that this new Context Links system is another legacy invention, and it doesn't surprise me to see that it's one of the coolest things Amazon's done in years!
The basic idea is that if I write about, say, "Harry Potter and the Deathly Hallows", or about the best-selling (if banal) "The Secret" or amusing "Happy Feet", wouldn't it be nice if there was a system that automatically added my Associate links to those references? Sure, I can log in to the Associates site and manually look things up, but that's a ridiculous pain in the booty and few people in their affiliate program bother to link everything that they could.
Context Links is basically just a single line of JavaScript you include at the end of your Web pages (exactly how I have Kontera implemented on this page too, if you "view source"). For a pretty standard configuration, the inclusion looks like this:
<script type="text/javascript">
amzn_cl_tag="davetaylor";
</script>
<script type="text/javascript" src="http://cls.assoc-amazon.com/s/cls.js"></script>
There are a variety of tweaks you can make, however, which can make your links more effective and useful, notably "Match exact product names", which should increase the accuracy of its links unless you accidentally use product names in sentences, making sure you wouldn't get "the Shaft", or have a "bite of the apple", for example.
First change I made was to use a dashed underline link style, as you can see here: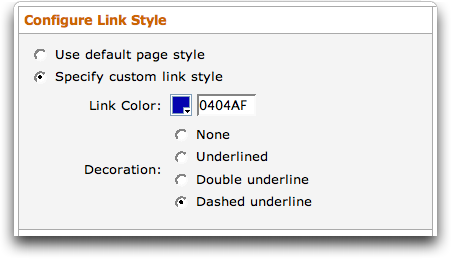 Next thing worth customizing is what information is included in the actual pop-up window when your visitor moves the mouse cursor over an Amazon Context Link hotspot: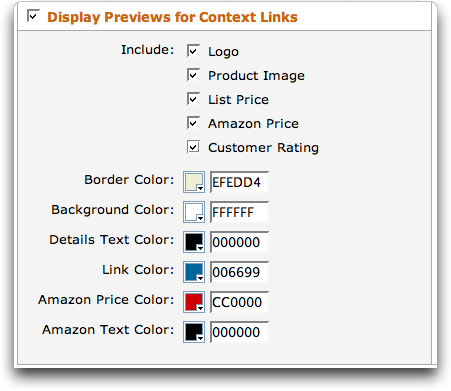 It'd be worth testing, but I suggest you start with all their default fields selected…
As I said earlier, I'm sure that you'll get better results by choosing "match exact product names" and here's where that can be set:

Finally, there are also some Advanced Settings you can adjust if you'd rather not have the Context Links system try to add links to movies, toys, whatever: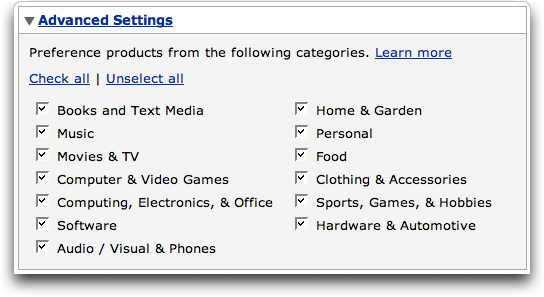 I suggest that you pick the categories that best match the kind of content you produce, personally. For testing purposes, I've left everything selected, which should mean that if I write about something like a wheelbarrow, cuisinart food processor or soccer ball, I should get Context Link links…
The bottom of the page has a text box showing you the exact code you need to include on your page (or blog template) to get the Context Links up and running. As you change preferences the code changes magically so by the time you get to the bottom of the page, your code should be ready to go. With all my mods, here's my final code:
<script type="text/javascript"><!–
amzn_cl_tag="davetaylor";
amzn_cl_link_color="0404AF";
amzn_cl_link_style=4;
amzn_cl_exact_match=1;
amzn_cl_categories="a,b,c,d,e,f,g,h,i,j,k,l,m";
//–></script>
<script type="text/javascript" src="http://cls.assoc-amazon.com/s/cls.js"></script>
I'm also including it "live" on this blog entry, though I'm not sure if it and Kontera's system will get into some sort of weird death match tussle. We'll see together!


Early feedback from the Web community is fairly good, but some folk are pointing out that the pay per action (PPA) revenue from Amazon Associates isn't very good unless you have some extraordinary match with what they sell. Start with the Associates blog, however, so you can get the corporate skinny: Introducing Context Links .
Also, I hope that the results are better than the demo site Amazon points to. Check this out, it's a link to the phrase "International Business Machines":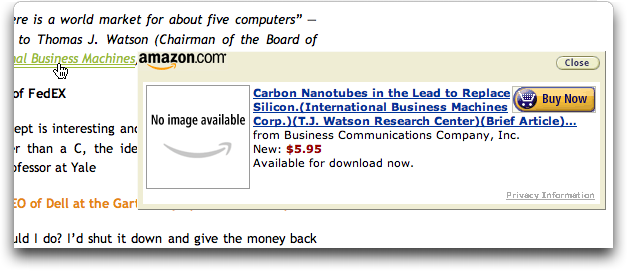 Sorry, guys, but I just can't see that ever converting into a sale. Maybe a book on the history of IBM but this is their best match for this bluechip firm's name being mentioned?
We'll see. If you have implemented Context Links, let us know what kind of results you're seeing!