I've been a long-time affiliate at Amazon.com and was pretty psyched to learn about the oddly-named Omakase program that they recently rolled out (see What is Amazon Omakase?). Last time I logged in to my Associates account, I saw that they now also have an "aStore" program? What's Amazon aStores all about, Dave?
As we're learning, the summer of 2006 seems to be the season of innovation for the long unchanged Amazon Associates program, and all I can say is that it's about time!
The specific aStore program that you're asking about addresses one of the greatest complaints I have heard from Amazon Associates: it's darn hard to pull together a set of Amazon products and integrate it into your site without using complex and confusing toolkits or scripts. No longer!
Let's step through creating a basic Amazon aStore and you'll see just what I mean!
Start by logging in to your Associates account and you'll notice on the left nav bar a new option aStore and, for now at least, a big ad on the page too:


As their prose suggests, an aStore really is a different sort of beast, one that lets you have a shopping cart for multiple item purchase, lets you have pages appear that offer detailed product information, and more. Finally!
The first page someone will see when they visit your own aStore is the "Featured Products" page, which can include up to nine products. To select them, click on the "Build an aStore Now" button and you'll see:


As you can see, I haven't yet selected anything. For my demo, I'm going to select some of my favorite business books and sneak in a book that I wrote too. The first selection will be Guy Kawasaki's splendid
The Art of the Start
. I type that into the search box and am promptly shown a table with all matching products within the Amazon database: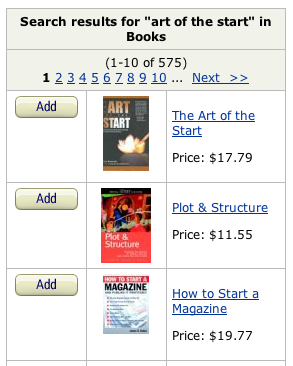 I select the first, which is the correct title, and the cover pops into the little 3×3 grid. After a few minutes work I've added a bunch of other great books, including John Battelle's
The Search
, Tom Peter's
Re:Imagine!
, Malcolm Gladwell's
The Tipping Point
, Debbie Weil's
The Corporate Blogging Book
and Chris Anderson's
The Long Tail
.
You can — and certainly should — add an annotation or description of your own for each of your featured products too. Here's how it looks as I'm adding a note for the splendid
New Annotated Sherlock Holmes
(okay, they're not all business books):


Once I've written all my little descriptions for these books, I scroll to the bottom and click on "Continue", which then lets you specify specific categories of goods you'd like to make available on your Amazon aStore. As Amazon describes it "Category pages will automatically present products from Amazon.com's inventory. In addition, due to the extensive inventory available on Amazon.com, you can further streamline the content of a category to only include products that contain specific keywords."


I chose a few categories, and then could select sub-categories too, making it easy to fine-tune the products that will be available in my Amazon store. I selected two primary categories, "Books" and "Magazine Subscriptions" and then indicated which subset of those categories I'd like included too.
Next step is to select the color, design and theme, which is nicely displayed:


Kudos to them for the little letter balloons, making it quite easy to see what's what. Scroll down just a bit and you'll see that you can specify a store title and a logo too:


Almost done. Next step is to figure out the layout you'd prefer, from whether your navigational elements should be on the left or right to whether you'd like to enable a wide variety of different "widgets":


I opt to include just about everything — why not? — and, finally, click on "Finish & get link" and here's the result:

Dave's Business Books and More

I applaud Amazon for building this slick new tool and encourage you to poke around on my new aStore (and don't hesitate if you want to buy one of those books and earn me a little affiliate commission 🙂