I'm starting to get paranoid about the geolocation capabilities on my iPhone. How can I figure out which of my many iPhone apps are tapping into the geo information and reporting it back to the app developer??
Prior to iOS 4, the latest generation of the iPhone operating system released in conjunction with the iPhone 4, it was pretty tricky to figure out which apps where reporting back your lat/long information and therefore your exactly location at the point of that communication. Privacy? Yeah, that's a definite issue when you might be inadvertently broadcasting your location in a way that can be trivially mapped and recorded.
Fortunately that was one of the areas where the Apple engineering team focused its attention and the latest system actually makes it pretty straightforward to figure out which apps are reporting this information and disable those that you don't trust.
To start out, remember that the first time you run an app that wants to gain access to location services, you're presented with this dialog:

Nothing that causes anxiety? Click on "OK".
To see what you have allowed, go to "Settings":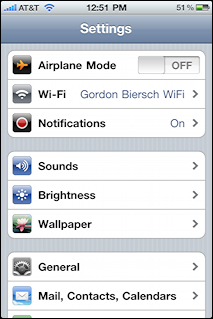 Tap on "General":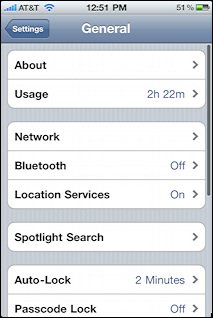 See "Location Services" in the middle? Tap on it and…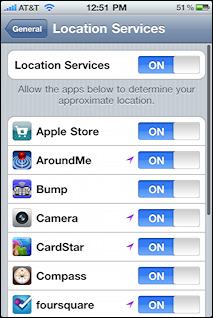 Now you can see the list of apps I have granted permission to report my location. Most make sense, but there are a few oddballs. Why does Bump need to know my current location, for example? To disable it, simply tap on the "ON/OFF" and that app will be prevented from gaining your location information.
Now you know. Keep an eye on this, I surmise that it'll grow over time…