Not to sound like I'm not a patriotic American or anything, but given all that was going on during the revolutionary war and such, what actually happened on July 4, 1776 that causes us to commemorate that day rather than any other day in the history and birth of our country?
This is a great question, actually, because you're right that there was a lot going on in the years around 1776 in the United States and I think a lot of people have this sense that on July 3, 1776 we were a colony of England and on July 5, 1776 we were the United States of America, done deal, let's get back to business.
The truth couldn't be more different!
What happened on July 4, 1776 was that the Declaration of Independence was signed by our so-called Founding Fathers, a group of rebels that had gotten sick of English rule by proxy (especially the whole issue of taxation without representation, which was the basis of the Boston Tea Party rebellion) and were willing to risk death by hanging for sedition by putting their names on the document.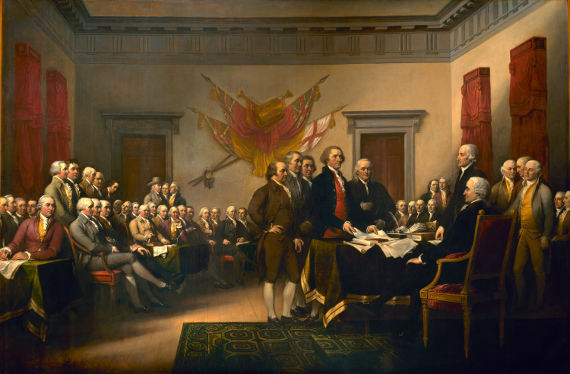 You'll recall that the Declaration starts out "When in the Course of human events, it becomes necessary for one people to dissolve the political bands which have connected them with another, and to assume among the powers of the earth, the separate and equal station to which the Laws of Nature and of Nature's God entitle them…" [
ref
] The reference to dissolving the political bands of course refers to saying ciao! to the English monarchy that sought to continue ruling the American colonies from across the Atlantic.
Think about it, though: a great document like the Declaration of Independence isn't written in a day, even by someone as brilliant and prolific as Thomas Jefferson, and the impetus to fight for independence when you're a young, albeit well-established colony doesn't happen overnight either.
Many historians say that the American Revolution actually started in April of 1775, when the American militia fought British troops in Massachusetts. Even after that battle, however, many Americans still hoped for reconciliation with the British government, not independence. Over a year later, in June of 1776, Richard Henry Lee introduced a resolution in the Continental Congress (based in Philadelphia, Pennsylvania) that "these United Colonies are, and of right ought to be, free and independent States…."
The Continental Congress then appointed a committee led by firebrand Thomas Jefferson to draft a so-called declaration of independence in case Lee's resolution were adopted, and on July 2, 1776, Congress did indeed vote to adopt Lee's resolution. In many ways, that's probably the more important date than the signing of the Declaration, because it was that vote that really signified that the colonists were ready to band together, come what may, to wrest their independence from the British monarchy. Two days later, on July 4, they formally adopted the Declaration drafted by Jefferson's committee explaining the reasons for their decision to separate from England.
The war for independence wasn't done when that document was signed and publicized, however. It took years before the relationship between England and the new United States of America, all 13 states, became cordial, not tense, years during which other countries like Germany and France played a surprisingly large role.
One good place to learn more about the revolutionary war, by the way, is the
Lighting Freedom's Flame
site, hosted by the National Park Service. Lots and lots of very interesting material. Then check out the
Declaring Independence
exhibit at the Library of Congress.