Dave, help! My kids are telling me that the only thing they want for Christmas this year are Zhu Zhu Pets. As a parent, however, I'm clueless. What the heck are Zhu Zhu Pets and why are my kids so obsessed with them??
Ah, ya gotta love crossover toys and their marketing campaigns. From everything I can tell, Zhu Zhu Pets are the hottest toy of the 2009 Christmas season. They're battery powered hamsters that have various little Habitrail-like worlds that they can scoot around in. Yes, you read that right. Battery powered hamsters.
To be fair, it's a logical step in the evolution of toys, given that we are starting to see toys that interact with each other and that in many ways this is the super-cute "girl" version of battery powered cars and race tracks.
Further, truth is that real hamsters require food, cleaning, and they eventually die, which can be a bit of a downer for a kid – or the parent who really ends up taking care of the pet – when they just wants a distraction or effortless play toy!
I know you're dying to see what they look like, so here's a picture: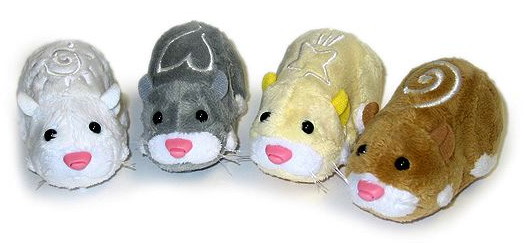 Each has a name, of course. Ready for it? The Zhu Zhu Pets are called Mr. Squiggles, Num Nums, Chunk and Pipsqueak. They aren't much fun by themselves (though they do move and act in random, unpredictable ways) so you'll find that you need to buy one or more expansion worlds for them. Here's a pic from the manufacturer: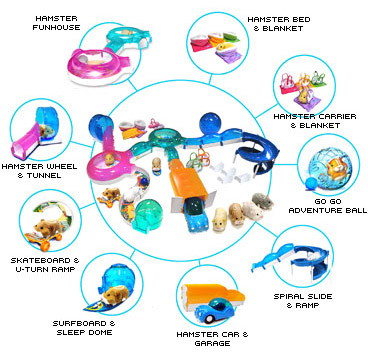 Buy them all – if you can even find them! – and you'll have spent a pretty penny or two on these little battery-powered cuties (they require two AAA batteries each, btw). The good news? Right now, today, you can resell them for more than you paid on eBay or other auction sites because the next few weeks are going to see demand far outstrip supply. If you're entrepreneurial… 🙂
The official site for Zhu Zhu Pets is Cepia, Inc, out of St. Louis, of all places. Their site is
ZhuZhuPets.com
and it's worth checking out, including some of the videos. Just not with your kids present. Trust me on that.
Zhu Zhu Pets are for sale on all of the major online outlets too, if you don't want to risk being trampled in the local toy store. Start at Amazon.com and you'll find:
Okay, those are the basic four Zhu Zhu hamsters. Don't be surprised to see the price fluctuate significantly and for the little critters to be going for far more than the manufacturer's recommended retail price either: supply and demand. Say it again. Supply and demand. Yeah, ouch.
Once you've gotten one or more Zhu Zhu Pets, it's time to dive into play sets. I won't even link to those other than this search results page
as there are soooooo many of them. I'll just wish you good luck and hope that they're still working and keeping your children's attention by 1 January.
Notice: the above Amazon links are affiliate links. If you do use them to buy your child some Zhu Zhu Pets (or yourself, it's okay, they'd be fun on your desk at work too) you'll help us keep the lights on here at the office. Thanks.