On your recommendation, I've signed up for AdSense and added a simple search box on my pages so that I can also profit from AdSense for Search. I haven't seen much money from the search component, but all of a sudden I'm wondering if there's any way that I can at least see what searches people are doing when they hit Google through my search box?
I never thought about it, but poking around a bit, I'm a bit surprised to find out that Google does indeed archive all the searches that people do through the AdSense for Search box on your site, and you can view it at any time. Cool!
Here's how you get to it: log in to your AdSense account and scroll down to the bottom of the page. You'll see this: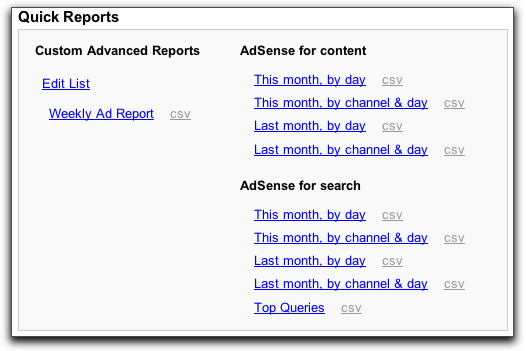 You can see the link you want:
Top Queries
. Click on that and here's what you'll see:
Well, at least that's what
I
see on my AdSense account. You can see that for the entire month of February 2006 I saw a total of 865 queries through the AdSense for Search box on my site, and the most popular searches were:
Three of them I understand, but what the heck is a supergrover anyway?
I hope this helps you out as you learn more about AdSense. It's definitely a cool and, I'll wager, lesser-known feature of the program.