I'm worried that a new program I installed on my Windows PC has access to my photo and picture library without me having to grant permission. Is that possible? And how can I check to see if it can get to my Pictures?
Theoretically as you install and first launch a new program in Windows 10 it should confirm that you want to grant it access to various areas of your device, from microphone and camera to the Pictures library. However that can often be a bit bewildering if a program asks for a lot of permissions at the same time, and plenty of people just blindly grant all access because it's fast and easy. With a game, you might be excited to get it launched and start playing too!
Fortunately, while Windows can't completely compensate for the human factor, you do have the ability in Microsoft Windows 10 to go into your Settings and identify which programs are granted access to your various devices and file system areas and even rescind that permission as desired. Worst case, if you rescind permission and the app legitimately needs it, the next time you're running the app it should just prompt and ask for you to grant that permission again. No harm done.
Let's just have a look at how you can ascertain which of the programs on your PC have access to your Pictures library! To do that, start by using Cortana search to look for "picture libraries: to ascertain what programs have been granted that permission: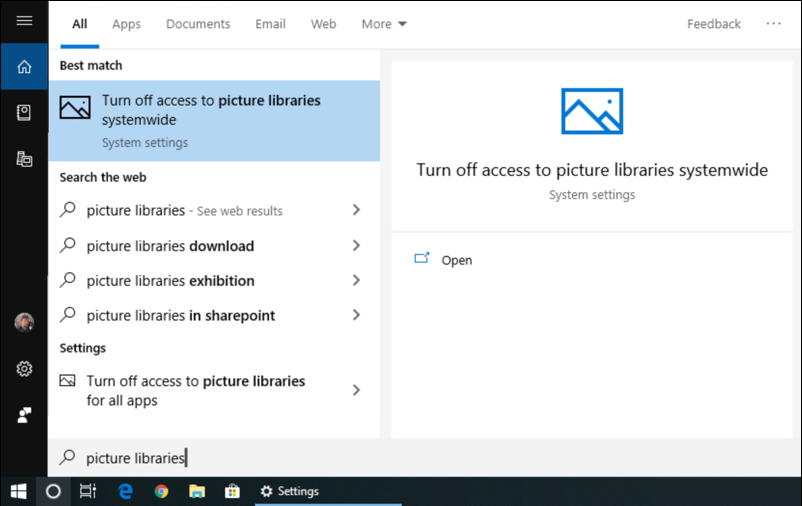 Yes, it suggests that a click will let you turn off access to picture libraries systemwide, but don't worry, it's actually going to take you to the System Settings where that button is displayed, not actually change the value.
A click or tap on the match and you'll be here:
As advertised, the top option will let you completely shut down all access by any programs to your Pictures library. Probably overkill for most people, however, when if you scroll down you can see a list of all apps and programs granted this permission – and turn 'em off as desired.
Indeed, swipe/scroll down a bit and here's what you'll see:
These all mostly make sense, though it's a bit hard to know why, for example, Cortana itself needs access to your pictures. Not to mention the Feedback Hub. That's a Microsoft program for giving feedback to the development team; why would they need to see your pictures?
Fortunately it's easy to disable that access! In fact, just click on the 'switch' icon and it'll change from ON to OFF:
Done. Easy. Now, while you're on this particular Settings page, do look on the left side because there's quite an extensive list of devices, file system areas and more that you can control. Click through, ensure that only programs that logically should have access to the various features are enabled and everything else is shut down:
Nice job. You've just taken a big step to improve your privacy and the privacy of your data both.
Pro Tip: I've been writing about Windows 10 since the very first day it was out. Which means I have a lot of windows help pages here on the site. Please take a few minutes and check 'em out!