This might be trivial, but I'm curious about which sports teams my Facebook friends support, and which is the most popular in my circle. Is there any way to ascertain that?
First off, take a deep breath because it's quite possible that the team you like the most, whether it's football, basketball, lacrosse or soccer, isn't going to be the team your friends support. That's what makes it all fun, though, right? That you can be friends with people who support teams you despise.
Right? Right? 🙂
Well, regardless of what sports teams you like, here's how to do it, and it's surprisingly easy, just tedious.
The basic idea is to simply go to the official page of each sports team that you're interested in and look at the line immediately below the total likes for that page. It'll show you which of your friends have liked this particular page. To start, let's look for the official San Francisco Giants page:

The key is to find the page with the blue checkmark. That'll be the official page and that's the one you should be following anyway. Here you can see that the San Francisco Giants have 2,968,005 fans, but let's select that page to get a bit more info: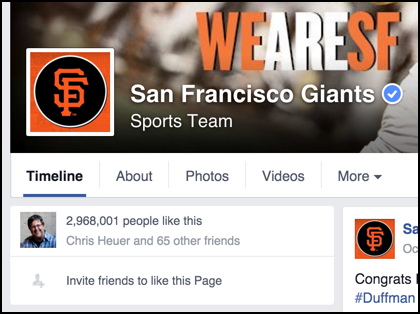 There ya go. 66 of my friends like the San Francisco Giants page, including Chris Heuer. Learn more by clicking on that line of information:
What about some other teams? Again, it's a tedious process, but just search for the teams in question and you can ascertain how many fans they have across Facebook and how many of your friends are fans both. I'm based in Colorado, so it's no surprise that more of my local friends support the local team: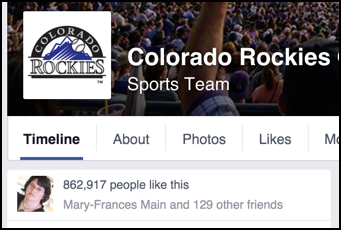 How about the splendid Arsenal soccer team?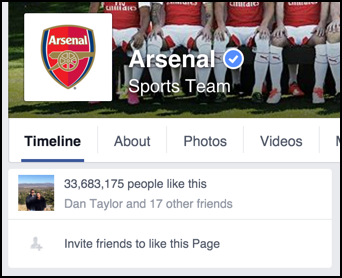 33.6 million fans. Definitely eclipses the SF Giants, doesn't it? But on the other hand, only 18 of my Facebook friends like the Gunners, so there is that.
A big soccer rivalry in the English Premier League is with Manchester United. So how many of my friends like ManU?
34 in total out of a staggering 66.6 million fans on Facebook. Lots more than Arsenal.
See how this works? It's tedious, but identify the teams you're most passionate about and you can figure out how many fans each has, and which of your friends are fans.
Of course, this is true for other things. Like my alma mater UC San Diego:
Or even the popular burger chain In 'n Out Burger on Facebook:
It's sad that more of my friends like a burger joint than a great college, but there it is. You learn things about your Facebook friends that you might not have wanted to learn. Including that there are almost exactly as many fans of In-n-Out Burger as there are fans of the San Francisco Giants baseball team!
How about movies?
Okay, so 14 of my friends have good taste in movies. That's not too bad, I suppose.
The big reveal is how many other people support the team you are most enthused about, and that can be a bit distressing, as I see when I check the Facebook fan page for the Tottenham Hotspur soccer team:
Thanks, Bryan. 🙂