My Mom told me that every time I visit a site on the Web that it reports what I do to Facebook! Apparently, Facebook profiles include everything we do across the Internet, not just on Facebook itself. Is this true? If so, how can I see what's going on?
Does your Facebook profile data include things you've done that aren't on Facebook itself? Yes. And no. First off, the information is often "you visited the site" more than any specific information, but most Web sites don't report anything to Facebook, so saying "all sites" is definitely a bit of hyperbole at best. In the early days of Facebook, most of this sort of data tracking and reporting went on behind the scenes, but with the rise of privacy regulations in the European Union, Facebook has been forced to open up and be more transparent. As a result, you can now check and see what sites are reporting your activity and, to some extent, what they're reporting.
Rather than just talk about it, however, I'll crack open the tracking logs from my own Facebook account so you can see how this all fits together and what is, and isn't, actually being logged. I encourage you to follow along on your own Facebook account, most easily from a Web browser on your computer.
FINDING YOUR FACEBOOK PRIVACY SETTINGS
To start, click on the tiny downward triangle on the top right of the Facebook home screen to bring up the main menu: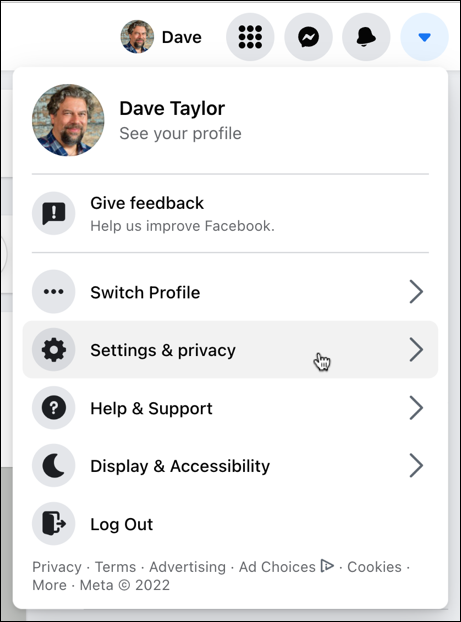 Choose "Settings & Privacy" to proceed and yet another menu will pop up:
I definitely recommend that you pop into the "Privacy Checkup", the second menu item, but let's stay on task for now, so choose "Privacy Center" for the specific settings and options available in Facebook.
You'll move to an area with a lot of settings and options. On the left side choose "Your Facebook information":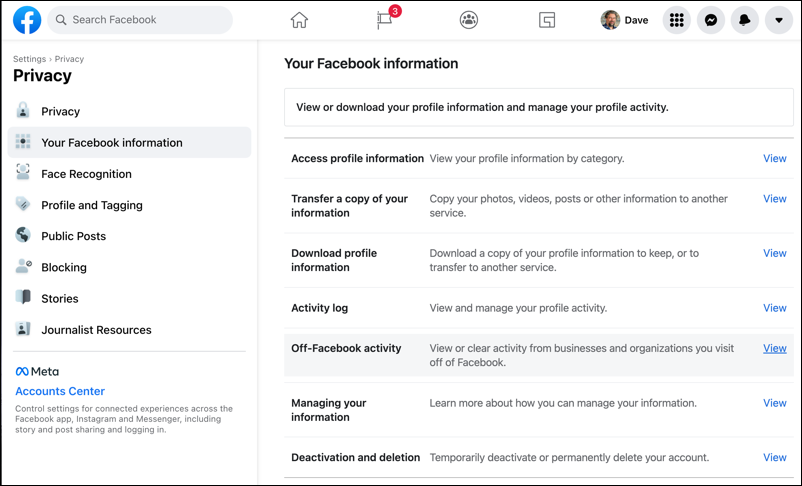 There's a lot of interest on this screen, including the ability to download everything from your profile, including every post you've ever made, every photo you've shared, etc. You can also see a full and detailed activity log and even deactivate or delete your Facebook account entirely. For our task, choose "Off-Facebook activity", about 2/3 of the way down the list.
VIEWING YOUR OFF-FACEBOOK ACTIVITY
While all of this data collection is presented with upbeat, optimistic explanations, it can definitely be concerning. Here's what Facebook shares at the top level of "Off-Facebook activity":
It all seems benign, right? As Facebook explains "Off-Facebook activity includes information that businesses and organizations share with us about your interactions with them, such as visiting their apps or websites." Yes, this reporting can happen if an app on your phone, tablet, or computer works with Facebook too, typically by using Facebook ads within the app.
Where this all gets real is in that box in the middle of this screen: Recent activity. Notice that it's telling me that Amazon and kotaku.com.au (based in Australia) are reporting my activity to Facebook. What the deuce??
To learn more, click on "Recent activity"…
Kotaku.com.au reported a single activity, and Chipotle.com reported 2 activities, but check out Amazon, with 68 activities reported, and The Denver Post, winning this pony race with 878 of my actions and activities it's reported back to Facebook! Now there's no date range on this and I have definitely read The Denver Post since April 7, almost a month ago, but still, most surprising.
Click on one of these reporting sites and you can get a bit more insight into what it's reporting. Sort of.
What's most important here is to notice the "Disconnect" button. If you really don't want any activity – even the fact that you've visited the site or launched the app – reported to Facebook, click "Disconnect" and you'll sever that connection. Done.
Click on the line with "XX interactions were shared with Facebook" and you'll get more details:
At this point, however, it's really not useful because it basically indicates that Facebook is happy to receive just about any activity we make take on a Web site or in an app, including search terms, adding items to a wishlist or shopping cart, making a purchase, even making a charitable donation!
What does Amazon actually report to Facebook? Well, that's impossible to ascertain. Click on "Download Activity Details" and when you finally get the report it just says:
Or, in the case of The Denver Post:
What page? Does Facebook also get keywords to categorize the page? It's curious that it's our data about our activities being reported and merged into our Facebook account information, but we, as end-users, can't see what's actually being reported. Frustrating.
But, is it the basis for a grand conspiracy? Probably not. What's more likely is that this is about advertising and these sites work with Facebook to try and ensure you see ads that match your interests. Search for diving books on Amazon and you can now see how it might be the case that Facebook will then suggest you join a diving group. Read an article about restoring antique cars and an ad for that might show up on Amazon through the Facebook ad network. Not nefarious, but if you think all Web sites operate independently of each other, brother, you're livin' in the past.
Pro Tip: Please check out my extensive Facebook help library for tons more useful tutorials while you're visiting. Heck, while you're at it, why not follow AskDaveTaylor on Facebook too? Thanks!