I got an email from GeekSquad saying that they'd just billed me for $389 for a year of laptop security protection. I never signed up for this service, what's going on? Do I contact BestBuy?
It's a scam. You sent along your email message and so in this tutorial, I'm going to show you how to dissect and analyze an email message that you've received to identify if it's likely legit or bogus. The sad reality is that there are enough people who are lured in through these sort of scams that they prove cost effective for the scammers. Since the cost of sending an email message is essentially zero, even a literal one in a million positive response is sufficient. Score a valid credit card number out of that person and send you scam to twenty million and you could theoretically make a decent income.
What's interesting about this particular scam is that I get a recorded voicemail version of it all the time. A message thanking me for a mysterious transaction and inviting me to call if I want to cancel it before it's too late. Given what a problem spam email and phone calls have become, I bet you've received a few of these too. And your reaction is undoubtedly surprise and frustration: What is this service that you've been billed for that you don't even remember?
Let's start with the email itself…
"ORDER CONFIRMED" BOGUS EMAIL SCAM
On first glance it even looks legit: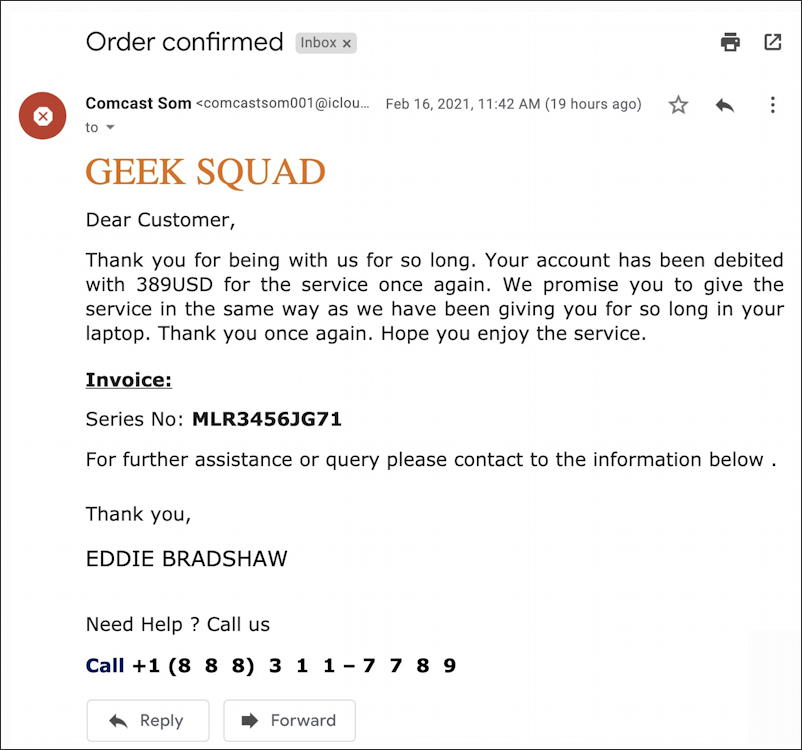 But rather than immediately react and take the action they suggest – calling that 888 number – let's have a closer look at the components of this message instead. First off, the BestBuy "GeekSquad" uses a different logo and format, but where's your name in this invoice? Where's the serial number of your laptop or computer? Why is the person's name in all caps?
More curious, though, why is that phone number spaced out so weirdly instead of being a more normal number? We'll get back to the phone number momentarily, but the first thing to check with these email messages is the listed recipient. You can always see to whom one of these emails has been sent by going to the tiny downward triangle on the message in Gmail:

A click and you can see the sender and recipient, among other information: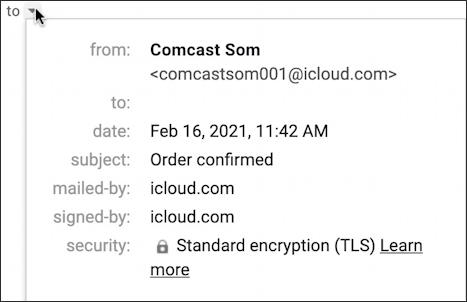 This clearly bogus sender should be enough for you to confirm it's a scam and delete it. Clearly an email from any legitimate business is not going to come from a generic address like "Comcast Som". But also notice that there's no To address. This is not uncommon in scam email, but if I was being sent a legit bill from a real company, I would absolutely expect it to be from a real firm with a matching domain and sent to my email address!
But that's not all. Notice the format used for the invoice amount and how it's written: "389USD". That's a currency format used in Europe, but not in the United States. Here we'd write "$389.00" and assume that the recipient knew it was referring to US dollars without specifying. Another strike against it.
Finally, let's get back to that phone number. Without the weird spacing, it's (888) 311-7789. Now it's time to be the detective. Wrap that in quotes and do a quick Google search. When I search for "(888) 311-7789" here's are a few of the matches: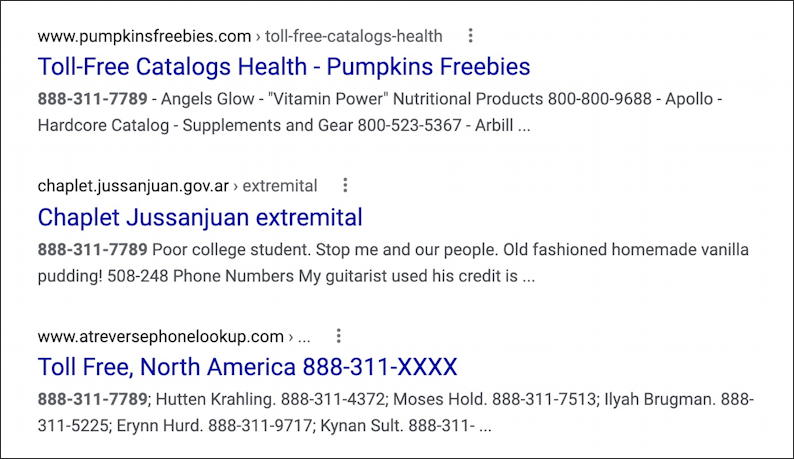 Not a Geek Squad among 'em, is there? But if you're looking for pumpkin freebies, I guess it's a match. 🙂
Suffice to say, that's strike three. They're outta here!
More importantly, the lesson to learn is to be skeptical and suspicious of any email message you receive that requires you to take an action, whether it's logging in to a Web site, responding to them via email, or calling a phone number. A real email from your bank, for example, will simply tell you to log in and check the confidential messages area without having a link to click on. Typing in "wellsfargo.com" or "bankofamerica.com" is far safer than trusting that a link in an email message is going to take you to the right place.
Oh, and if you did happen to reply to this scam email? Turns out the address has already been cancelled or deleted:

But I bet someone would answer that phone number and be happy to try to scam me out of a credit card number, probably to "confirm the card number so we can reverse the charge" or something equally semi-plausible.
The old wisdom still holds: caveat emptor. Let the buyer beware.
Pro Tip: I've been writing about computer basics for quite a long time now. Please check out my extensive computer basics help area for lots more useful tutorials and also my spam, scams and security help library while you're visiting. Thanks!