I'm afraid to upgrade to Windows 10 because I heard that Microsoft has axed Windows Media Player and I have a ton of music in WMP I want to be able to play. What's the story?
First off, let's assuage any anxiety here: Windows Media Player is most assuredly a part of Windows 10 from Microsoft and is included in every distribution of the system. As you point out, how else would you be able to listen to all that music you have saved on your computer or laptop? Well, there is Apple's iTunes for Windows, but let's get real… 🙂
Having said that, there is some functionality that fell out of Windows Media Player on the upgrade from Windows 8 to Windows 10, and if you're jumping from Win7 to Win10, well, you might be surprised the first time you put a DVD into your computer and have an error message about there being no way to play the DVD. The difference is that there's no Windows Media Center, so while your music's fine, your movies aren't so much.
In fact, put in a DVD and it'll just say there's no associated program. You can buy Windows DVD Player for Windows 10 from Microsoft through the App Store, but it's just as easy to grab VLC for free, and as a bonus, VLC is a lot more capable…
That's why there's a lot of confusion about Windows Media Player, but it's misplaced.
Let's have a quick look. In Windows 10, click on the Cortana / Win10 Search box and type in "Window Media Player":
See? There it is! Click on "Windows Media Player" and…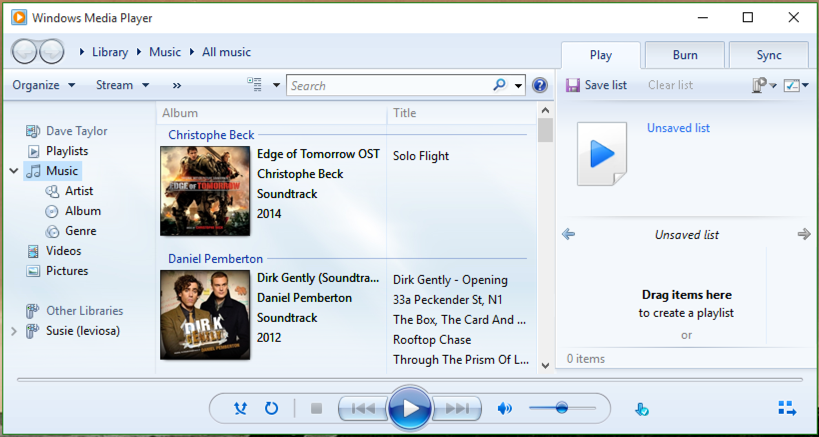 Phew. Just like expected, with music, videos, pictures, and more. Play something and click on the mini-window button (the three boxes and tiny arrow on the lower right corner) and you'll even have a neat little floating window:
Simple and easy, just as we'd hope from a music app.
To make life simpler next time you want to launch WMP10, move your cursor over the program icon on the Taskbar:
Oops. I mean right-click on the icon on the task bar:
Now choose "Pin this program to the taskbar" and forevermore you'll have the tiny little white and orange 'play' button sitting on your Windows 10 taskbar, ready for you to launch and enjoy your music, videos and photos.
Hope that helps you out!