The tech world has finally decided to use a charging standard with USB connectors, whether USB-3.0, MicroUSB or USB-C. This wasn't always the case, however. Prior to coalescing around this charging standard, too many companies had their own proprietary charger systems. The result? Consumers collecting vast numbers of cables and adapters.
This uniformity in charging standards has made things interesting for tech owners. Interesting, weird, and fun new gadgets appear daily where charging is as easy as plugging your new toy into a USB port. This begs the question, what are the most interesting and fun products you can charge via USB?
Unique Items to Charge with Your USB
USB Vacuums: Does it seem like you never have a compressed air duster around when you need it? Having a small vacuum on hand can be beneficial to clean crumbs off of your computer keyboard and pick up crumbs around the office.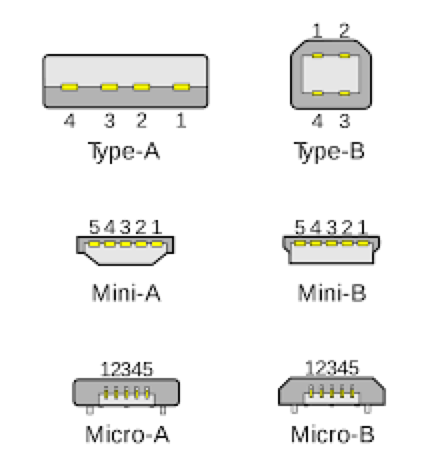 Even the smallest handheld vacuum cleaner that plugs into the wall can seem too big and industrial for use around your desk. Don't worry. There is a solution in the form of the USB vacuum. The most common ergonomically designed USB vacuums have a four foot USB wire connection. They come with a number of randomized color options, and it has a dedicated power button, so you don't have to worry about it sucking too much energy from your laptop battery.
Tools to Help You Quit Smoking: According to the CDC, smoking is the single largest preventable cause of death in the United States. It leads to more than 480,000 deaths a year, and sicknesses related to it run the US economy more than $300 billion.
Little wonder that people want to break free from tobacco addiction. Reports show that trying to break free from tobacco cold turkey is difficult and often leads to relapse. There are "smoking alternative devices" that can be charged via USB devices that have helped some people break away from smoking tobacco. They have been able to use nicotine to wean themselves off of cigarettes and even use federally-legal CBD. Click this resource to learn more about these devices.
Remote-Controlled Helicopter: If you are bored and are looking for a fun way to waste a little bit of time, you can fly around a mini helicopter. You can even create your own Jurassic Park adventure using a USB powered T-Rex helicopter.
You will get your coworker's attention when they see a T-Rex flying around the office. When fully charged in your USB port, most helicopters will give you 10 minutes of flying time. Because it uses a USB charge, you will never need to worry about batteries for the product.
USB Coffee Warmer: This USB drink warmer is a great way for you to keep your coffee warm without needing to get up from your desk. It can keep drinks heated up to 104°F. It's very light, just weighing around  0.3 pounds. You can keep your drink warm regardless of where you are and regardless of your drink size as long as you can plug into a USB port.
Compact Paper Shredder: You probably never thought you needed a USB paper shredder, but now that you know they exist, we are sure you cannot imagine your life without one. This compact device allows you to shred secret documents via a slot that is wide enough to accommodate A-6 size paper. It connects to a clear receptacle that allows you to collect the shredded documents. It even comes with a letter opening apparatus on the top that makes it easier for you to open mail.
USB Cooling Necktie: No more sitting through hot days at the office. With a USB cooling necktie, you are able to maintain your appearance while keeping cool. You simply need to plug the necktie into a USB port. The wires will run down the back of the tie's surface discreetly connect to your computer's USB. You will be able to enjoy a cool appearance, keep looking professional, and not draw any unnecessary attention to yourself.
USB Powered Washing Machine: A product you never thought you needed. If you really think about it, your gadgets get pretty dirty. Washing them has never been easier than it is with a USB powered washing machine. You can put your keys or other small possessions in it and it will run a 10 minute wash cycle.
USB powered devices have not only changed the way we interact with electronics, they've caused a tidal wave of weird and interesting products. Have you found any cool USB powered gadgets you would like to share with us? If so, tell us about them in the comments section below.