I've become interested in ways that companies are reinventing addresses with technology and actually know my home's latitude and longitude. But relating degrees, minutes, seconds is clumsy. So what's the story with Google's alternative "Plus Codes"?
Our primary methods of addressing geolocation have been around for quite a while; latitude and longitude are believed to have originated back in the third century BCE. Eratosthenes proposed a system of latitude and longitude for a map of the world (at least, the world they knew about back in that era) and it has rather stuck, with 0, 0 being about 380 miles south of Ghana and 670 miles west of Gabon. This location is in the tropical waters of the eastern Atlantic Ocean, in an area called the Gulf of Guinea. If you're not a sailor, though, it's a bit clumsy and rather hard to memorize.
Instead, we came up with street addresses over the last few hundred years, going from an assumption of knowledge by the local postmaster to a more detailed grid layout of streets, areas, regions, cities and even 9-digit zip codes or even more detailed grid location ID in some countries. Still less that ideal because how do you identify a specific location that's not on a named street?
That's where some mapping companies are trying to innovate with entirely new ways of thinking about geolocation addresses. One that's been around for a couple of years without gaining any traction is what3words. Go to their site and you can identify a location, any location on Earth, with three words connected by dots: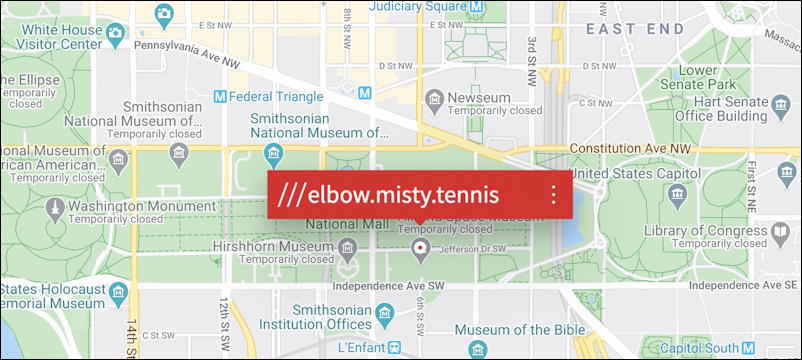 So ///elbow.misty.tennis doesn't just identify The National Mall in Washington D.C, but a specific spot on the Mall. Good for spywork and other rendezvous, I expect. But without any third parties adopting this even as an alternative address it's probably doomed to be a failure.
Google is trying something different, though somewhat related with its Plus Codes. The idea is that a point on the Earth that's identified by latitude & longitude can have that data packed into a smaller, easier to use and remember alphanumeric sequence. For example, fwm8+v9, ibadan, nigeria translates into this specific point in the country:
What's a bit confusing about this addressing scheme is that it still requires additional region information. Don't believe me? Go to Google Maps and just search for fwm8+v9 without specifying that it's in Nigeria. Being based in Boulder, Colorado, I end up with a location about 35mi north of me in Fort Collins, Colorado.
Fortunately there are two versions of Plus Codes that Google Maps works with, one of which requires the additional geographic information but the other of which is completely standalone with no additional info required.
Find out your Google Maps Plus Code
Let's dig in, because you can quickly identify your own code through Google maps on the iPhone, Android or even on the Web based version of Google Maps if you know where to look. Let's start on the iPhone. Here's my current map location: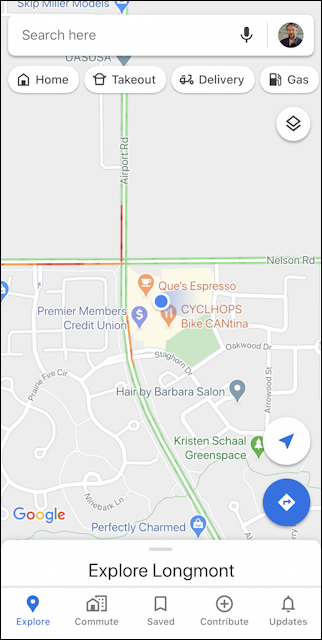 On the Android platform, you can just tap on the blue circle to get your Plus Code, but the iPhone version of Google Maps doesn't yet have that feature. Instead, tap and hold to "drop a pin" at your current location. Now tap on that pin…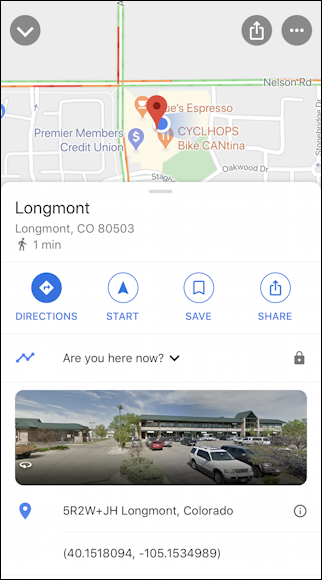 Can you see it near the bottom? I'm at 5R2W+JH Longmont, Colorado. It also shows the latitude / longitude of my location in abbreviated digital format. Try entering that Plus Code into Google Maps and see if you end up at the same place in Colorado!
You can also find Plus Codes through Google Maps on your desktop computer too. For example, when I click on a local Starbucks, here's what's shown in the info panel on the left side: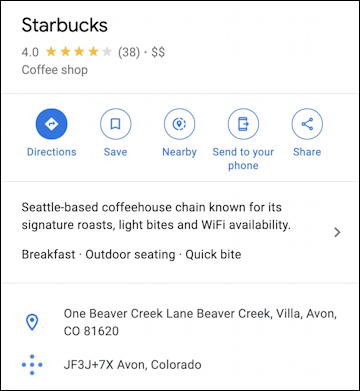 See it? This particular Starbucks is at JF3J+7X Avon, Colorado.
When there's no convenient local city then you get what I call a universal plus code, as demonstrated in Google Maps on the Android platform:
Remember, I got to this info by tapping gently on the blue dot on the map itself. The location is a bit longer at 85GP2QFP+HH but anyone in the world can type that into Google Maps and find out that it's a baseball field east of Boulder, Colorado. Google calls this an "area code" prefix, if you're curious, and there doesn't seem to be any way to force it if you'd rather not have the additional geographic information included.
That's what I have for you on Google Plus Codes! Possibly more than you'd ever want to know, but try copying and pasting a few out of this article and you'll see, they work really well. Might we someday have our home addresses as "Walter Disney, R36J+RC Anaheim, California" or similar? I don't think so, but it's intriguing nonetheless!
Pro Tip: I've been writing about maps and general computer info for quite a while. Please do check out my computer basics help while you're here on the site. Thanks!