I just got an invitation to join Clubhouse, the latest trendy social network, and am wondering what best practices are for setting up a good, interesting and engaging user profile? Are you on Clubhouse too, Dave? Thanks!
While there are a dozen or two really popular social networks right now, there are actually hundreds in existence with varying levels of popularity and activity. Some are focused on geographic proximity, some revolve around sharing specific types of content (photos, video, collectibles) and some are just massive enterprises like Facebook with its billion active daily users. Most of them seem to be endless users bouncing in and out in somewhat overlapping patterns. They leave comments, they post their own content, they "like" things. Clubhouse [app store link] is a different concept, a sort of audio-only version of YouTube Live / Facebook Live. Join up and you can jump into conversations about cars, business, music, and a thousand other topics.
Yes, I'm also on Clubhouse – as @AskDaveTaylor – though I'm a relative newbie, so your question about setting up your profile is quite timely for me as I face the same challenge as a new user. There are already some best practices out there, however, and it's easy to look through other user profiles to see what they're doing and copy what you like. Basic tip as with any social network is use a good photo, detail in your bio what you bring to the proverbial table (with a healthy scattering of keywords to help people searching for people by interest or expertise) and link to the rest of your presence online to complete the web. Uh, can I say "web" in that context? 🙂
SET UP YOUR PROFILE ON CLUBHOUSE
So let's jump onto the app. First off, interested readers should know that you currently need an invitation to join Clubhouse and that it's an iOS only (e.g., iPhone only) app at this point. Further, I've already used my invitations to invite colleagues so please don't ask for one from me, I ain't got no more!
You can find the app's distinctive icon in the iPhone app store as "Clubhouse: Drop-In Audio Chat" with this icon:
An entirely logical question to ask is who is this guy? Turns out that the company features a different musician as the app icon for each major release and this is a musician called Bonami X who you can find  on Twitter as @iambonamix, if you're curious.
Anyway, so you've downloaded the app, received an invitation, and are signed in. Your main screen will look like this: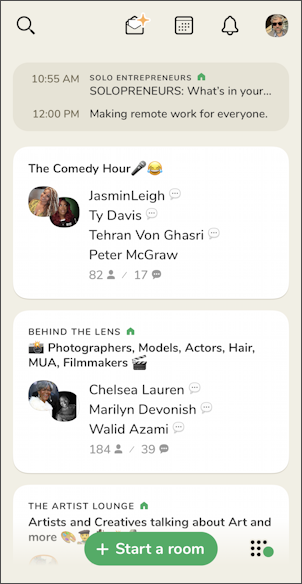 Before you jump into one of the rooms happenin' in Clubhouse, let's do get that profile set up. It's easily done by tapping on the top right, either your photo if you've already done a little bit of setup, or a blank space. That takes you to Clubhouse profile view: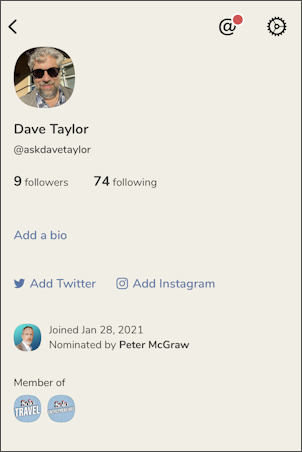 No bio, no external links, I'm looking pretty barebones, for sure. Let's start out by adding a photo.
ADD A PHOTO TO YOUR CLUBHOUSE PROFILE
I recommend that you find a photo of yourself that you feel really captures your spirit and personality, then copy it to your phone or at least make sure you know where it's stored so you can use it. Then tap on your existing photo (or, again, the blank image) and you'll see a larger photo image: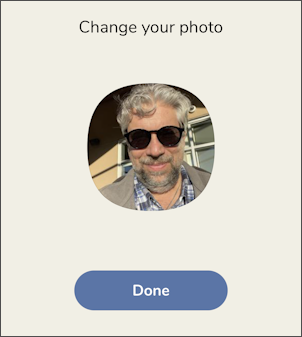 That's the one I added after a quick search through my phone late at night when first joining. Not so good. Fortunately I have another photo that will work well as my portrait pic here in the Clubhouse world. To switch, tap on the photo and you'll be prompted to either search through your existing photo album or take a new picture: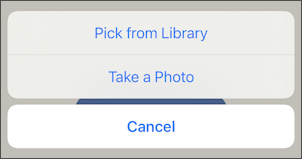 I generally recommend that you use the camera app and take a photo in that app so you can crop, edit, and tweak as desired, so that'll be a photograph that's in the Library. Choose "Pick from Library" and choose the photo. You'll have a chance to zoom and crop so don't worry if there are other people in the original image: You can crop 'em out.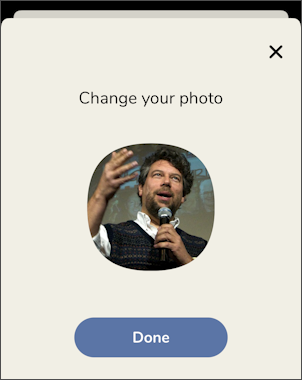 Looks good,. Tap on "Done" and the new photo is now part of your profile. Next up, your bio…
ADD A BIO TO YOUR CLUBHOUSE PROFILE
More than the photo, the bio is really important if you want people to learn more about you and then want to follow you and connect. That is kind of social media 101, right? Be interesting so people want to follow you. In Clubhouse terms, this means have an interesting profile. One thing to notice is that the first few words of your profile are included in summary views of people search results, lists of participants in chats, etc, so make your first 60-100 characters count.
Tap on "Add a bio" and enter away. Here's my first draft of my bio: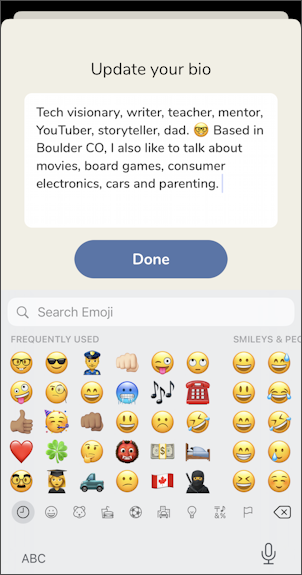 The app doesn't specify a limit to your bio but short and sweet is a good practice. Apparently it's also a trend on Clubhouse to use emoji in your bio, partially since it's fun and lively, but also because the search system supports searching by emoji too! Don't forget that on the iPhone there's a handy emoji search too, so you can find those more obscure emoji by trying a few synonyms if they aren't surfacing easily.
My bio, above, is okay, but after looking at some popular Clubhouse profiles, I'm underutilizing those emoji and also missing out on listing some of my off-site Web and social media links. You'll see rev 2 of my bio in a bit, however.
Going back to the profile page, notice that under the bio section there are links to "Add Twitter" and "Add Instagram". I recommend doing that and if you're already logged in to those two services, it's as easy as authorizing access:
With those approved and my first draft bio, my profile is definitely looking a bit less skeletal: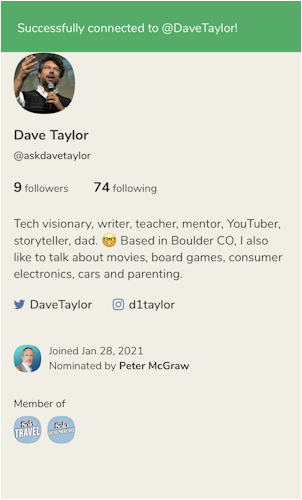 Now to hook into the social side of things by finding some clubs to join…
FINDING INTERESTING CLUBS IN CLUBHOUSE
The easiest way to start is to tap on the gear icon on the top right of your profile page (it's covered by the green banner in the image above). That's the app settings screen and there are a number of things you can tweak: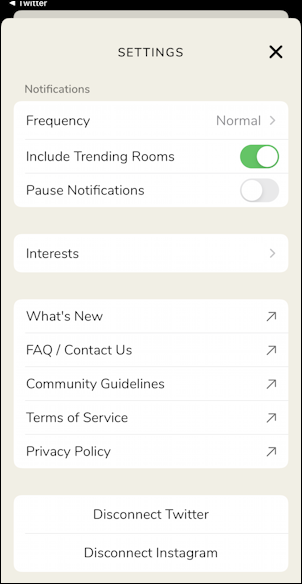 Most importantly, tap on "Interests" in the middle and you'll be able to choose from a variety of club interest keywords in categories that also give you a good sense of the types of discussion currently hosted on the social site:
I've opted for Parenting and Movies, among others, as you can see. Choose a half-dozen or so to help the suggestion engine and help you know about interesting conversations happening on Clubhouse.
Now go back to the home screen and tap on the magnifying glass icon on the top left. You can use that to search for either individuals (remember, you can search for keywords to match profiles too, not just proper names) or clubs, or you can explore clubs by topic or theme too, as is shown:
Then start joining conversations and listening in to what's happening. My experience so far is that the entrepreneurial clubs are a bit self-aggrandizing, but the other discussions are surprisingly smart and thoughtful. And as a bonus, so far everyone's civil and quite pleasant to each other, which is a delightful change after other social media platforms.
And, finally, here's the latest version of my profile, with lots more emoji and pointers to my main online links:
A bit more fun and lively, I'd say. What do you think? Now, let's see what you do with your profile…
Pro Tip: I might have just joined Clubhouse – find me as @AskDaveTaylor – but I've been writing about social networks and online best practices since the dawn of MySpace! Please check out my computer basics tutorials while you're visiting! Thanks.