Just got my first Android phone and am pretty delighted! Coming from the iPhone, it's a whole different world where I can tweak and change all my settings. With that in mind, what are your recommendations for battery settings on an Android device?
There's a secret power war going on with our devices that few people think about. Device designers figure out how to have batteries be bigger and last longer, then firmware and operating system developers immediately exploit all of the additional power and capabilities, resulting in, you guessed it, shorter battery life. Old school devices just have the battery life they have, and there's not much you can do to affect it, but the latest generation of Android devices in particular have lots of settings you can tweak and adjust to get the maximum possible battery life.
The trick, of course, is to know that you need to go in and set them to your preferred behaviors. The most important question that you're answering is what should I do when the battery is getting low? Many people just want to keep running at 100% with their games, social media, and other utilities, but you can actually set things up so that it tries to eke out the longest possible battery life by juggling power, processes, even the theme. Let's have a closer look.
ANDROID BATTERY SETTINGS AND OPTIONS
To get to your Android battery settings you'll need to go to Settings. It's about a half-dozen from the top:
I'm using a Google Pixel 5a and as you can see it has pretty crazy good battery life: At 68% it's estimating another 30+ hours before it'll run out of battery. Of course, if I was using it enthusiastically with CPU-intensive games, etc, that'd be a different story.
Tap on "Battery" to get to the important settings on the phone…
If you are finding that your phone or tablet battery runs down faster than you would expect, you can look at "Battery usage" to get a peek at what's consuming the most device resources:
Since this particular phone has been sitting on my desk unused for the last day, there wasn't much going on. Notice that the Google Play Store occasionally checked to see if any apps had updated, though. Useful!
Back up with the <– icon on the top left.
ENABLE BATTERY SAVER ON YOUR ANDROID DEVICE
If you tap on the "Battery Saver" option – which is probably OFF currently – you'll get to this screen: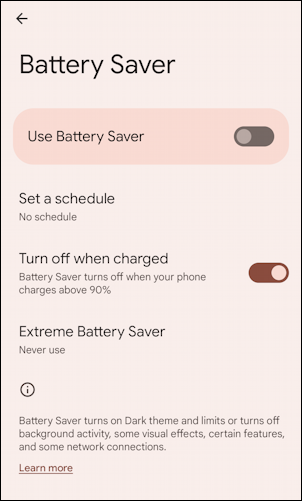 What is Battery Saver? Turn it on and you'll see…
Basically, it switches things up on the device to minimize the amount of power the device uses. You can set it up to automatically go into Battery Saver at night, for example, while you're asleep, and if your phone is juuuuust about dead but you really need it to not die so you can make a critical phone call or similar, you can enable "Extreme Battery Saver".
Back up with the <– button on the top left again.
ANDROID BATTERY ADAPTIVE PREFERENCES
The most important settings are in the "Adaptive Preferences" area, so tap on that.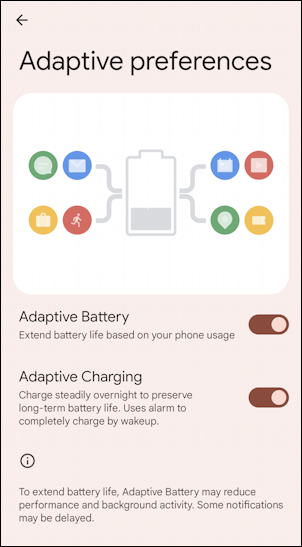 I strongly recommend that you enable both of these features. Adaptive Battery will let the Android system juggle background tasks and similar to extend your battery life, and Adaptive Charging extends the lifetime of your battery by charging more slowly if you leave it plugged in overnight.
Oh, and one more setting, on the previous screen…
Yes, I encourage you to enable "Battery percentage" so you can learn more about how your Android device battery actually holds its charge as you use different applications and features. Just a tap on the slider switch and the very top info will now include a percentage (as highlighted, above). And now ya know!
Pro Tip: I've been writing about Android since it was first released. Please do check out my extensive Android help area while you're visiting for tutorials on both Android phones and Android tablet devices! Thanks.