I was poised to comment on a friend's post on Facebook when I noticed a new icon in the comment box. When I moved my cursor over it the label is "Avatar Stickers". What the heck? How did that movie get into my Facebook profile setup?
It's not that the James Cameron blockbuster sci-fi movie Avatar has crept into Facebook, it's more that both his movie and Facebook are using the same basic concept, albeit in entirely different ways! An 'avatar' is a representation of someone that is separate from the person. So a caricature of you is, in some sense, an avatar, but really this applies more to animations and virtual people. In the movie, of course, humans had their consciousness projected into 8′ tall blue Na'vi so they could interact with the indigenous creatures on the planet Pandora.
Facebook isn't projecting our consciousness into 8-foot tall blue creatures, fortunately, but it's using the concept to take a caricature and pour that into a set of fun stickers, images that are bigger than emoji and personalized both! Of course, you do have to set it up, but let's start with the basics so people can follow along…
To start out, you can't add an Avatar Sticker to a Facebook post of your own:
So many choices, but no big blue guy. Oh, sorry, no "sticker".
If you're viewing someone else's post on Facebook, however, you do get that option:
As you can see, it's yet another of the many tiny icons jammed into the comment box. If you have it set up, then clicking on it reveals a set of graphics that are based on your own self-created profile caricature:
Quite fun, really, and since they have a model of your features, Facebook could add new avatar stickers even after you've set it all up, as shown with the face mask avatar. If you don't have it set up yet, I have a handy tutorial: How to Set Up Your Facebook Avatar.
From this point, it's easy to add the sticker you want, include some text and post away:
I add a few words, press Enter or Return on my keyboard, and my comment is revealed, and it's pretty swanky!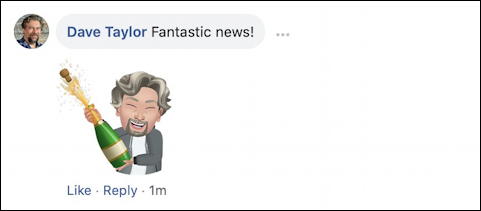 Pretty darn fun. Now it is a legit question to ask when Facebook will give us an avatar sticker that is also an Avatar sticker, but so far, no blue bodies and weird white face paint stickers are available. Soon, perhaps. 🙂
Pro Tip: I've been writing about Facebook since it was a college student only network. Please check out my quite extensive Facebook help library for tons more tutorials to help you get the most out of this popular social network! While you're at it, why not also follow AskDaveTaylor on Facebook too?