I hear that there are a bunch of privacy settings in Windows 10 – WIn10 – that I should check, particularly "Location". Can you walk me through the process?
There's always been a conflict between large corporations wanting to make your data and information available to advertisers and Web sites and us users who would actually prefer to have things err on the side of more privacy than less privacy. Is what you're doing online so dangerous? Does it matter? I know that if I understand what I get out of the transaction, I'm often quite willing to share information like my geographic location, but having everything happen secretly, behind the scenes, is very frustrating!
Worse, Microsoft has previously landed in a lot of hot water with default privacy settings that change, and it's done so again with Windows 10. I know because I have all the default settings and yes, you really should go in and change 'em.
Let's start with Location…
Usually I suggest a search to find what you want, but let's go all old school on this one and use the actual Start Menu, in celebration of its return. Choose "Settings" (formerly "Control Panels"):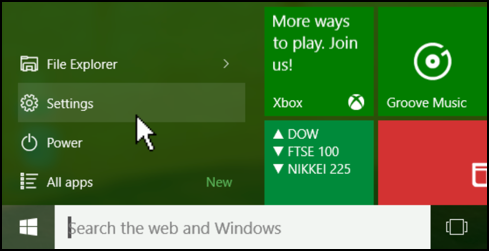 Once you choose "Settings" you'll get to one of the nicest window redesigns in the entire Windows 10 world: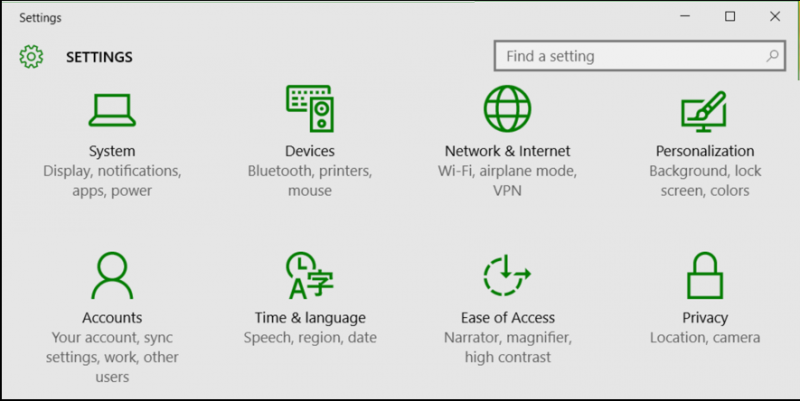 For location, etc, click on "Privacy" to see what madness Microsoft has wrought this time.
Slightly critical, perhaps, but you'll see what I mean…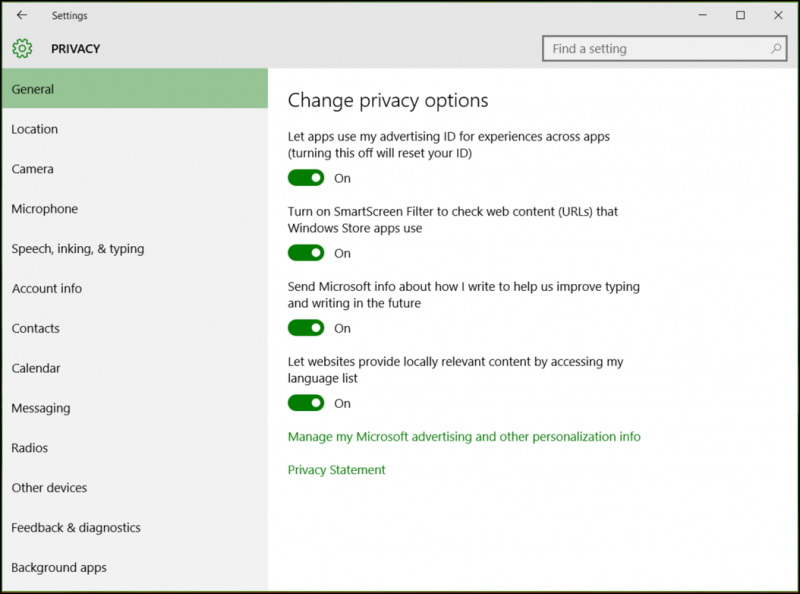 Down the left side you can see that there's a high degree of granularity with the Privacy settings, including: Location, Camera, Microphone, Speech, inking & typing, Contacts, Calendar, Messaging, Radios and Other devices.
On this first screen, pay close attention to these first choices. Indeed, the very first option is one I encourage you to think carefully about: "Let apps use my advertising ID for experiences across apps". Do you want your searches and system behavior to be shared with advertisers and other sites? Probably not.
And the third option: do you want to share "how you write" with Microsoft for statistical analysis? Maybe. Maybe not.
The one that really gets me is the fourth, however: "Let websites provide locally relevant content by accessing my language list". This implies that people carefully make sure that they remove any languages they aren't fluent in, which is goofy. Far more likely is that you have a dozen or more additional language packs installed on your Win10 system and you don't even know about it. That shouldn't be data that's used to decide if you speak Croatian or are interested in Chinese news stories!
But, but… let's go back to location. Click on "Location" on the left.
Weirdly, every setting in Privacy is a green slider, except for Location, where there's a grey "Change" button. Not sure what that's about, but you do have to pay close attention to the status shown: "Location for this device is". In my case, it's "on". That's the default but you can change it if you want. By clicking on the green slider below? It's hard to tell, but why is this screen so confusing?
One thing you might want to think about is that your computer system is now building a history of your geographic location, as is shown just a bit further down in this window: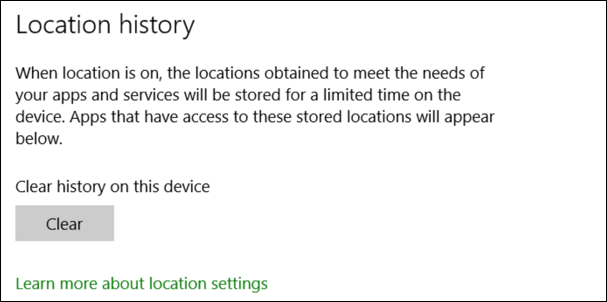 Scroll down and you can manage which specific apps have access to your location information if you do want to keep it on for some apps (which I actually recommend. Maps, for example, is a good program to have know your location: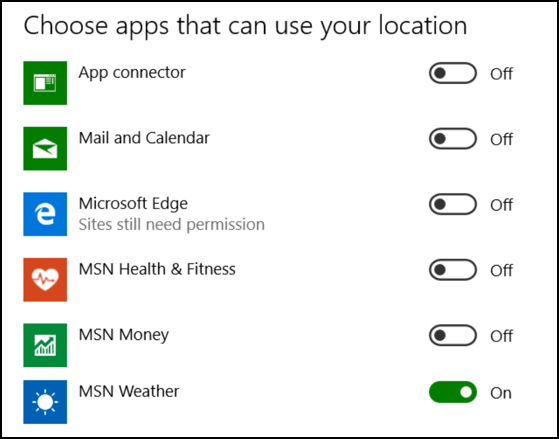 As you can see, I am very strict about which apps I want knowing my location: out of this list, only MSN Weather gets the nod. Your choices might well be different, and I'll also highlight that Microsoft Edge (the new Web browser) still requires that individual Web sites prompt for permission to ascertain your current location.
While we're in this area, click on "Other devices" on the left. This one's important:
You'll want to think carefully about this setting, it's one that absolutely should default to off not on, in my opinion. Basically, this means that information from your Windows 10 system can be shared with wireless devices without you being prompted or even knowing that it's happened. "Beacons", for example, tie a shopping experience in a store to personal information about you that the device gleans surreptitiously from your computer or phone. Sound alarming? Disable "Sync with devices".
There's a lot more in the Privacy settings to explore, including camera, microphone, etc. Spend some time exploring and make sure that your Windows system is set up based on your own desire for privacy. Good news? You can lock things down too much, have programs let you know, and go back to loosen things up a bit later. No harm, no foul.