So confused. I went to a Web site and suddenly an Adobe Flash Player update popped up, telling me it was required to view content on their site. But I looked at the page and there's no Flash content. Is the update page legit or a bogus scam?
I'm so impressed that you're skeptical about these sort of things because if your Flash player needs an update, it's the player itself that will pop up the update window, meaning it won't be part of the Web page that has the content in question. Instead, I believe you've bumped into one of the newer forms of malware distribution, a very smart design that is predicated on us users blindly clicking "update" if we're told something we're running is out of date.
How can you tell? As always, pay attention to the URL. Where's the message coming from? Where is it taking you after you click — though you should never click if there's even the slightest doubt.
Let's look at one I bumped into while reading an article on Slate.com, a quite reputable Web site:
Looks legitimate, though there are a few things that made me instantly suspicious. First off, the pop-up window is part of the landing page, not coming out of the Flash player itself. There's also some odd wording, like "Top Video Sites Require The Latest…" rather than something more like "This site has content that requires…"
Still, it's the URL that was a big red flag. Look more closely at it:
"quickinstantupdates.be". That's really odd. The ".be" domain is Belgium, but more importantly, it's not adobe.com or similar, so that's a major problem.
To confirm, look what you see when you go to that URL without all the odd stuff appended:
That's definitely more than just a bit suspicious.
To learn more, I used the online whois service to look up the information associated with this particular domain and, well, it's the capper: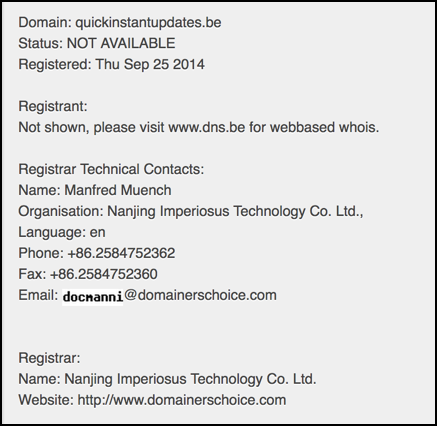 Manfred might be a lovely person, but there's no reason in the world why an Adobe Flash update would be served up by a Belgian Web site owned by someone in China.
It's a scam. It's a way for them to infect your computer. And it's smart of you to be skeptical and avoid the trouble!
Remember, be careful out there.