I'm borrowing my sister's new MacBook Pro and noticed it has an HDMI connector on the side. Cool. Now, can I watch some of the movies I own in iTunes on my huge Sony TV using an HDMI cable? If so, what's the trick and are there any gotchas for me to avoid?
Your sister is really nice. I'm not sure my sister would loan me a shiny new multi-thousand dollar MacBook Pro. In fact, I believe that the only MacBooks that have built-in HDMI are those with the retina display, making your sister even more cool. Enjoy!
You're right to suspect it's not obvious how to get everything working properly. In fact, iTunes in particular is rather dorky about how it works when you play a movie, even though you might think that having the TV as a "second screen" while you continued to use the main computer screen for other tasks like Facebook or Twitter, but we'll get to that shortly.
For now, the first step is to find a nice long HDMI cable and plug it into both the TV and the Apple MacBook Pro.
The Mac's computer screen will turn blue then it'll autodetect the new display and suddenly your computer screen's resolution will decrease and simultaneously mirror on the TV. If it doesn't, double-check the cable and make sure your TV's "input" it set to the proper HDMI connector.
At this point, let's jump into some screen shots so you can see what I'll be talking about. First off, off the Apple Menu you'll want to choose System Preferences… and look for this:



To start, click on "Displays", but we'll come back later and also look at "Sound". The Displays system preference is pretty uninteresting if you're on a single screen system or a laptop because it's going to automatically select the optimal resolution, but with two screens hooked up, it's a bit different: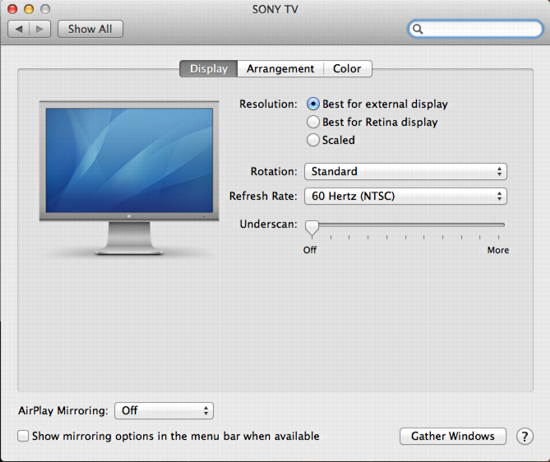 Notice this is for my Sony TV — when mirroring, it's the lower resolution screen that's selected — and that as we'd expect, the system's selected "best for external display" rather than "best for retina display". Switch it and your TV will probably go blank or freak out. 🙂
You can try watching a movie just like this if you'd like, and it'll work well, but let's try to set it up so that the TV is a separate monitor with different info than the MacBook Pro. To do that, click on "Arrangement", the middle tab in this window.


Notice the check box about 2/3 of the way down: "Mirror Displays". That's the most important thing you can change, even though it's relatively unassuming. Click on it, and the computer suddenly views the big TV screen and the smaller computer screen as separate, essentially "stuck" together on an edge, as this shows:


In practice, here's how it looks with my own MacBook showing one desktop and a few icons, while the Sony HDTV has a big iTunes window taking over the screen: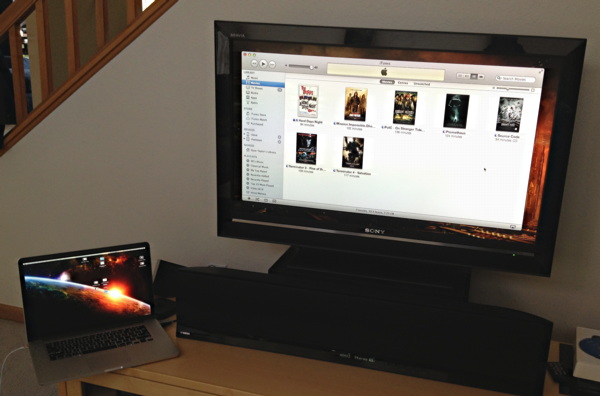 Try playing a movie from iTunes, though, and it'll blank out the TV and show it on the computer screen. Why? Because it assumes that the screen that has the menu bar along the top is the primary screen. Stupid. To fix it, you'll need to go back to Displays and literally drag and drop the tiny white bar from the top of the main screen to the TV screen. Suddenly the entire menu bar shifts and another attempt at playing the movie from within iTunes produces a beautiful image on the TV.
While the computer screen is blank.
As far as I can tell, without sidestepping iTunes and using something like the surprisingly powerful
VLC
or another third-party video player, there's no way to fix this behavior so you could use your computer while watching a movie on the TV via HDMI. Bizarre.
If you aren't hearing audio through the TV, by the way, it's possible you need to tweak the Sound settings (remember I mentioned that earlier?). Go back to System Preferences…, click "Sound" then move to "Output":


As you can see, it's necessary to select "HDMI" and it works great.
If you can live with the black computer screen, the whole setup works surprisingly well, as you can see here:


Now, can you name the film I'm just starting? 🙂