Dave! I bought and watched a movie while at my Mom's place and now realize I can't save a copy of it for my Windows system or Android phone. I don't like iTunes, am I out of luck?
Generally speaking, well, yeah, you're out of luck. Just like many other video services, Apple has what's called a digital rights management (DRM) system in place to ensure that you don't watch iTunes movies without using the iTunes program and that you don't share your downloaded movies (or TV shows) with your friends.
Problem is, it kind of stinks. I mean, if you're like me, you probably paid $14.99 plus tax for the movie download, and now it turns out to be considerably less flexible than an old-school DVD you picked up at Walmart or Target? Doesn't feel very 21st Century to me.
Fortunately there are third party apps that let you basically strip off the DRM so that you can turn an M4V video file into an MP4 video file that is infinitely more portable, flexible and watchable on just about anything, from your Kindle to your Android phone, media server to smartTV. And, yes, even Windows and MacOS X systems.
And some of these tools are super easy to work with, as I'll demonstrate with the slick Mac program DRMare M4V Converter.
Note: You can use this to crack the DRM and then distribute video content to your friends and family, but I discourage this use. Ensuring that you can watch a movie across whatever devices and platforms you have is one thing, but if your friends really want to also watch the film, well, they should buy it too. That's just fair for the creators and in alignment with the Motion Picture Association of America (MPAA) too.
Let's get into it, because while it's slow, the process is surprisingly easy.
I'll start with a couple of my favorite movies in iTunes:
I actually haven't watched the Quentin Tarantino film Inglorious Basterds in a long time, so let me use the DRMare M4V Converter tool to convert it from an iTunes-locked M4V movie format into the more generic MP4.
That's most easily done by launching the program, then using the Finder to navigate to your Music > iTunes > iTunes Media > Movies, then either going into the folder for the specific movie (iTunes keeps each movie in its own folder) or dragging the folder itself onto the program window:
That's about it. The program automatically scans the movie file, figures out how long the movie is and various other data, then shows it as one of the possible conversions, ready to go:
Did you see how long the movie is? 2:32:52. That's really long, so it's going to take a long time to convert and the resultant file is going to be pretty darn big! Before you convert it, however, click on the Output option on the lower portion to select your preferred destination file, then on the Format option to decide which format you want to use.
There are a lot: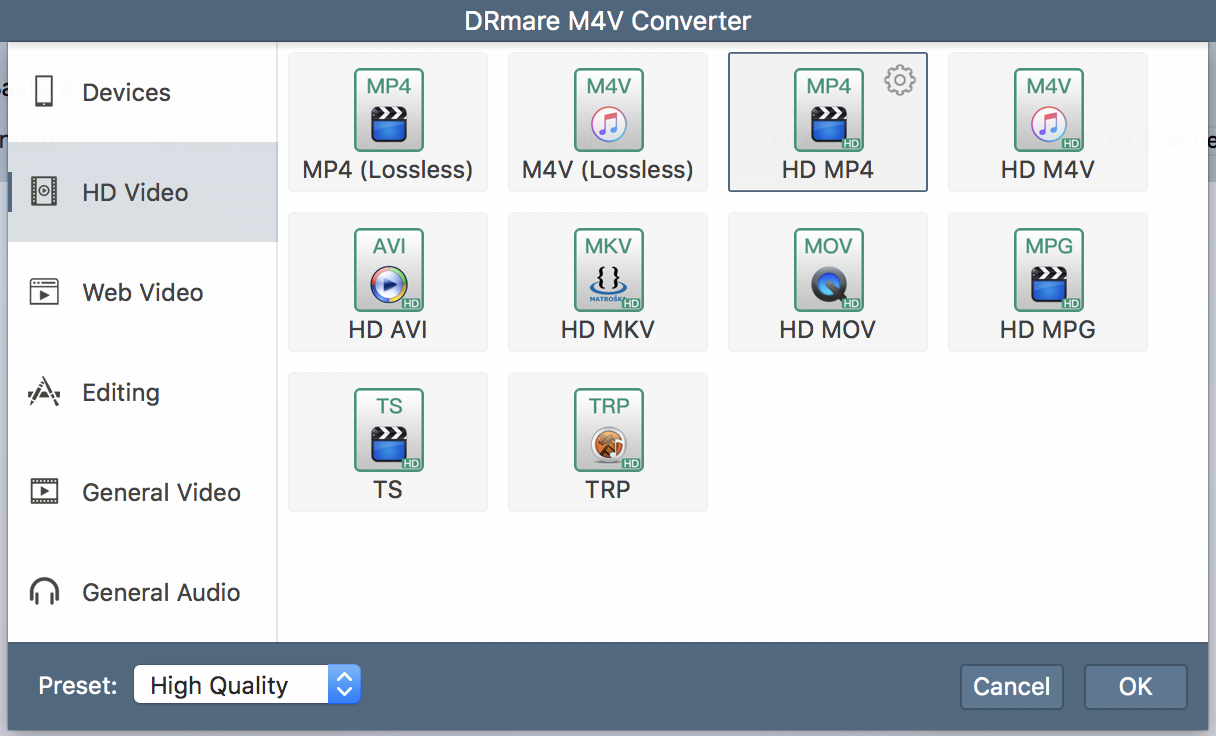 If you're converting the movie for a specific device, I strongly suggest that you click on Devices and find it; the company's already figured out optimal frame rate and dimensions for hundreds of different devices, ranging from iPhones to Samsung devices to your Windows tablet.
Got the format you want? Then click "OK" and back in the main window click on the circle arrows button on the lower right. It'll start the conversion process:
Now is an excellent time to go get a cup of tea or head over the gym for a workout. It's going to take a while. In fact, the company told me that the newer the computer, the slower it runs, oddly enough, and on my brand new MacBook Pro it took over two hours to convert the film. The Windows version of the program is supposed to also be considerably faster, but with a task like this I just queue everything I want up, click "go" and then go to bed. In the morning they're all done, ready to watch.
And, finally, so is Inglorious Basterds, as I demonstrate by watching it within Windows 10, but not within the iTunes program:
That's all there is to the task. Easy enough. And as for me? I want to go and watch the movie, so I'll just hope this all worked for you and showed you how to keep that movie you bought through iTunes at your Mom's house!
DRMare M4V Converter, $44.95 for Mac or Windows with lifetime free support and updates.
Disclosure: The company gave us a license for the program so we could write about it here.