I just upgraded VMware Fusion from 2.0 to 2.0.2 and now when I try to run my Microsoft Windows XP virtual machine, it doesn't run, it first tells me that I have an old virtual machine and need to upgrade it, then tells me that VMware Fusion cannot connect to the virtual machine. What's wrong and how do I fix it?
I'm a big fan of VMware Fusion, which lets you run any Intel-friendly operating system within its sandbox on your Macintosh system. From Windows XP to Linux and more, there are quite a few different systems you can run on your Apple hardware with VMware Fusion.
The problem? Sometimes these upgrades hiccup and things glitch.
The error you've seen is the same error I saw when I recently upgraded VMware Fusion, so I know what you're talking about, and know how to fix it too.
You were seeing this:


The solution? Believe it or not, you need to uninstall and reinstall VMware Fusion.
Start by clicking on the "uninstall" icon on the virtual drive:

It warns you about what you're about to do:

Notice that the virtual machines are untouched. That's good.
Continue and you'll be asked to enter your admin password: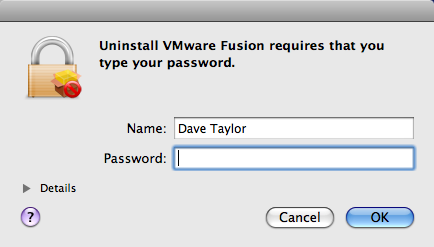 Do that correctly and it'll start uninstalling:

Shortly thereafter (it really doesn't take long) you'll find that you've uninstalled VMware Fusion:

Now go back to the virtual disk and click on "Install" again. Agree to the license terms and default configuration and you'll be installing yet another version of VMware Fusion in no time:
Once it's installed, if you try starting up the virtual machine again you'll still see that warning about the virtual machine being out of date, but this time when you click past the window you'll see:

A few seconds later, voila! You're running your virtual machine, just as you desire.
Disclaimer: The link to VMWare Fusion is an affiliate link. Your cost for the product is identical but they pay me a commission that helps us keep the lights on. Thanks!