I copy and pasted a myspace layout for my profile. I think other people can see the new layout but I can't see it my self when I sign in. Why is that? Is it because I have a mac?
Let's start right out by easing any possible tension or controversy: it has nothing to do with you being a Macintosh owner. MySpace works equally well (or poorly, depending on time of day) if you have a Mac, PC, Linux box, Xbox360, Motorola Q phone or aluminum can and piece of string. Well, maybe not the can and string!
The issue you're talking about is one that I was darn confused by when I first started using MySpace too, actually, where I'd make changes to my profile and some of them would show up when I clicked on the "HOME" button, but others would seemingly be ignored.
The important fact to realize is that your home is not your MySpace profile but rather a special version of the profile with edit links and other navigational elements that only you would want to access (you don't want me being able to access your 'friend invites' list and approving people who don't actually want as friends, for example!)
So here's how you get to the public version of your profile. Log in, get to your usual page, and notice that just under your picture are a small set of buttons: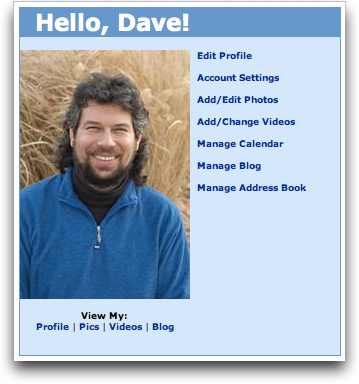 If you click on the word
profile
on the very bottom, you'll find that the "public version" of your profile is displayed, rather than the special owner version you usually see. Now you should be able to see if your fancy formatting worked or not.
Hope that helps you continue your adventures with MySpace!
And while I'm at it, I have a lot of additional
MySpace Help
here on the site and you can also become my friend by checking out my
MySpace profile
.