TRUE. ACTION. COMBAT. This is brand new Massively Multiplayer Online Role-Playing Game (MMORPG) Tera's tagline, as the May 1st release by Bluehole Studios boasts combat that truly is dynamic and skill-based. Now, for a subscription MMORPG that you still have to pay a solid $50 for, you're probably wondering if Tera is for you, or if you should hold out for Guild Wars 2. Let's make this quick: If storyline and / or interesting quests are what keep you engaged in an MMORPG, stay away from Tera.
The idea is that this mysterious island appears in the middle of the ocean between the two main continents on the world, and demons are swarming all over it. Demons gotta die, so you volunteer to explore it and fight the baddies. Things go horribly wrong, and your entire expedition is "defeated."
It doesn't tell you how – instead, it interrupts the last battle in the tutorial, regardless of how well you're doing, and after a confusing bit of story explaining that you've volunteered to go to the island… again… (lost yet?) you appear on the other side of the island and your real journey begins.
Well, for all the hullabaloo about the island, you get off it at level 11 and don't look back. They made it seem so gosh darn important, too.
All of that to say the story sucks. As for the quests, the missions you pick up from questgivers are standard MMORPG fare. Kill ten of these, pick up five of these, escort this idiotic, slow-moving non-player character from point A to B. If you're disinterested by this point, Tera just isn't for you.
If you like the screenshot below, however, you probably want to continue.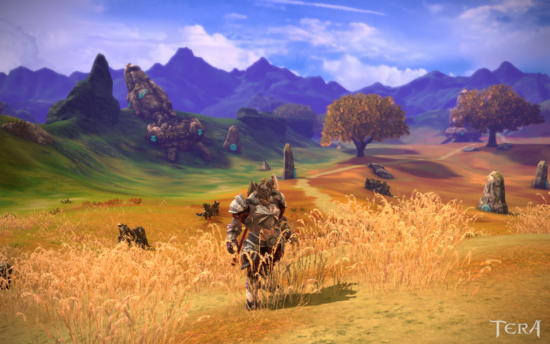 Who are you and what have you done with the crappy graphics of the past?>
Tera is absolutely GORGEOUS! It is hands-down the most beautiful MMO I have ever seen, putting World of Warcraft's outdated models and textures to absolute shame. Look at the detail in the character models, the landscapes, the buildings – even the trees, and trees are nigh-impossible to render well because they're just as polygonal as everything else is!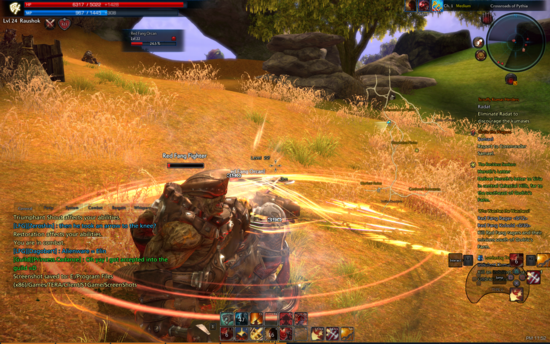 Spin to win!
Tera's animations feel epic. I primarily play a Berserker, a melee fighter that wields a massive axe (here pictured being swung around in a circle of heavy-bladed death), and when he smashes his weapon into the ground, I can see his shoulders recoiling as he yanks it out of the earth for the next attack. Every time I use a new ability, I can't help but exclaim, "whoa, that's awesome," or something along those lines.
The game's combat excels at doing what it advertises. Unlike other MMORPGs, where you target an enemy and attacks usually automatically hit it, Tera uses common sense. If you fire an arrow and it's not aimed at an enemy, you won't hit that enemy. If you swing a greatsword, but there's nothing in the way, nothing is what you're going to strike. On top of that is the strategy of a well-executed combat system, where split-second decisions constantly impact the outcome of a battle.
If you're heavily into character creation, you may or may not enjoy that aspect of Tera. Few games have the freedom of massive character creation systems such as Champions Online, but Tera's system is certainly above average. Your character will only appear similar to others in that the model is the same if you've chosen the same race and gender as someone else, but the similarities stop there.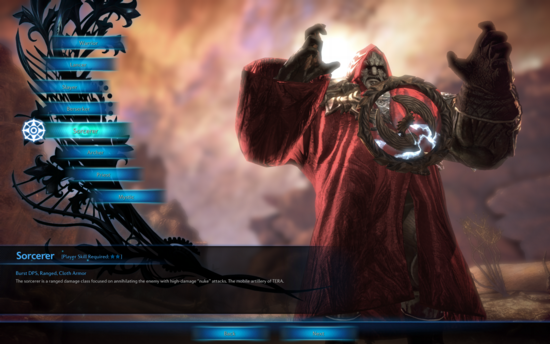 Yes, I'm spinning this disc around with my mind. No, I did not get these digs at the thrift store.
If you're interested in Tera so far, you're going to love this: Remember elites in World of Warcraft? Elites were creatures that were supposedly several times as powerful as normal enemies. Newsflash: Elites are absolutely jack squat compared to BAMs (big-a** monsters). BAMs are monsters that can kill you in just a few blows, and that can take hundreds of yours (did I mention they were big?). Fighting them is a rare ocassion, and unless you are incredibly skilled, should not be attempted alone. The experience rewards for killing them are massive, but unless you have a quest to kill them, it's best only to try if you're looking for a challenge.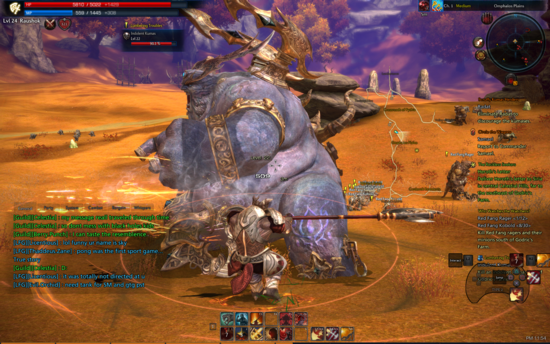 I smacked this beast around a few dozen times, then it breathed blue fire. I made it out, but my eyebrows will probably never grow back.
As long as you don't mind the story and the quests being generic and boring, the exciting combat and beautiful world should keep you engaged. Leveling is fast, abilities feel powerful, and the game is just plain fun. My verdict: Give Tera a shot! You can do so through an online retailer such as Amazon, buy a hard copy from a store that carries PC games, or purchase it directly from the
Bluehole Studios developer site
.
While not failing to hack BAMs to pieces, author Zach Comm writes iOS and PC gaming articles for
GameCheetah.com