Now that I have Windows XP installed on my Mac via Boot Camp, I'm wondering if there's any way I can use that same partition for a virtual machine in Parallels? I have read your article about how to install WinXP in Parallels (see: How to install Windows XP on your Mac with Parallels Desktop), but I don't really want to have two 8GB Windows installations, so hopefully there's a better way?
The latest release of the slick Parallels Desktop application does indeed support you using a Bootcamp partition as a virtual machine disk within the Parallels application. In fact, there are two ways you can hook in the Boot Camp partition, either as a bootable vm, or as a secondary hard disk on another WinXP vm (that is, as disk "D:" or similar).
The former, having a single installation of Windows XP accessible both through Parallels and Boot Camp, sounds like a tremendous capability, so that's what I set up, and here are the exact steps I took…
Just about everything happens within Mac OS X, so your first step is to start up Parallels Desktop, then click File –> New…. Now you'll need to choose which type of OS install you want:


Rather than "Windows Express", however, choose "Custom", then choose "Windows" and "Windows XP" when asked what OS you want to install. Next you'll need to specify how much RAM you want to allocate to the virtual machine: like any other Windows installation, the more RAM, the better. I suggest at least 768MB if you can spare it. Next up, you'll see:


You can guess the proper choice here, "Use Boot Camp". Now you'll get to specify what kind of networking interface you want between your virtual machine and your Mac OS X system. I suggest "Shared Networking (recommended)". Then it's time to come up with snazzy name for the new partition: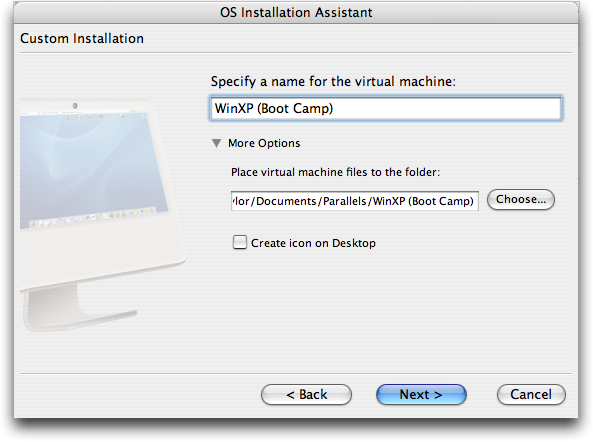 Okay, so maybe "WinXP (Boot Camp)" isn't the most exotic of names, but at least I'll remember the configuration!
That's basically all there is to it. When you first run the new virtual machine, it'll ask that you type in your (Mac) admin password. Not a worry, Parallels is just configuring everything properly. More excitingly, you'll get to see this: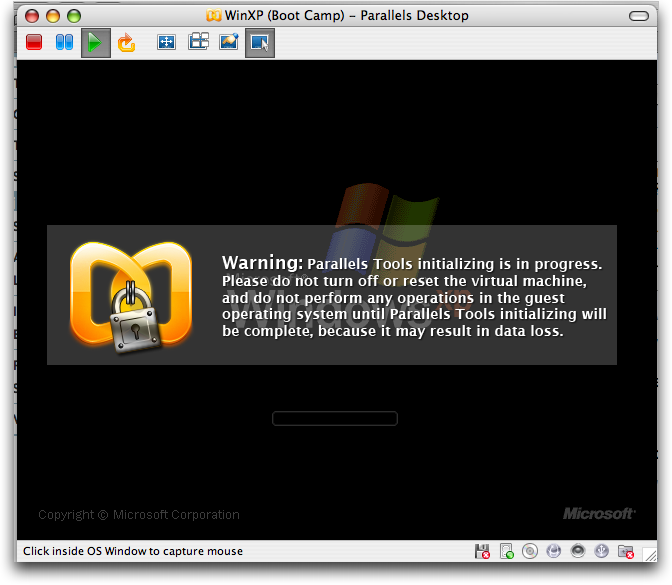 Eventually the warning banner went away and I found that there was some sort of problem and the mouse wasn't working. I simply shut down the vm and restarted it. Parallels warned me that this might be a bad idea, but since I couldn't use the mouse to select "Shut Down", stopping the Parallels vm was my only choice.
Fortunately, while it did reinstall the Parallels tools yet again, it worked more smoothly this time and my mouse worked from the very first time I saw an arrow cursor in the vm. Once I went to log in to Windows, however, I got this interesting message:



Next up was yet another error:


I followed directions, waited and left it alone, and a few minutes later it rebooted Windows and other than being cranky about me not yet having reactivated WinXP, it all worked just fine! Here's proof of my WinXP working just fine off the Boot Camp partition: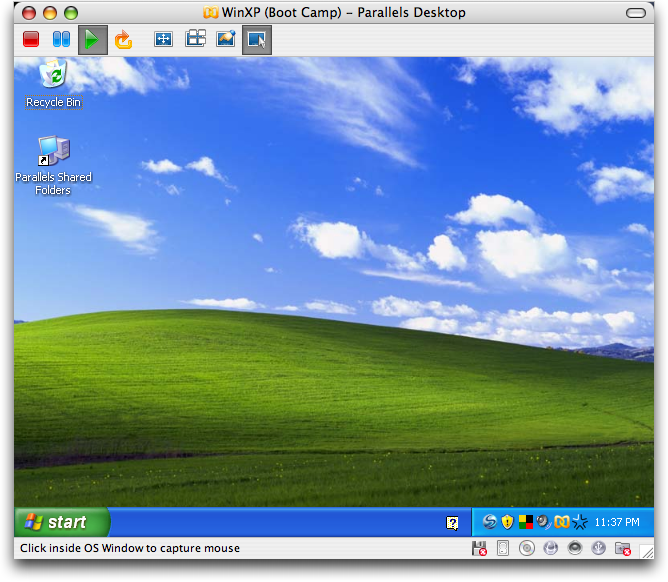 The final test, of course, is to shut down my Mac and reboot in Windows XP through Boot Camp to confirm that nothing's broken…and… it worked like a charm. Rockin!
Now, a few things I noticed: first off, it seems to me that I must have installed the Parallels Tools into the Boot Camp vm at least four times, which is definitely weird. In fact, it appears that you have to reinstall it
every time you restart the VM
, which is a bit annoying. Further, while most of my apps worked alright, the slick anti-virus program AVG wouldn't work in Parallels mode, though to my surprise when I was booted up in Boot Camp it still worked like a charm. (also AVG does work fine in Parallels with a non-Boot Camp partition, so this is some anomaly of this rather odd configuration)
Otherwise, an interesting and reasonably smooth sequence of events, and I hope this illustrated tutorial will help you too configure your Parallels Desktop to work with a Boot Camp Windows XP partition.