I have a Personal Hotspot set up with my iPhone 4 via AT&T and it's very nice, but I have heard that running it as a wifi hotspot actually eats up battery, so I'd like to use it as a tethered USB connection because it'll also charge my phone at the same time. Is that possible, and if so, how do I set it up?
That's definitely possible and the AT&T personal hotspot capability gives you three different ways to connect, actually: wifi, bluetooth or USB. I have definitely heard that bluetooth takes a toll on the phone battery and that it's recommended for you to disable bluetooth if you're not actually using bluetooth devices, but I haven't heard anything about the power demands of wifi mode on the iPhone.
(actually, a bit of Google searching suggests that it might drain as much as 5% of your battery life per hour when compared to the same phone running in standby mode without wifi enabled. That's significant, especially if you're really focused on minimizing your battery drain. [Reference])
Whether it's going to drain your battery or not, if you have your computer adjacent to you, note that you can have it in wifi mode as a personal hotspot and plug it in for a quick battery boost without affecting that connection.
But that's not what you asked me, so let's look at how to use your personal hotspot via USB.
The answer is surprisingly simple: turn on your hotspot, then plug your phone into your computer. But let's look at it in a bit more detail…
First off, open up your iPhone and enable the Personal Hotspot: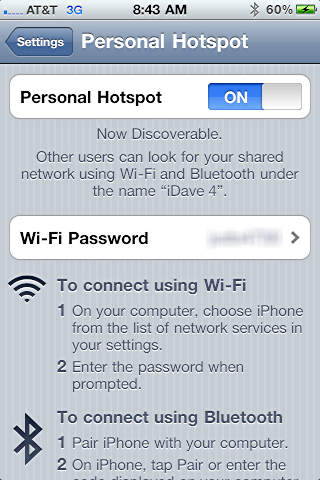 You have it turned ON, right? Just scroll down to the bottom and it actually explains how to use it as a USB Internet connection: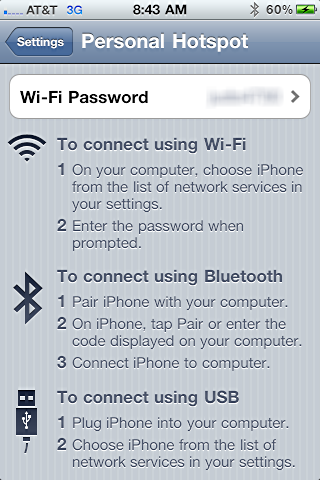 Next step is to plug the iPhone into your computer, which will automatically cause the following pop-up to appear:



Looks good. Click on "Network Preferences…" and you'll see your iPhone shows up as one of the many ways you can get onto the Internet from your computer:


You might want to have them in a different order than what I have: to do that, just drag the iPhone connection "iPhone USB" higher up…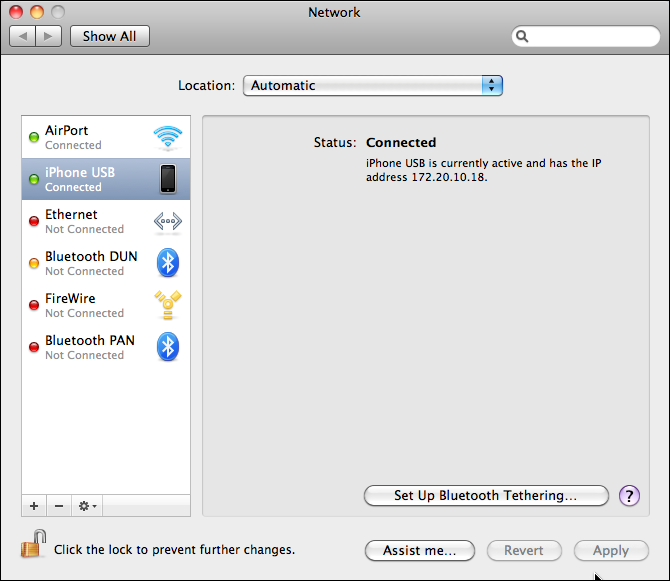 Note that the connection has been successful: the little green icon appears next to that particular interface. In the above screenshot Airport is also working (a different network, not my iPhone) and bluetooth is configured, but not present. The ones with red lights are simply unavailable (e.g., Ethernet but no wire plugged in). "PAN" is a personal area network, btw, while "DUN" is dialup networking. From what I can glean, you can use them interchangeably if you want to use bluetooth to connect to the Internet.
Peek at your phone when you're using the AT&T personal hotspot via USB and you'll see the blue status bar on top of the screen indicating that you have an active connection: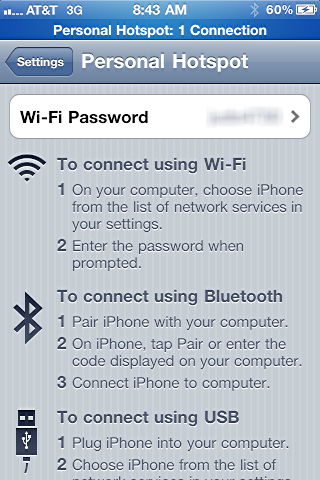 Cool. Now, one last thing. Want to be able to plug in the phone, even if it's running as a personal hotspot, and never have it connect via USB? Then choose that particular interface in Network Preferences… and deactivate it:


There ya go. That should get you going with your iPhone 4's Personal Hotspot.