I park in various lots downtown when I have meetings there, and, well, sometimes I forget where I parked. I started out taking a picture of the front of the parking structure with my iPhone 3GS, but suspect there's a better solution. HELP!
What's the line? "There's an app for that!"
In fact, if you go to the Apple iPhone App Store and search for "parking" you'll find that there are actually quite a few, from PrimoSpot Parking to Parking Buddy, mySpots Parking Pro, iFound Pro Parking, A Parking Spot, Parking App, Check Parking, ParkingPal, iLocate Parking, Meter Maid, Take Me To My Car, Spotasaurus, and more.
Here's what's crazy about this: the mapping app built into your iPhone can do quite a credible job of remembering where you parked and even lead you back there when you're ready to return to your car!
I know, these other apps do a nicer job of it and some of them help you identify where you can find parking adjacent to your current location, which is quite helpful, but in terms of just noting where you're parked and finding your car again, well, let me show you…
Start off by parking somewhere (always a good first step!) then click on Maps. You'll see something like this: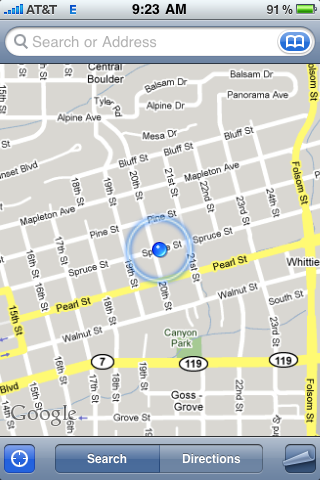 The blue pin shows where you are, of course, but you probably already know that. It's one of the best features of the iPhone 3G, actually, that built-in GPS.
To remember where you are, tap on the little curled paper icon on the lower right corner. Now you'll see: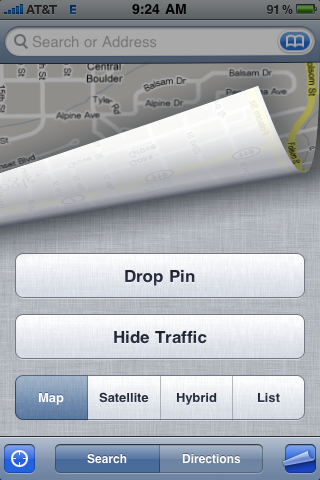 Tap on "Drop Pin" to drop a handy little red pushpin on the current location on the map: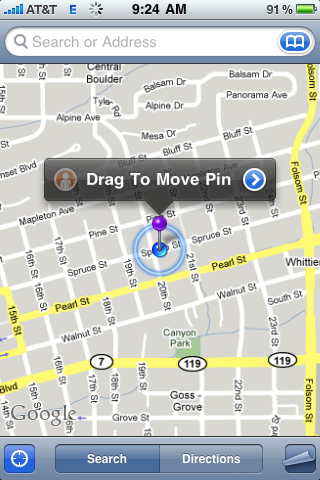 Give it a second and it'll calculate a street address: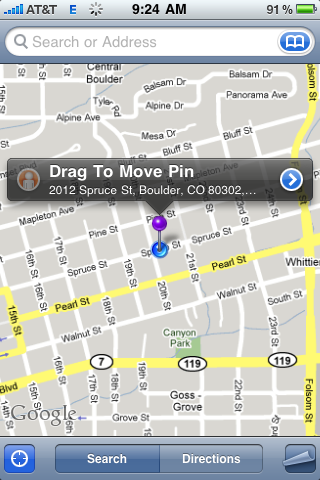 Now, whenever you want to find your way back, tap on "Directions" on the map and enter "Current Location" as your starting point and "Drop" (for Drop Pin, I presume), which brings up the last street address you dropped a "pin" on: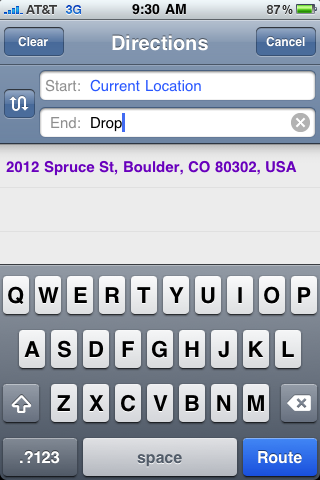 Tap that address, choose "Route" on the bottom right, and you'll see how to get from where you are to where your car is parked: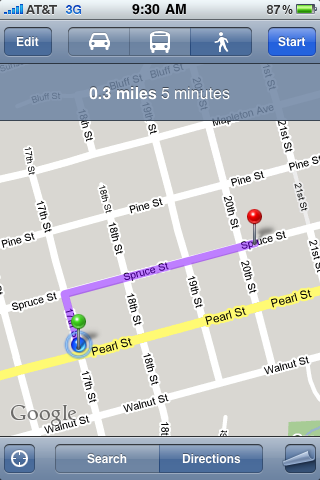 For extra credit, tap on the little walking guy on the top so you get walking directions: it might be easier than the driving directions that the Map app defaults to showing…
One caveat: when you go from "Search" view to "Directions" view, the push pin is no longer displayed on the map. I think that's a bug, personally, but even if it appears you've lost your marker, don't panic, because the phone still remembers it and can show it in "Directions" mode.