Just got an AppleTV and I'm pretty excited about it, particular the ability to wirelessly mirror whatever's showing on my Mac screen. Means I can show my Mom how to use Facebook, finally, so she'll stop calling me! I also want to use this setup to watch DVDs but something's broken on my system: whenever I try to watch a DVD with DVD Player and AirPlay is enabled, the video display is a black and white checkerboard graphic rather than the actual movie. How do I fix it so I can watch DVD movies via AirPlay??
There's actually nothing broken in the configuration you specify, what you're hitting is a built-in limitation of DVD Player that's tied to digital rights management (DRM) requirements for the Apple DVD playback code. You can see that's the case because you can watch an iTunes movie via AirPlay without the slightest hiccup.
The concept behind this is probably something to do with the definition of "broadcast" rights with a consumer DVD playback system according to some Byzantine MPAA regulation that Apple has to follow so as not to get in trouble with the big players in Hollywood.The fact that you can still plug in your TV directly via HDMI and watch a movie full screen (particularly easy if you have an HDMI plug on the Mac directly, as the latest generation sports) presumably falls under some other nuance of the law as that's an alternative approach to having the DVD in your computer but the movie shown on the TV.
Whatever the nuance here, it's sure annoying and a lot of people have bumped into this limitation of DVD Player.
The good news? There's a nice alternative DVD player that will sidestep the entire issue and work perfectly with AirPlay!
Let me show you the steps involved. First off, here's what you'd see both on the Mac screen and the TV screen if you try to watch a DVD while you have AirPlay pushing your video signal to the TV (go into Apple -> System Preferences… -> Display to enable "AirPlay Mirroring"):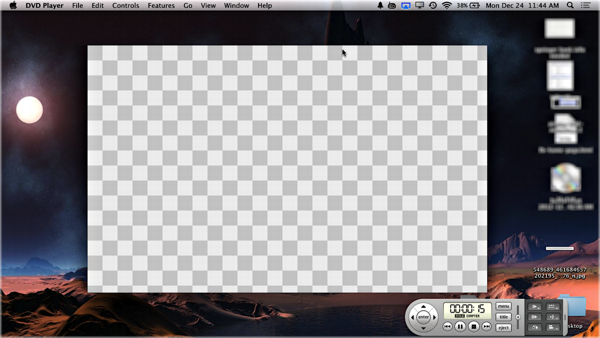 Crazy, eh? No warning message, no pop-up "can't view movies in AirPlay video mirror mode", nothing. Just the checkerboard of death.
Oh, okay, maybe it's not quite that dramatic!
Instead, a slick free app called
VLC Media Player
can be quickly downloaded from here:
videolan.org
. Grab a copy and start it up.
Here's what you'll see: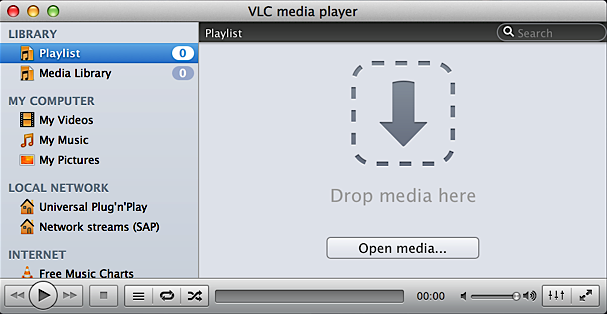 VLC turns out to be a really useful video player because in addition to working with DVDs in an AirPlay friendly manner, it can also let you see WMA, AVI, MKS and many other video files, far more than iTunes can handle.
To watch a DVD, the easiest way is to insert the DVD, then quit DVD Player. Now the DVD icon is on the Desktop, so drag it onto VLC and it'll start playing the movie within just a few seconds: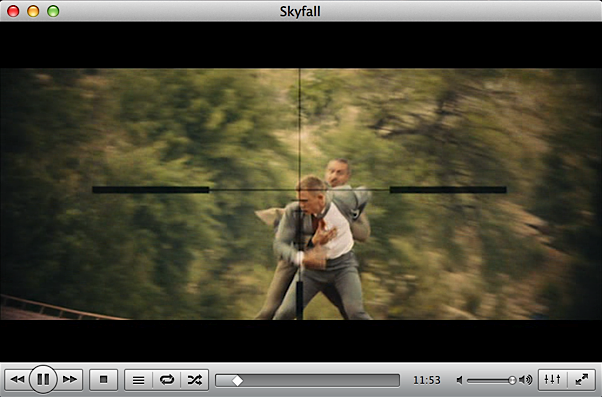 You can see I'm watching
Skyfall
. Great movie, and fun to be able to enjoy on my computer, but being able to wirelessly push it to my TV with AirPlay? Here's what that looks like on my Sony Bravia: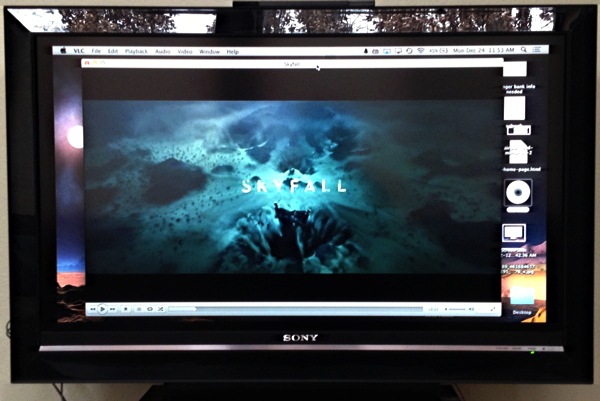 One thing to warn you about before you zip away to try it: The audio might be still coming out of your computer. To ensure that too is being piped to the AppleTV, go into the Audio settings and pick AirPlay: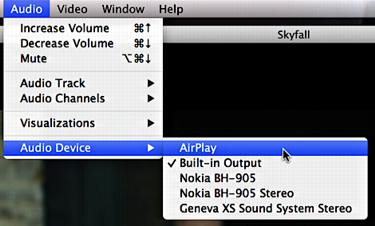 Now, pass the popcorn, the movie's about to get really good…