I read about the addition of a new feature called AirPlay with the latest update to iOS, the operating system on my AppleTV unit (and my iPad, if I'm correct), but for the life of me, I can't find it nor can I figure out how to use it. Supposedly I can push audio directly from my computer or iPad to my AppleTV, but I'm lost. Can you help?
As much as I love Apple and its product line, I have to say that it's not uncommon for the company to release a new feature or capability then leave us all to figure out how to get to it and make it work properly. I think that's one of the main jobs of us Mac bloggers, actually, to experiment (think "mad scientist") with new releases and figure out all the tips and secrets that are hidden within.
AirPlay is no different, even as it's way cool once you get it all working. The necessary precursor is to update the operating system on all of your devices: not only do you need the latest version of iOS 4.2 running on your AppleTV to have it work as the receiver, but you'll also want to update the iPad if you want to use that too. iTunes on your Mac system will need to also be at version 10.1 or later: simply go to Apple –> "Software Update…" and it'll make any changes necessary.
Once you've got everything set up properly, you'll need to make a tweak to the preferences in iTunes before it'll let you access the AirPlay capability.
To get there, choose "Preferences…" from the iTunes menu and click on "Devices":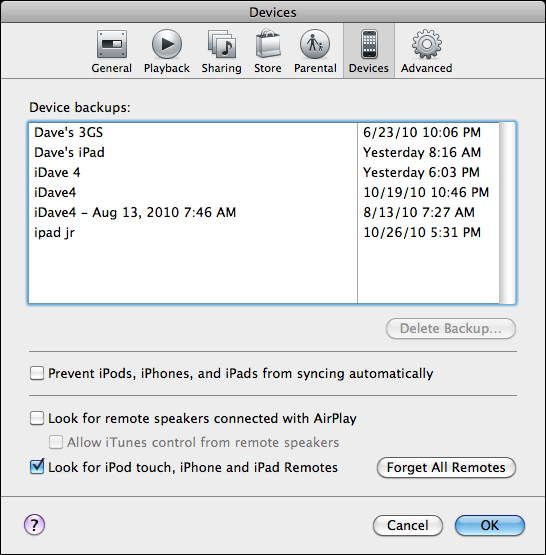 The key is at the bottom: "Look for remote speakers connected with AirPlay". Here, I'll highlight that question:
Make sure this is selected and close the window. Now if you're paying attention to details on the main iTunes window, a new icon has shown up on the lower right, as I have highlighted here:

Click on it and a menu pops up with all the AirPlay accessible speakers / devices that iTunes can find on the local network:

There's what we want: "Living Room Apple TV". Select it and now the iTunes window frame has yet more information displayed:
This is useful, though, because it shows you at a glance that your audio out from iTunes is being fed through AirPlay to the remote speaker system.
Now, want to have some fun? Pick a video while you've got this hooked up and you'll find that the audio
and video
is pushed out to the remote device. On the Apple TV you're suddenly watching the video streaming from your Mac on your TV, possibly in high def!
On the Mac, you'll see iTunes has the following display: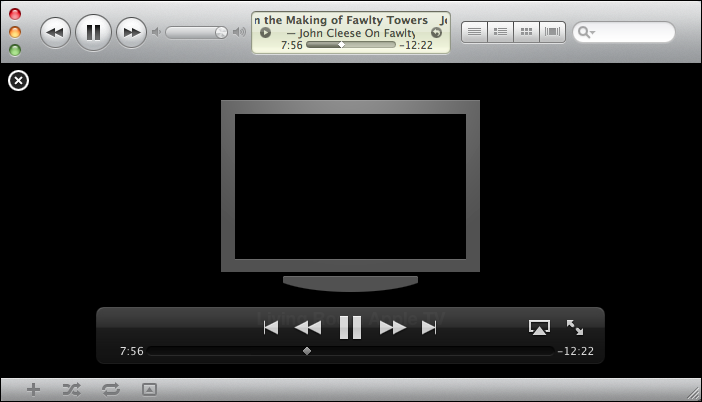 Extremely cool in my opinion, and when I tested this out, it worked without a glitch, making it a no-brainer to have video on my TV from iTunes even while I controlled it all from my computer screen. Now when you can feed
any
video out through AirPlay (think
VLC
) we'll have something even more terrific, but still, a slick feature for sure.
Oh, and remember in the earlier AirPlay menu it had the option of "Multiple Speakers…"? Here's what you'll see if you select it:

iTunes can feed its audio signal to more than one remote device simultaneously. Instant multi-room audio, and if you pick up a few Airport Express devices, you'll find they'll show up and let you have wireless speakers in other rooms for a fraction of the "home theater" wireless solutions.
The final step is integrating an airplay ready,
multi room audio system
to enjoy great tunes throughout the house, and there are many options on the market today. Just search for "airplay" next time you're shopping online.