Hi Dave! I saw your earlier article about the magnifier on the Mac for those of us with poor eyesight, but didn't see your explanation of how to use that feature in Windows 10?
When you look at the evolution of computers and tech, it does seem like it's a huge conspiracy aimed directly at eyesight, actually! We went from small screens and low resolution to big screens and super high resolution. The result: much more area to look at, but everything on the screen is smaller than it used to be. And we don't even need to talk about smart watches and smartphones, do we? The last bastion of people with perfect eyesight. Fortunately there are lots of tweaks you can make to have these devices be a bit more friendly for folk who have less than perfect vision or simply want to strain their eyes less while reading.
Whether you're using a laptop or desktop, your Windows experience has unquestionably been influenced by this gradual change in technology (not to mention that we're also aging as all this is happening too). The good news, like Apple, Microsoft has also paid close attention to assistive technologies and features to ensure that their systems work great for people with hearing, sight, color or other sensory issues or challenges.
Including, yes, their own version of the MacOS X "Zoom" window. In Microsoft's world, it's called "Magnifier". Let's have a look…
To start, as always, search for the word or feature in question:
The best match is the actual app called "Magnifier", which we'll launch in a second, but notice that the #2 match is "Magnifier settings". We'll get back to that. For now, however, click or tap to launch Magnifier and you'll see a very modest little window show up on the screen:
Not much to <cough> look at. But move your cursor and click on "Views" to see the three ways that this utility can help you see what's happening on your computer screen:
The default is full screen – and a click on the "+" button will show you what happens: The entire screen zooms in, centered around the cursor. You can also use Lens, which we'll show in a second, or Docked which is like Lens but, well, let's let Microsoft explain: "Magnifier is anchored to your screen. As you move around the screen, parts of the screen are magnified in the docking area, even though the main part of the screen is unchanged."
Switch to Lens and you'll see a box appears, but nothing else seems to happen: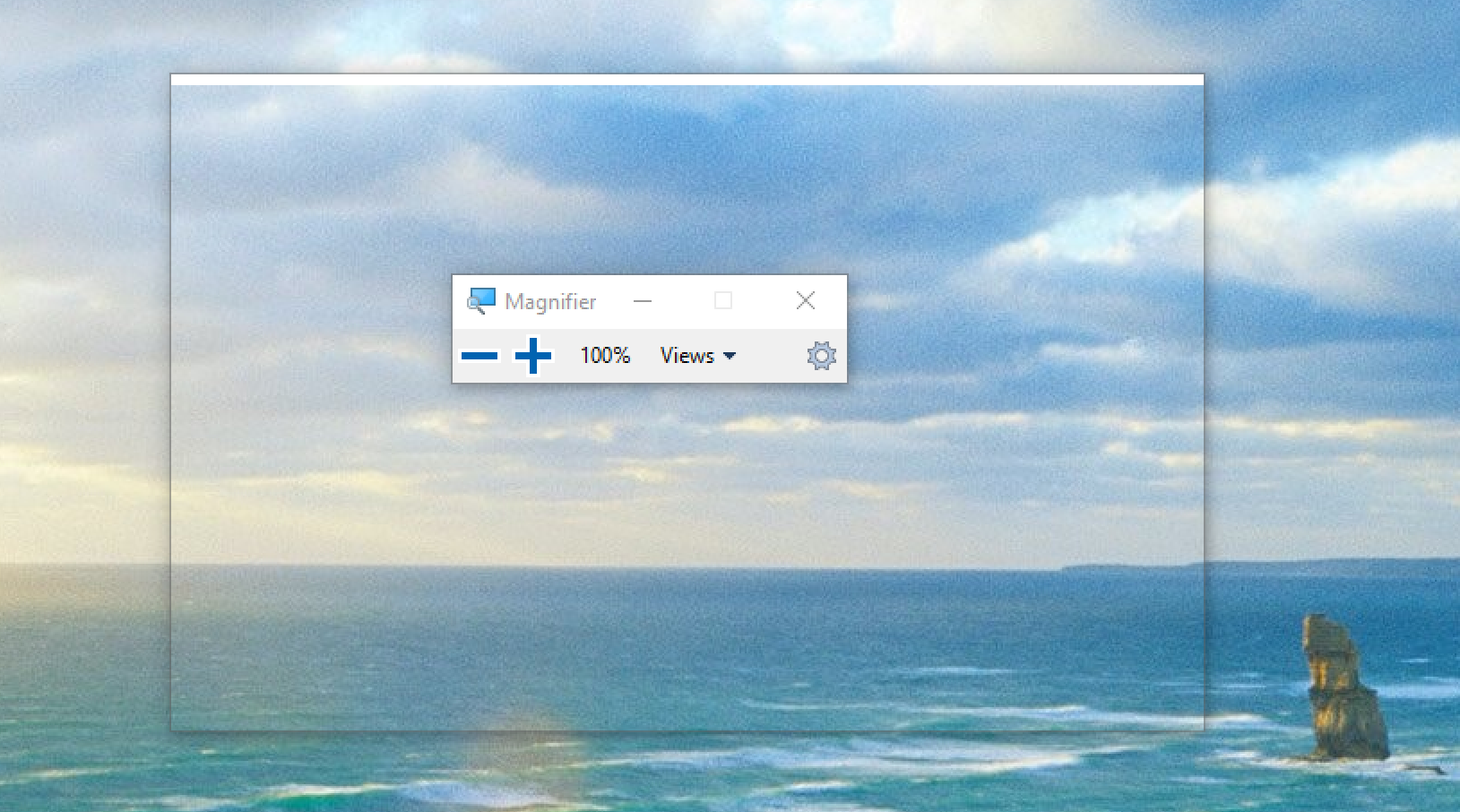 Click on the "+", finally, and you'll instantly understand how it works: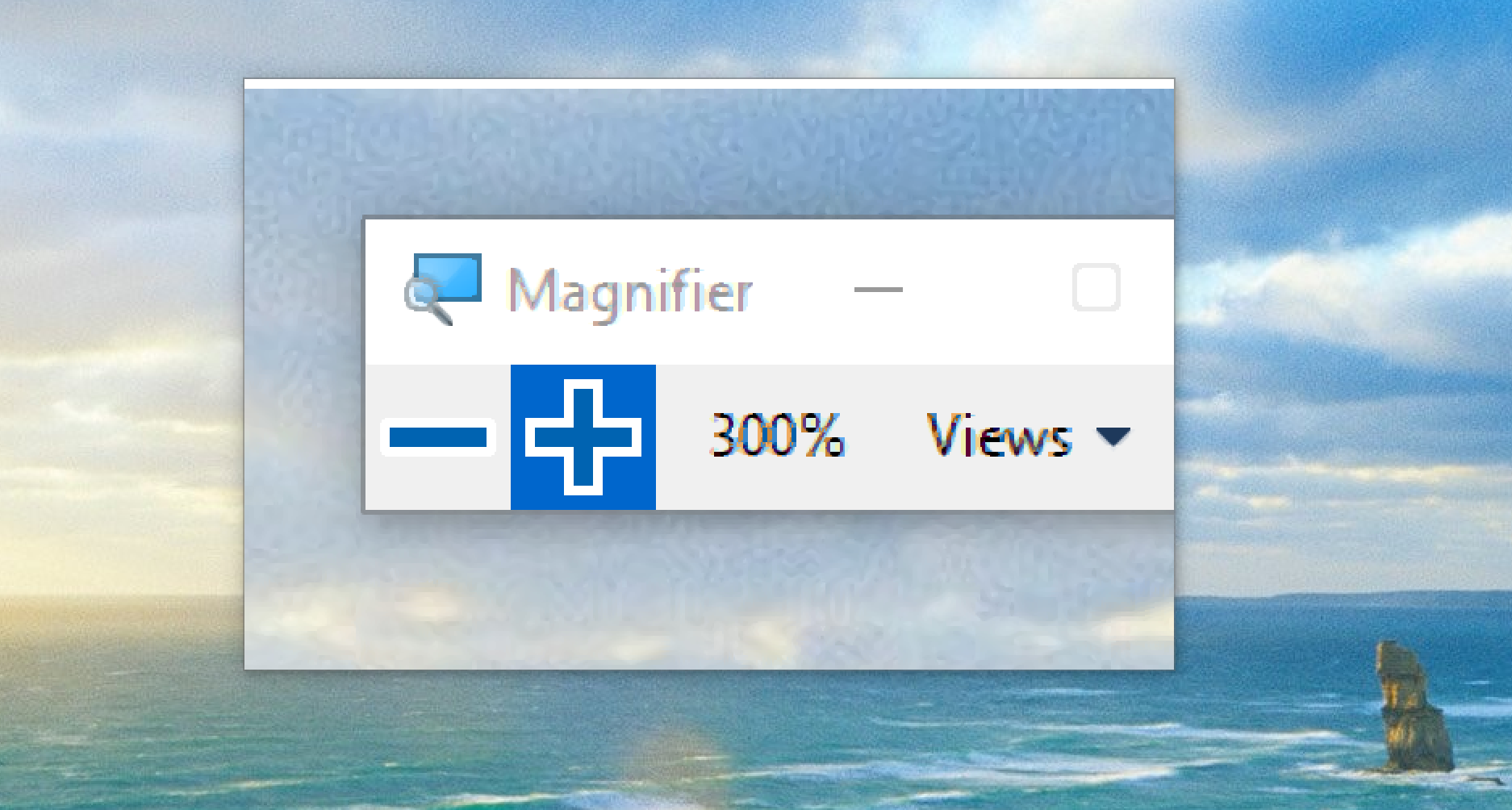 The Lens magnifier box tracks the cursor so if you move it down to the Start Menu tiles, it's more obvious what's going on:
When you're done with Magnifier, you can simply click on the "X" on the top right of the app window to make it vanish. Easy.
Remember earlier when I mentioned "magnifier settings"? Go back to the search and choose that to see your preferences. The main set of choices will look like this:
Notice you can automatically have the program launch on login if you want and if you're finding black text on white difficult to read, you can try inverting the colors so that the very same text will end up white text in a big black box. Try it, see if you like it.
And if you don't want to launch the program all the time, there are keyboard shortcuts! Here are the defaults: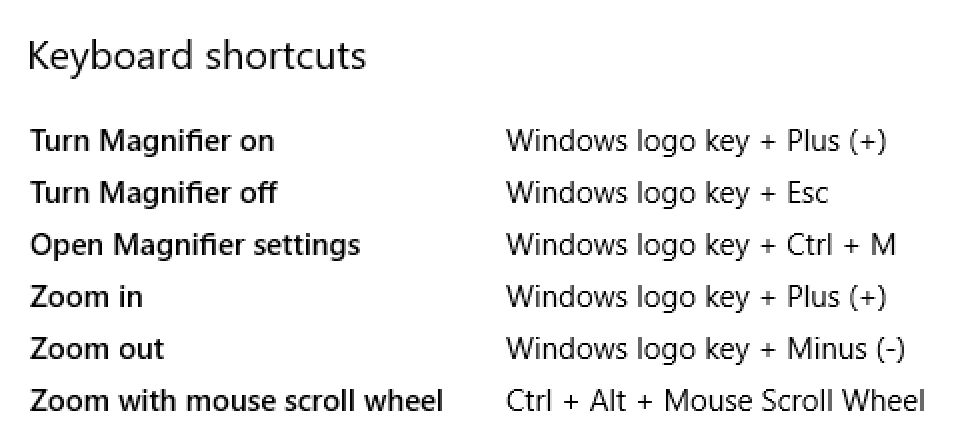 There ya go. Give it a bit of practice to get used to the magnifier effect, but it can be quite helpful when you need to figure out the tiny text on some Web pages and overly small buttons on some programs.
While you're here, I'd like to invite you to read through some of my other Windows Help content. We have quite a bit!