I use Google Maps to get directions to places all the time, and am wondering if there's a way to use Google Maps to find cheap gas in my area too? And how about really good coffee as I travel?
In the good old days, we had to unfold a printed map and struggle to figure out where we were and where our destination was on the map. Okay, it wasn't very good at all, it was a struggle and plenty of people were just lost all the time. Nowadays the mapping technology is astonishing and you can figure out driving directions from points thousands of miles apart in fractions of a second, all from the convenience of your smartphone screen. Heck, with Android Auto or Apple CarPlay, you can then display the map with real-time updates as you proceed along the route right there on your car's infotainment screen!
Google Maps encompass much more functionality than finding destinations and getting quick driving directions! Since it's hooked into the Google business directory that also allows companies to be listed in Google search results, it shows millions of businesses, with one-tap access to lots of information. This information can also include user ratings, which is quite handy. Roughly 75% of gas stations in my area report their current gas or petrol prices, so Google Maps can help me find cheap gas. Your area might have an even higher percentage reporting in your area, so it's worth a look…
FIND CHEAP GAS WITH GOOGLE MAPS
Let's start with a regular map view. Google Maps on Android:
You've seen this before. I'm located with the blue dot in the middle of the screen and various points of interest are shown with thematic shapes and colors. Along the bottom are various tools and features, but the heart of Google Maps is the search bar. Or, in this case, just below it. Notice that there are suggested searches for "Home", "Restaurants", "Gas", and "Hotels". There are more if you tap and slide, but "Gas" is just what we want!
Tap on "Gas" and it will show you the options in the immediate area:
Where known, Google Maps also shows gas prices! You can see that the Circle K near the top is $5.00/gallon, while the U-Pump-It is $4.58/gallon, and the highlighted Shell station is $4.65/gallon. Since it's highlighted, the Shell station also has its summary info card displayed below, with street address, hours, and distance. This one's 0.6 miles away.
Note the "View List" option: that will let you see all the gas stations in text format, which makes it easier to compare prices too.
Tap on the info card and you can see a lot more about the venue, including photos:
This offers up the price of the various types of gasoline, regular, midgrade, premium, and diesel, along with a shortcut near the top to call the station and an option just below the photos to read reviews. But.. it's a gas station, I'm not sure those are so important.
FIND GREAT COFFEE WITH GOOGLE MAPS
Now that you can fuel up your car, how about your own need for premium gasoline, uh, coffee? Turns out that Google Maps has you covered with that too. Just search for "coffee":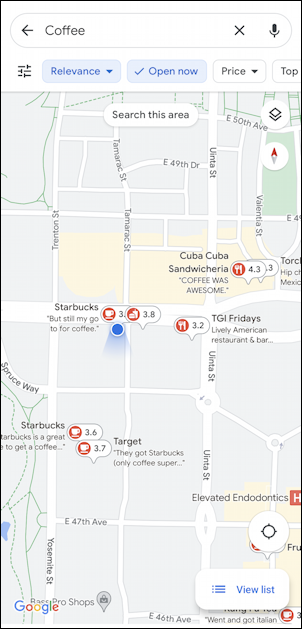 Looks like the best coffee in the area is at Cuba Cuba Sandwicheria. Note that I tapped on "Open now" to avoid being shown places that aren't open for business right now.
This ability of Google Maps to search for categories of businesses turns out to be even more helpful when you're looking at a venue other than your current location. Move the map center to another location, like the Denver Zoo, then do the same basic search. I'll look for "coffee" again: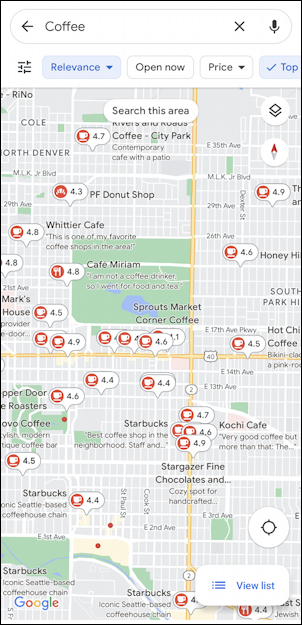 This time, I winnowed out some of the awful options (7-11? Winchell's? No thanks) by choosing "Top Rated" from the filters along the top. You can see that there are a lot of coffee options, even some as highly rated as 4.8 and 4.9 out of 5 stars. Just barely visible on the top right is one of these 4.9 star rated coffee shops, and a tap on the pin reveals more information about it:
The mini info card has appeared again and this time we can see that it's Therizo Café and Tap and has an impressive 4.9 stars out of 94 customer ratings. It's open until 7:00pm and is only 2.6mi from my current location!
A tap on the info card and lots more is revealed:
Now we have a street address, can see business hours, the URL of the coffee shop's Web page, and, most importantly, photos of the venue and its product. Looks darn good, actually, I think I might have to check it out.
Suffice to say, Google Maps has a lot of power and can do a lot more than just give you directions from point A to point B. Try searching for "pizza" or "ice cream" or "mazda dealership" to see what I mean.
Pro Tip: I've been writing about Android since it was first released. Please check out my extensive Android help area while you're visiting! Thanks.